WWE star Jerry Lawler pays 'ring gear' homage to son Brian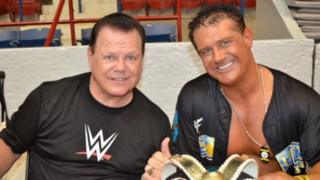 WWE Hall of Famer Jerry "The King" Lawler has paid tribute to his deceased son by taking to the ring in his clothes.
Brian Christopher Lawler, known during his time in WWE as Grandmaster Sexay, died in July aged 46.
His funeral was held the following week, and two days later his father, 68, honoured his son by wearing his ring gear - a wrestler's trademark outfit - at a match.
The bout was held in Jackson, Tennessee, about 70 miles east of the Lawler family's hometown of Memphis.
Despite his son's funeral being held on 3 August, Lawler chose to honour his commitment to wrestle two days later in an event which had been advertised six weeks before.
Pictures emerged on social media of Lawler headlining the USA Championship Wrestling event with James Ellsworth whilst wearing part of his son's ring gear.
Ellsworth, his opponent, is known for his recent appearances in WWE alongside SmackDown Women's Champion Carmella.
He called his bout with Lawler "the most emotional match of my career" on Twitter and shared a picture of the pair embracing backstage.
You may also be interested in:
Elsewhere, further tributes have poured in for Lawler's son after Dwayne Johnson shared a picture of the pair together on Instagram.
Johnson, known during his time in WWE as The Rock, wrote an emotional message explaining that he "spent all week trying to process the hard loss of my good bud", recalling how he and Brian Christopher Lawler became friends "on the road".
And Dan McDevitt, a wrestling promoter who worked with Lawler, shared a story about the former WWE star returning "over half" of his pay to keep McDevitt from losing money after a show "absolutely bombed".
By Tom Gerken, UGC & Social News