Rick Astley on his wife Lene: 'The success I'm having is due to her'
By Mark Savage
BBC Music reporter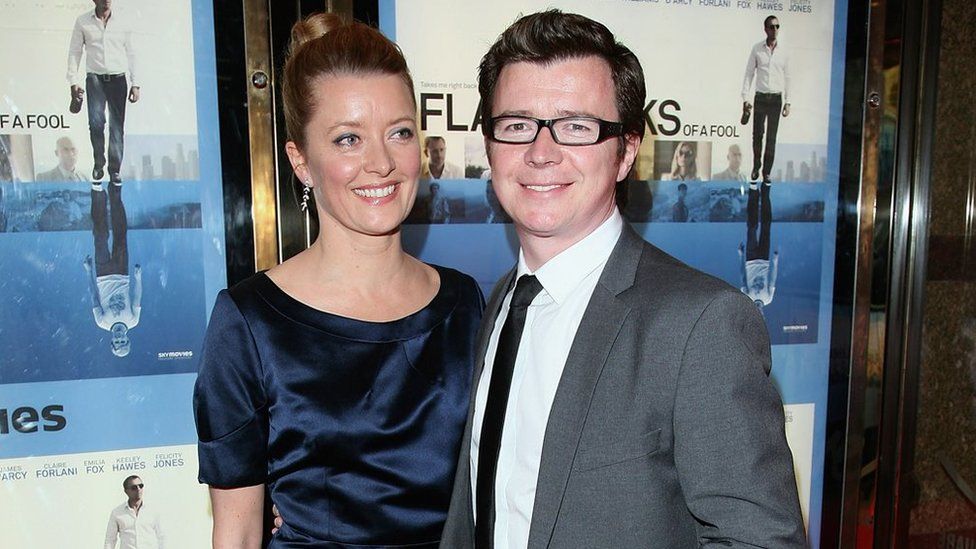 Rick Astley can't believe his luck.
After becoming a global star in 1987 with his debut single Never Gonna Give You Up (number one in 25 countries), he gave it all up to become a family man at the age of 28.
Two years ago he made a tentative return to music with 50, an album of soulful, often revealing songs he wrote and produced in the "man cave" at his home in West London.
It immediately went to number one.
"It surprised the hell out of me, believe me," says the star. "We were all like, 'What's going on?'"
However, one person was confident of the record's success: Rick's wife Lene Bausager, an Oscar-nominated film producer who "stepped in" to act as his manager five years ago, and never stepped back.
"She probably had more belief in 50 than I did, to be honest," he says.
"I don't mean that I was negative about it. I was just being realistic saying, 'Why is anybody going to let a 50-year-old guy in the building?'
"But she produces movies and she can see a path from a script to actually getting a movie on a screen - and she's done that with the music.
"The success I'm having is due to her, there's no doubt about that. She's a massive part of the whole thing."
The couple met in 1987 when Rick was at the height of his fame and Lene was working at his Danish record label.
They got together in 1989, eventually marrying in 2013, and have a 26-year-old daughter, Emilie, who works as an artist and landscape designer.
Unsurprisingly, Lene is all over Rick's new album, Beautiful Life.
"Every time you kiss me I feel a fire," he sings on the foot-stomping Shivers; "She gives me hope, she gives me fight," he adds on She Makes Me.
And on Every Corner, Rick reveals the secret of their 29-year relationship: "I know the way to keep you is in the way I treat you."
"You can be successful, you can be a big deal, but at the end of the day it's the ones we love that keep us going," he says.
"I know Lene is not for one second impressed with what I do for a living. It's the respect we show each other and the moments of love that are what we're about."
Beautiful Life was released last month and followed its predecessor into the top 10. It didn't quite hit number one, held at bay by Drake and Mamma Mia!, but the star is philosophical about it.
"If you have a number one album then everyone expects you to do it again - but it doesn't work like that," he says.
"You have to have everything on your side for that to happen. You've got to have a lot of luck, a fair wind behind you, and all the rest of it."
More important was proving "that 50 wasn't a fluke", so he turned down offers from big name producers and recorded the album at home, playing every instrument by himself.
Modest to a fault, he downplays his abilities, saying he has to "sit down and work out" every riff before he can play it.
"I'm not one of those people who'll just jump onto a piano and say, 'Right, let's do a Beatles evening,'" he laughs.
Still, he does have a sideline playing drums in a "mid-life crisis" covers band - thrashing out versions of AC/DC's Highway to Hell and Green Day's American Idiot in pubs around London.
"It's the most primeval thing you can do in a band," he says.
"You don't think of playing the piano to relieve your tension, do you? But play drums for half an hour and you feel like a different person."
"Not exactly! But what a lovely bunch of guys. My God, they were amazing," he says.
He'd never met the Foos before the festival - but they grabbed the opportunity to Rickroll their audience by playing the opening chords to Smells Like Teen Spirit, before breaking into Never Gonna Give You Up.
"They had everything to lose and nothing to gain," he marvels.
"You know, they're in front of 50,000 people who absolutely idolise them and they go, 'Hey, now we're going to bring this guy out!' So hats off to them for doing it."
He was equally impressed by the band's relaxed attitude to fame.
"I don't think any of those guys have a problem going into a shop and buying some milk," he says. "Being around them you think, 'These guys seem human,' and that is the most important thing, really."
You sense that "being normal" is important to Astley, who deflects any questions about his achievements with self-deprecating humour.
"It's partly self-preservation," he says when he's called up on it.
"I've been around too many [people] where you just go, 'Oh my God, will you just look in the mirror?'
"Whenever I feel myself getting a bit like that, I have this thing that taps me on the shoulder.
"That's not me wanting to be all nice and humble - but when our daughter was born, and I was in the middle of my 15 minutes of whatever, I thought to myself, 'You have to be really careful, because this is either going to swallow you or you have to make some decisions'.
"And my decision, ultimately, was I was going to stop doing it."
He has no regrets about being a stay-at-home dad, and talks with pride about his daughter's world-wise attitude ("they're the first generation that aren't en masse motivated by money and celebrity," he says of Emilie and her friends).
What eventually returned him to the charts was the simple love of music.
On the closing track of Beautiful Life, he recalls listening "to the stereo under the covers of my bed", in Newton-Le-Willows, Lancashire - absorbing everything from prog rock bands Magma and Camel to 12-inch remixes by New Order and the Thompson Twins, eventually finding a path through to pop.
"So it goes from literally going to see Camel with my sister at the Free Trade Hall in Birmingham and people doing flute solos, to seeing Shalamar because I thought the songs were amazing."
All that musical knowledge prepared him for the realities of re-launching a career in his 50s.
"I'm not completely ignorant to the fact that, once you're over the age of 21, you're not going to get on Radio 1. So you have to say, 'What do Radio 2 play?'" he says.
"That doesn't mean that I change the way my records sound but out of all the songs I've got, I'll put ones on the back-burner that I don't think will make sense [on Radio 2] in that way."
It's a canny observation from a man who, let's not forget, emerged from Stock Aitken Waterman's ruthlessly efficient pop production line - but it also explains why the reinvention of Rick Astley has been such a success.
While a lot of returning 80s acts rely on nostalgia, he's come up with a body of work that feels relevant for a man in his 50s - talking about life, love and family with the cosy familiarity of latter-day Take That.
It's given his career a classic three-act structure... Something that's surely occurred to his wife in her guise as a film producer?
"To be honest, the idea of me doing a book has been mentioned but I haven't lived enough," he continues.
"Also, on a personal level, I don't need everyone else to know all the details about my underwear drawer, do you know what I mean?"
Beautiful Life is out now.
Related Internet Links
The BBC is not responsible for the content of external sites.