Andy Serkis adapting Animal Farm for Netflix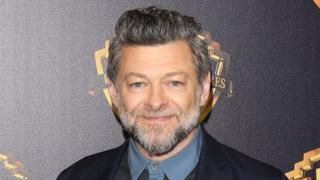 Andy Serkis is to direct a performance-capture film version of George Orwell's Animal Farm for Netflix.
Deadline reports the adaptation will be contemporary and highlight the "staggering relevance" of the satirical and dramatic power of Orwell's allegorical novel.
It is not known yet whether the film will get a cinema release as well as being on the streaming service.
In 2012 Serkis said he had started work on an adaptation of Animal Farm.
He told them they were "using an amalgamation of filming styles to create the environments.
At that time he had intended to appear in the film himself.
The novel was an allegory about the dangers of Soviet communism and the rise of Joseph Stalin.
Set on an English farm, a group of animals overthrow their farmer and take over the farm themselves.
However they soon find that the animals are not all as equal as they thought, with those in charge telling their underlings: "Four legs good, two legs bad", to drown out opposition.
"We are incredibly excited to have finally found the perfect creative home in Netflix for this extraordinarily zeitgeist work by George Orwell," Serkis said in a statement.
The film will be produced by Serkis' film company The Imaginarium.
Matt Reeves, who directed Serkis in Dawn Of The Planet Of The Apes and War For The Planet Of The Apes, will also be one of the film's producers.
Serkis said he was happy to be re-united with his "great friend".
"With his acute sensitivity, storytelling intelligence and honesty and command in this realm, is to have the very best scenario for our long-held passion to bring this fable alive."
Last week it was announced that Serkis' directorial debut Mowgli, a Jungle Book adaptation, had been bought by Netflix.
Follow us on Facebook, on Twitter @BBCNewsEnts, or on Instagram at bbcnewsents. If you have a story suggestion email entertainment.news@bbc.co.uk.