Terminator teases sixth instalment with all-female photo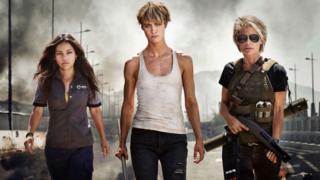 A promotional image from the sixth film in the Terminator series shows actress Linda Hamilton back in her signature role as the indomitable Sarah Connor.
Hamilton is joined by Colombian actress Natalia Reyes and Canada's Mackenzie Davis, star of recent release Tully.
Markings on Davis's body seem to imply she is one of the futuristic androids around which the franchise revolves.
Arnold Schwarzenegger also appears in Tim Miller's currently untitled film, due in cinemas in November 2019.
Reyes plays a new character called Dani Ramos, while Davis plays a character known only as Grace.
Hamilton, 61, appeared in the original Terminator film as a young woman whom Schwarzenegger's relentless cyborg travels back in time to kill.
She played the character again in that film's first sequel, which reconceived her as a gun-toting warrior determined to protect her teenage son from another murderous robot.
Strong women have been a recurring fixture of the science-fiction franchise, which has so far had all-male directors.
Come with us if you want to relive the series so far.
The Terminator
Released in 1984, James Cameron's modestly budgeted film saw former bodybuilder Schwarzenegger play an implacable android whose human exterior masks a metal skeleton.
Part man, part machine and all business, he has been sent from the future to kill the woman whose unborn son will grow up to become the freedom fighter who brings about the destruction of the computer network that has taken over the world.
Sarah Connor, played by Hamilton, learns she is a target from Kyle Reese (Michael Biehn), a resistance fighter who has been sent back in time by Sarah's son John to be her guardian.
Kyle's attempts to save Sarah's life eventually cost him his own, though not before he has made her pregnant - making him the father of the very man who sent him to protect her.
Schwarzenegger's robot has few lines in the film, though one of them - "I'll be back" - became one of his most durable and oft-repeated catchphrases.
For many fans of the series, though, Kyle's first line to Sarah - "Come with me if you want to live!" - is no less loved or memorable.
Terminator 2: Judgment Day
Made for a reported $6.4 million, the original Terminator went on to make more than $78 million worldwide. Small wonder James Cameron had a larger budget to play with - a reported $102 million - when he came to make its sequel.
Much of that money went on creating a new antagonist - a shape-shifting android made of shiny liquid metal whose jaw-dropping transformations saw the film win an Oscar for its visual effects.
Released in 1991, the second Terminator replayed the action of the first by having Schwarzenegger's robot return from the future to protect the teenaged John Connor (Edward Furlong) from Robert Patrick's deadly T-1000.
Hamilton also returns as Sarah Connor, not a damsel in distress this time around but a hardened soldier whom we first encounter incarcerated in a psychiatric institution.
Schwarzenegger's reward for reprising his signature role, besides a reported $15 million pay-cheque, was a brand new catchphrase: "Hasta la vista, baby."
It is understood that the new film will pick up the action from where Terminator 2 left off, ignoring what happens in all the other sequels.
Terminator 3: Rise of the Machines
Released in 2003, the third film in the franchise saw John Connor, now played by Nick Stahl, under threat again from another robot from the future, this time played by former model Kristanna Loken.
But wait! Who's that coming to the rescue? Yes, it's Arnold Schwarzenegger again, returning as another benevolent Terminator despite having appeared to perish at the end of Terminator 2.
Arnie naturally succeeds in his mission, though the film still ends on a bleak note - a global nuclear Armageddon orchestrated by malevolent computer network Skynet.
Directed by Jonathan Mostow, Rise of the Machines failed to match its predecessor's $520 million takings but still made a respectable $433 million worldwide.
Terminator Salvation
Set in the aftermath of the aforementioned nuclear holocaust, the fourth Terminator film saw John Connor, now played by Christian Bale, team up with a cyborg, played by Sam Worthington, and Kyle Reese, played by the late Anton Yelchin, to battle Skynet's automated forces.
Directed by the film-maker known as McG - real name Joseph McGinty Nichol - the 2009 film made headlines before its release after a recording of Bale berating a crew member was leaked online.
Schwarzenegger's day job as governor of California precluded his involvement in the film, though his likeness was used on an early model of the Terminator seen in one of Skynet's factories.
The resulting film was not considered a success, with one critic dismissing it as "a shambolic, deafening, intelligence-insulting mess" and another dubbing it "a confused, humourless grind."
Terminator Genisys
Released in 2015, the fifth film in the series played with its established continuity by reintroducing the Sarah Connor character and making John Connor a Terminator.
Respectively played by Emilia Clarke and Jason Clarke (no relation), the characters were joined by an older version of Schwarzenegger's original cyborg. Also back was Kyle Reese, now played by Australian actor Jai Courtney, while Britain's Matt Smith appeared as Skynet in human form.
The resulting plot contortions left reviewers scratching their heads. Entertainment Weekly accused it of making "a hash of the saga's mythology", while USA Today's Brian Truitt spoke for many when he said it was "just as ridiculous as the spelling of its subtitle".
The film was initially conceived as the first instalment in a trilogy, but those plans were dropped after it failed to cross the $100 million mark at the US and Canada box office.
Terminator: The Sarah Connor Chronicles
In the gap between the third and fourth Terminator films, US screenwriter Josh Friedman came up with the idea of continuing the adventures of Sarah Connor and her son on the small screen.
The resulting show, which ran for two seasons between 2008 and 2009, cast future Game of Thrones star Lena Headey as Sarah and Thomas Dekker as John.
Summer Glau played a "good" Terminator, named Cameron in James Cameron's honour, while Garbage singer Shirley Manson played a "bad" Terminator equipped with the T-1000's shape-shifting abilities.
Another TV series was proposed to tie in with Terminator Genisys, though those plans were dropped along with that film's sequels.
Follow us on Facebook, on Twitter @BBCNewsEnts, or on Instagram at bbcnewsents. If you have a story suggestion email entertainment.news@bbc.co.uk.