The importance of being Idles: 'You are safe to be vulnerable'
By Paul Glynn
BBC Music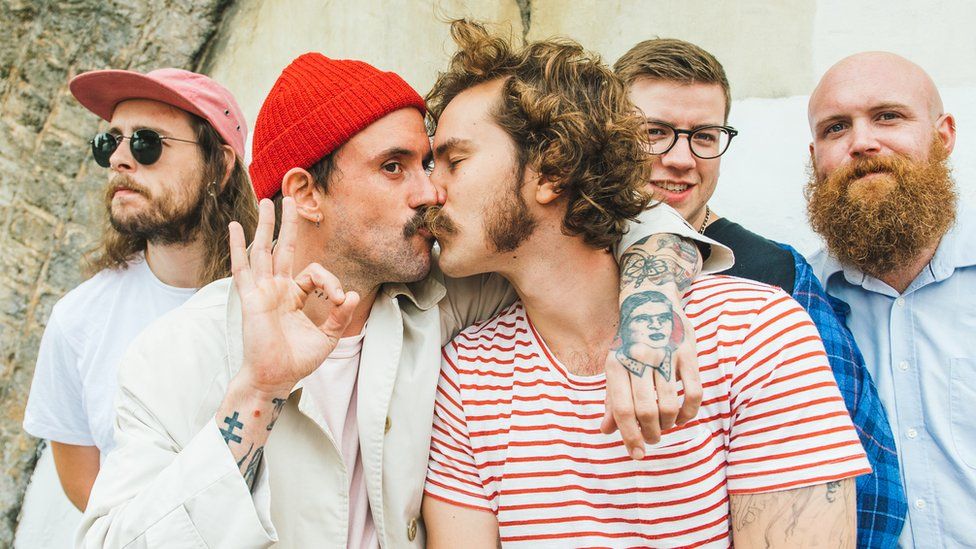 "This next song is about how much I love immigrants," declares Idles frontman Joe Talbot.
The provocative Bristol-based five-piece are midway through their headline set at London's Visions Festival and that's the cue for them to drop Danny Nedelko - a blistering new anthem for the anxious pre-Brexit era.
The track is taken from their second album, Joy as an Act of Resistance and its chorus rings out around the room like a mass self-help session set to a punk rock beat:
Fear leads to panic / Panic leads to pain / Pain leads to anger / Anger leads to hate.
"I smoked a lot of bath salts and spoke to Yoda himself," jokes Joe about the lyrics, before the gig.
"Firstly I like the idea of annoying people by using the phrasing of Yoda. I hope their toes curl up when I do it.
"Secondly, yeah, it is about a therapy. This whole process began when I started therapy and went through a trauma that I had to get through - either survive it or not."
Behind the defiant grin and declarations of universal love is a tale of real loss.
Idles' 2017 breakthrough debut, Brutalism, was inspired by the death of Joe's mother Christine, following a long illness. Its follow-up centres around the singer coming to terms with the world around him following the subsequent loss of his daughter, Agatha, when his partner Beth was giving birth.
"My partner and my friends were amazing," explains the recently-engaged singer.
"This album is a reflection on just how lucky we are and utilising that fortune into something, as an outward reflection, so people can feel that they're not alone.
"That they are safe to be vulnerable and that they can change in their own fashion."
He adds: "The first album was about an explosion of grief and loss in different formats without much time to reflect.
"The second is more of a mindful progression of reflection upon loss again with an aim to become a better person, in turn a better friend, a better partner and a better musician.
"It's about celebrating difference really."
While the band may provide a platform for Joe to pour his sorrow into perversely uplifting songs, Idles albums, gigs and interviews for that matter are still always joyful, celebratory - and largely funny - affairs. For example, the singer and his right-hand man Mark Bowen request our pre-gig interview takes place outside, to get away from the heat of the underground dressing room. I suggest a nearby park for us to "get comfy."
"I'm wearing my pyjamas," deadpans Mark, behind a handlebar moustache.
"I couldn't get more comfy!"
Guitarist Mark believes he and his friends - who would later throw an ironic a capella rendition of Mariah Carey's All I Want For Christmas into their midsummer set as he hung from the rafters - are sometimes dismissed as merely an "angry band."
"One of the things we noticed with the first album was when we were performing it live there was an experience of joy through the passion," says Mark.
"People wrongly interpret us as an angry band, I don't think there was a huge amount of anger from all of us on the first album.
"We notice that whenever we're giving our passion... onstage people interpret that and get an experience of joy through it.
"We also saw that people were losing their inhibitions and feeling more open and wanting to share things and dance like no-one is watching and that's something we wanted to reflect even further though this album.
"When you're sharing, channels do get opened and this album is about keeping those channels open and getting a result out of it - and that's joy as an act of resistance."
The album begins with the brooding Colussus, which carries the redemptive refrain: Forgive me father I have sinned / I've drained my body full of pins
It moves through childlike notions of identity on Danny Nedelko, then the raw emotion of Agatha's death on June - A stillborn was still born / I am a father - before meeting toxic masculinity head on in Samaritans:
The mask of masculinity / Is a mask / A mask that's wearing me
The track, which came about after Joe read artist Grayson Perry's Descent of Man, speaks of the accumulative effect of a society that tells men to "man up" in times of trouble.
"Everything is down to centuries of praxis of wanting to feel part of something and to be safe from different kinds of cultural tyranny.
"It [the book] helped me articulate something I've been thinking for a long time, everyone has.
"The new wave of feminism that sparked everyone's interest in gender roles allowed everyone to reflect on what the problems were and one of the things - as someone looking inwards and trying to be a better person - I reflected on was masculinity, myself as a man.
"So I thought, if I'm part of the problem how can I change to make this situation better? So that's what it is - a reflection on myself and what pressures I've felt all my life that are BS!"
As well as being a rock star and "a better person" - which includes barely drinking these days before shows - Joe is also a registered support worker for adults with learning difficulties and cared for his mum during her illness.
He holds the Samaritans charity very close to his heart.
With that in mind, the album is accompanied by a pop-up art exhibition at HM Electrics Gallery in London with all proceeds going to the UK/Ireland-based charity, which provides help for those in emotional distress.
"Samaritans as a charity - it's the epitome of what we want to achieve... the awareness of how lucky we are with our support network and it's about replacing that for people who don't have it.
"It's saved the lives of two people that I know and its a beautiful thing."
The likes of ex-Maccabees man Orlando Weeks, "amazing Bristol painter" Russell Oliver and Joe's own dad have contributed artistic interpretations of songs on the record in an exchange of "vulnerability."
Even for Joe, who previously put his mother's ashes into a run of copies of the debut record, the process was a "scary" but rewarding one.
"In the first album, I put my mum's ashes in it as an artistic way of making something very rare as I also put the whole experience of losing her on the record.
"With this one I wanted to do something similar. To listen to other people and be vulnerable as an exchange of vulnerability and to encourage other people to be vulnerable back.
"So as an artistic move forward, I thought it would be great to give our songs, nice and early, to people that we know and trust as artists and friends to interpret the music as they choose into art as an act of vulnerability.
"It was scary, as we like to have complete control over the art and the music as we've worked really hard to be here.
"What we got back was something really tender."
Thirtysomethings Idles are leading a growing generation of socially-conscious and confident young rock bands - like Shame, Dream Wife and Hinds - who'd rather kill you with kindness than throw a cliched TV at you out of a window.
As for their own hero; Danny Nedelko? Well, according to Joe he's "a wonderful human being... and in a beautiful band called Heavy Lungs."
Joy as an Act of Resistance is out now.