'Oldest library in Germany' unearthed by Cologne archaeologist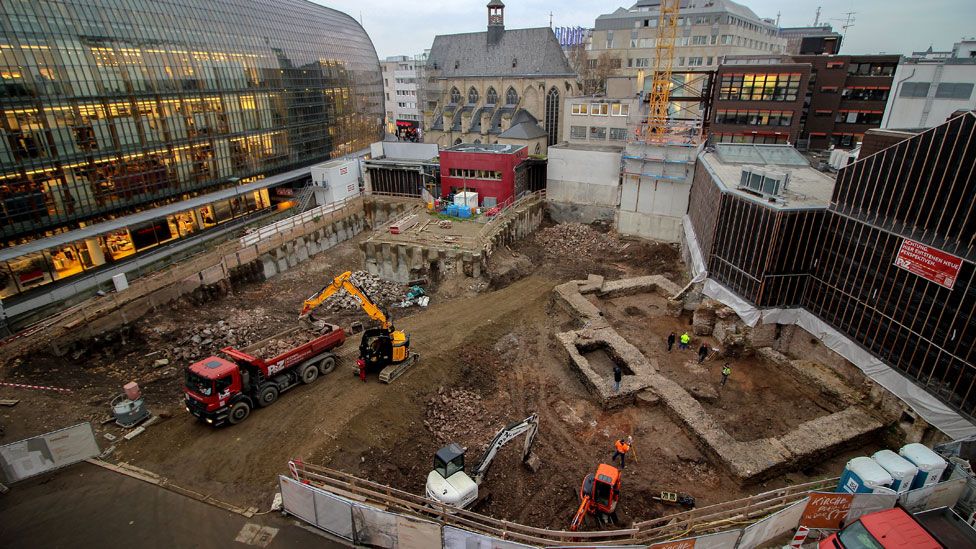 Archaeologists in Cologne believe they have uncovered the foundations of the oldest known library in Germany, dating back to the 2nd Century.
A team from the city's Roman-Germanic Museum discovered the library remains while excavating the site of a Protestant church.
The building likely housed up to 20,000 scrolls, according to Dr Dirk Schmitz, a researcher on the expedition.
He described the find as "truly spectacular".
The archaeologists involved in the parish church project uncovered the remains of a Roman building from the 2nd Century.
Cologne was founded by the Romans under the name Colonia in 50 AD.
The former library is thought to have had a size of around 20 metres by nine and was two storeys high.
"At first we thought they were the remains of a space for public gatherings," Marcus Trier, director of the city's Romano-Germanic Museum said, but the walls had "unusual, cavernous structures".
After intensive research and comparison with ancient buildings such as the Ephesus in Turkey, the archaeologists were confident they had found the remains of what used to be a library.
"It took us some time to match up the parallels - we could see the niches were too small to bear statues inside," said Dr Schmitz, from the Roman-Germanic Museum of Cologne.
"They are very particular to libraries - you can see the same ones in the library at Ephesus."
The historic ruins have also revealed niches and cases, which likely stored an incredible number of parchment and papyrus rolls. "Maybe 20,000," he estimates.
The western German city on the Rhine River is over 2,000 years old - so stumbling upon ancient ruins is not unusual.
The foundations are now to be integrated as a significant part into the new protestant church and will be open to the public. Other remains of the newly found library will be left for further archaeological examinations.