Will Gompertz reviews Spamilton - An American Parody ★★★★☆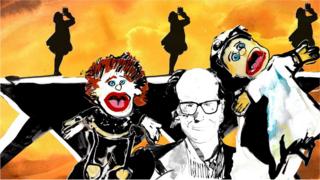 Let's get straight down to it and deal with the two fundamental questions about Spamilton, the 90-minute spoof of the trans-Atlantic musical mega-hit Hamilton.
One: is it any good? Yes.
Two: do you need to have seen Hamilton first? Not necessarily.
This article contains language that some readers may find offensive.
But you should be across it, having either trawled YouTube for clips (there are loads) or at least gained some knowledge of the musical numbers. That'd probably do the job.
The show's premise is straightforward. While Hamilton tells the story of the 18th Century American statesman Alexander Hamilton, the founding father whose face appears on the $10 bill, Spamilton is a spoof of the blockbuster stage show itself and its precociously talented creator, Lin-Manuel Miranda.
And so, the opening song in Hamilton, which starts like this:
How does a bastard, orphan, son of a whore and a/Scotsman, dropped in the middle of a forgotten/Spot in the Caribbean by providence, impoverished, in squalor/Grow up to be a hero and a scholar?
...is mimicked in Spamilton but with different lyrics and subject:
How does a whipper-snapper student of rap and a/Latin trapped in the middle of a Manhattan flat/Win Broadway accolades/While other writers kiss the corporate dollar/Grow up to be a hip-hop opera scholar?
And so it goes. Lol. Miranda is gently teased throughout for being an over-eager nerd with a streak of pomposity. "I'm not gonna let Broadway rot!" he proclaims in a reworking of the Hamilton number My Shot.
It would be ridiculous to say Spamilton is as good as Miranda's modern masterpiece from which it draws, but it is very neat and tidy with a bubbly cast who romp through the show with a twinkle in their eyes and a mocking skip in their step. That's their job - to put the ham into Hamilton.
There are two standout performances. Damian Humbley as the King/Queen (you'll see) is every bit as good as any of the three King George's I've seen play the role in the original.
And Julie Yammanee is excellent in her multiple guises and also brings something fresh to the party that Hamilton does not have, which is a leading lady who has parity with the main male protagonists.
Like all spoofs, Spamilton, which is at the Menier Chocolate Factory in London, is both given life and held back by the subject it is parodying.
There are times when you can feel the new lyrics being forced into the original songs like a middle-aged man trying to get into a pair of swimming trunks from his glory days. It can be wince inducing.
But that is part of the fun. And rest assured, you are in capable hands. Spamilton comes from the mischievous mind of Gerard Alessandrini, a serial spoof merchant, who first entered the Broadway musical parody scene in 1982 when Lin-Manuel Miranda was still in nappies (although, being so darn smart, he probably wasn't).
That first revue show was called Forbidden Broadway, which has kept going in various guises for decades, and traces of it are to be found in Spamilton.
To be blunt, the diversion into hit musicals of yore feels like padding, but Alessandrini has used an appropriately satirical device to introduce the likes of Elaine Page.
She enters stage right covered by a large hooded cape and bent double like a wicked old lady. She is desperately seeking tickets to see Hamilton, which are too expensive and too rare for her to obtain, but alas…
She leaves disappointed. Which I don't think you will.
Spamilton is shorter, funnier, and cheaper (tickets and staging) than the show from which it openly and gleefully admits it parasites.
It's a hoot. Even Lin-Manuel Miranda thinks so. But then, he is getting royalties.