Netflix's Insatiable faces backlash over 'fat-shaming'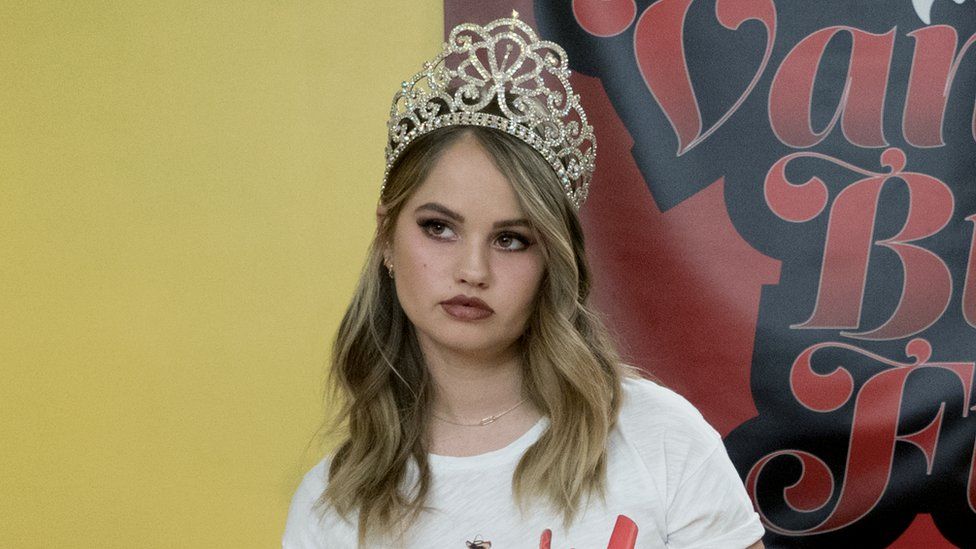 Netflix's trailer for its new series, Insatiable, is facing a backlash across social media for its apparent "fat-shaming" plot.
The series stars Debby Ryan as Patty, a high school teen who has been bullied because of her weight.
But some viewers have criticised for the way it appears to tackle the issue.
Ryan wears a fat suit for the role, while her classmates are seen calling her "fatty Patty" and making jokes about her in the trailer.
"Don't watch shows where people wear fat suits. Don't watch shows where they try to turn fat phobia and hatred into a joke," one viewer tweeted.
Not very into the premise of Fatty Patty... a teenager stops eating and loses weight and then when "conventionally attractive" takes revenge on her schoolmates? This is still telling kids to lose weight to "win." The fat shaming is inherent and pretty upsetting.

— Jameela Jamil (@jameelajamil) July 20, 2018
This is trash. Netflix I expected a company that's prided itself on changing the faces in entertainment and inclusivity to be better to fat people. This story like is uncreative and fatphobic. It's also incredibly insulting to attempt to tell an story of a fat women with a thin

— Savannah✨ (@GirlcraftWorld) July 19, 2018
However, others have pointed out that the show has not yet aired - and argued people should withhold their judgement until it has.
can we at least watch insatiable and give it a chance before bashing it? idk it seems like the show has good intentions based on what I've read.

— ghoulia (@baked_spice) July 20, 2018
One user tweeted: "As a former fat kid, I don't find this trash. It's dark humour and commentary on what the real world is like."
The plot of Insatiable sees Patty spend her summer with her jaw wired shut after being punched in the face during a fight, and loses weight as a result.
She returns to school after a dramatic physical change, with her fellow pupils shocked at her appearance.
She then sets out to prove wrong everyone who underestimated her when she was larger.
Patty is joined by Bob Armstrong (played by Dallas Roberts), a disgraced lawyer turned beauty pageant coach who takes on the teen to be the next queen.
Bob's social-climbing wife is being played by Alyssa Milano, well known for playing Pheobe Halliwell in Charmed.
She has already defended her role in the project:
Lauren Gussis, who wrote and executive produced the show said the show was based off her own experiences growing up.
She told Teen Vogue that Patty the demon of her "inner formerly bullied teenager".
"I really felt like it was important to look at [bullying] head on and talk about it," she explained.
Plus-sized women in Hollywood
Campaigners have often argued that plus-size characters on screen are confined to the role of the sassy, best friend such as Amber Riley's Mercedes in Glee.
Any storylines such characters are given frequently focus on their weight, like Chrissy Metz's character Kate in This Is Us.
Or, any dialogue that character does have is riddled with jokes about their size, which often happened in Mike and Molly, which starred Melissa McCarthy.
In 2012, author and commentator Roxane Gay wrote in the Wall Street Journal that the success of plus-sized women in the industry often comes at a high cost.
"They are always considered overweight long before they are considered women. The constancy of this erasure is telling." she said.
Stephanie Yeboah, a plus-sized style blogger, believes that this narrative does "nothing to promote or progress the body positivity movement at all".
"Portraying a fat person as the 'joke' character before they lose weight, against their will, who eventually becomes respected and popular is damaging and irresponsible," Yeboah told the BBC.
She added shows which "display clear fatphobic ideologies" are harmful.
"Fat women can be desirable. We can be sexy. We can be popular in school. We can have amazing careers and families. We deserve to have this narrative told."