7 shows that helped make Netflix so popular
By Taylor-Dior Rumble
Entertainment Reporter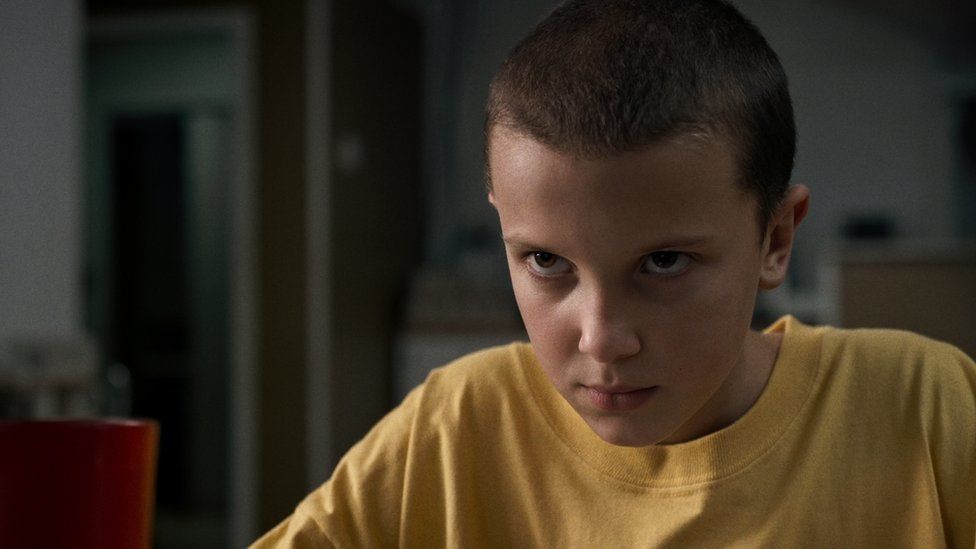 In the early days of Netflix, subscribers used the streaming service to binge-watch shows like Breaking Bad, which they'd missed when they were first broadcast.
But as the company grew larger, it became even better known for making high quality content of its own.
The subscription service took their venture to new heights when it began unveiling its own original shows in 2013.
Binge-watching became everyone's favourite hobby while "Netflix and chill" entered the cultural lexicon.
Breaking Bad, which starred Bryan Cranston (or the dad from Malcolm in the Middle), centred on a struggling school chemistry teacher who turns to a life of crime by selling drugs to help his family.
The series, which was produced by AMC, originally aired in 2008, and has since become a cult sensation, but its creator Vince Gilligan thanked Netflix at the Emmy Awards in 2013 for helping the show gain global popularity.
"I think Netflix kept us on the air," he said. "Not only are we standing up here [with the Emmy], I don't think our show would have even lasted beyond season two."
So in addition to giving a helping hand to some slept-on shows, here are some original Netflix series which helped it become a serious player in its own right:
The award-winning political drama was one of the first original Netflix series, and quickly became the toast of the company, solidifying the platform's reputation for delivering addictive television.
House of Cards stars Kevin Spacey and Robin Wright and tells the story of congressman Frank Underwood and his ruthless plan to attain power in the political playground of Washington, DC aided by his wife Claire.
In 2013, the drama received nine Emmy nominations and became the first online television show to be in the running for the TV industry's coveted awards.
Wright will lead in the show's shortest and final season, expected to air later this year.
2. Orange is the New Black
Based on a true story, the series revolves around Piper Chapman, a middle-class woman living in New York, who is sentenced to 15 months in a women's prison after being convicted of smuggling drug money ten years before starting her law-abiding life.
Since its debut in July 2013, the show has bagged several prestigious awards from the Emmys to the Golden Globes.
It has been praised for its depiction of race, sexuality, gender and diverse body types, particularly its complex look at LGBT women. Arguably, the complete opposite of Love Island.
In an interview with The Guardian in 2016, Kate Mulgrew, who plays Red, a powerful inmate to know in Litchfield Penitentiary said: "TV had been afraid to show this side of women up till now.
"Hollywood and TV networks are a big misogynist machine and it wants you to aspire to be the perfect female form, and the perfect man seducing her, with the men pulling the strings."
Based on the novel written by Jay Asher, 13 Reasons Why revolves around 17-year-old Clay Jensen and his friend Hannah Baker, who killed herself after struggling to cope with the culture and gossip at school.
Hannah leaves behind a box of cassette tapes she recorded which gives the 13 reasons she decided to end her life.
The show sparked a massive debate across social media between viewers, experts and parents on whether the show glamorised suicide or tackled the issue responsibly.
Aside from the conversation and think pieces, the stars of the show - Katherine Langford and Dylan Minnette, who played Hannah and Clay - were praised for their chemistry and authentic performance.
The first season is basically 13 hours of suspense, anxiety and heartbreak, so if you're going to binge, make sure you have a box of tissues nearby.
Another show with a stellar cast of young actors, Stranger Things is undeniably one of Netflix's most popular shows.
Set in the 1980s, the series begins when Will Byers is abducted by a mysterious creature. In the first season we follow his mum Joyce who is played by Winona Ryder, try to find her son, whilst at the same time, his group of friends use their own efforts to find Will. The gang are also being helped by Eleven, a young girl with psychokinetic abilities.
Since its debut in 2016, Stranger Things has been praised for its talented young cast and has received several industry nominations and awards. This year, one of its youngest stars, Millie Bobby Brown, received her second Emmy nomination for her role as Eleven.
(What were you doing at 14 years old?)
This lavish drama, which debuted in 2016, is a biographical story about the reign of Queen Elizabeth II.
The series begins with an inside look into the early days of the Queen and the Duke of Edinburgh's marriage, all the way up to her ascent to the throne as Queen, after the death of her father, in between romances and political rivalries that shaped Britain in the 20th Century.
The first season was the most expensive drama produced by Netflix, costing at least £100m. Seeing how gorgeous the gowns and jewels are, fans argue it's money well spent.
It has received several awards, including best actress and best actor at the Screen Actor Guild Awards in 2016 for Claire Foy (who played a young Queen Elizabeth II) and John Lithgow (Winston Churchill).
The first two seasons are based on the story of Pablo Escobar, the drug lord whose cartel supplied most of the cocaine smuggled into the United States and turned him into a billionaire.
Despite not being able to bag nominations from the likes of the Emmys and Screen Actors Guild, the show is praised for its suspenseful drama and skilful storytelling.
The lead actor Wagner Moura, who plays the wealthy criminal, has been highly praised for his portrayal.
When Moura was originally offered the role by Director Jose Padilha after working on a Brazilian police drama together, he didn't speak a word of Spanish (which caused some concern as it comprises at least half of the show's dialogue), and spent months away from his family in Medellin to learn the language.
Despite being mocked for his Brazilian accent, he still managed to bag himself a Golden Globe nomination in 2016.
Starring Jane Fonda and Lily Tomlin in the title roles, Grace and Frankie focuses on two unlikely friends brought together after their husbands announce they are in love with each other and plan to marry.
While the first series received mixed reviews, the stellar cast left viewers wanting more.
The programme started to receive a more positive reception in later series, notching up four Emmy and one Golden Globe nominations.
In 2017, the co-creator and executive director, Marta Kauffman, told The Hollywood Reporter she wanted to give a platform to actresses in their 70s "tired of playing the grandmother".
She added: "Once you get past a certain point, for women in particular, people dismiss you as a sexual being."