'How we made Now That's What I Call Music 100'
By Mark Savage
BBC Music reporter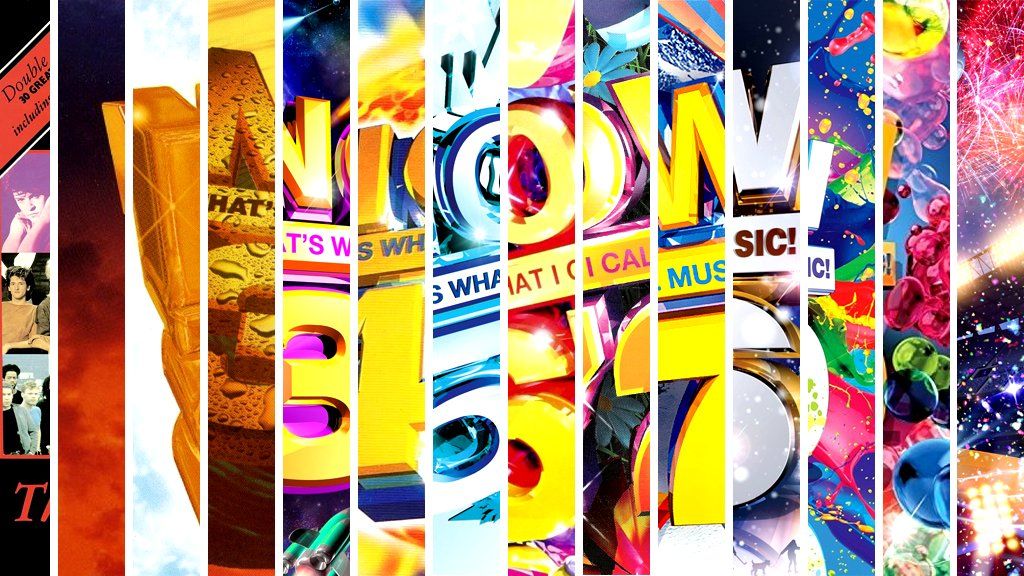 The 100th edition of Now That's What I Call Music will be released this Friday, featuring the biggest chart hits of the last four months. We went behind the scenes at Abbey Road as the Now team chose the tracks for the compilation's centenary.
"It's Now day!" declares Jenny Fisher, settling into a sofa in a relaxed, but cramped little room on the second floor of Abbey Road.
Quietly spoken but authoritative, she's here to decide, compile and master the tracklisting for Now That's What I Call Music 100, which is set to be one of the year's biggest-selling CDs.
The Now series began in 1983 as a way of showcasing the success of Virgin Records which, at the time, was having an unprecedented run of hits with acts like Culture Club, Phil Collins and UB40.
They took the idea to EMI, who were so impressed they linked up with Virgin to release it - the first time that two major labels had collaborated in such a way.
Today, the series is so big (120m sales and counting) that all the record labels get a look-in. But that doesn't mean that compiling the 100th edition will be easy.
"It looks like we won't be able to clear Drake," sighs Steve Pritchard, a 58-year-old motorcycle enthusiast who's been a custodian of the series for more than half his life.
"You could put it on and hope. But if it doesn't clear you'd have a load of CDs which you have to pulp and, obviously, we don't want to do that."
Steve has been working on Now since its 19th edition (side one, track one - The Clash, Should I Stay Or Should I Go) and it's not the first time he's struggled to get permission for a song.
"Historically, a lot of big American artists didn't really understand Now," he explains.
"They saw it - erroneously - as cannibalising their own sales. We were never able to access Madonna, for example."
Still, Drake hasn't been crossed off Steve's master list just yet. Some songs get cleared right at the last moment… and we're only just getting started.
He's joined in the studio by Peter Duckworth, who's been working with him since Now 20 (side one, track one - Vic Reeves and the Wonder Stuff, Dizzy). Jenny is a relative newcomer, having signed up for Now 82 (side one, track one - Fun ft Janelle Monae, We Are Young).
The first task facing the trio is also the biggest - choosing Now 100's opening song.
"So what have we got?" asks Peter.
"I thought it was obviously going to be Calvin Harris and Dua Lipa," says Steve, pulling up the duo's dance hit One Kiss.
"It's huge, it's been around for months, it's familiar, it ticks all the boxes… But honestly George Ezra's [Shotgun is] so big now."
"Calvin's getting a bit older," agrees Peter. "You've got to bear in mind where we'll be in three weeks time when the album comes out."
Jenny settles the matter.
"Dua's a huge personality now," she observes, pulling up a spreadsheet on her laptop. "And the song's been in the chart for 15 weeks."
"There's no choice, is there?" says Peter, who whooshes over to the mixing desk on his swivel chair and instructs the engineer to plonk One Kiss in pole position.
This is how it continues for the next 30 minutes, with pop's biggest artists elbowing for prime placements.
"The Ariana Grande song has dropped away a bit," says Steve, as they consider the candidates for track three.
"But it's a big song," contends Jenny. "It's number three in the airplay chart - and Clean Bandit's number eight."
"Why don't we pull them up and have a listen?" suggests Peter.
At the mixing desk, Alex Wharton, who has mixed everyone from The Beatles to The Chemical Brothers, auditions both tracks to see which fits best after Shotgun.
"You want to ensure that there's a flow," explains Peter. "It shouldn't go from a metal track to a boyband ballad. You want people to enjoy listening to it."
When Alex hits play, it immediately becomes clear that Ariana's breathy pop hit No More Tears Left To Cry is a bad match for George's jaunty barbecue anthem.
"Could do better," remarks Pete.
"It does get faster in the middle but I prefer Clean Bandit," adds Jenny.
There's a mixture of science and aesthetics at play as they progress, but the team scrupulously avoid playing favourites.
"It's about popularity," says Pete. "We don't judge the tracks. We don't put on things we like. It's really about what people are listening to right now."
As they reach track eight, however, they also reach an impasse.
"It gets harder from here because we've used all the hits up," says Steve. "It's all more mid-range now."
There's much rustling of paper as the trio confer over data compiled from the charts, radio playlists, streaming services, Shazam and YouTube.
5 Seconds Of Summer? "I'm worried it might disappear out of the chart quite quickly".
Shawn Mendes? "Slows things down too much".
Little Mix? "Might be worth holding it over [for Now 101] to see if it becomes a hit after summer."
The cull continues for several hours. Drake never grants permission for God's Plan; but Jonas Blue's Rise sneaks in at the last minute, after his manager calls Jenny on one of her three mobiles to give the go-ahead.
Clearance was apparently delayed by the song's featured artists - two American YouTubers called Jack and Jack.
"Is it bad that I've never heard of them?" Peter asks.
By midday, they've squeezed 23 tracks onto the first CD.
Normally, they'd break for lunch before starting work on the second disc which - as anyone who's ever owned a Now compilation (and that's two-thirds of the population, by one count) will know - is where you'd traditionally find the more "experimental", "alternative" or "crap" songs.
In years gone by, it has seen indie giants like Pulp and Massive Attack rubbing shoulders with flash-in-the-pan dance acts like Beatfreakz and Los Umbrellos (no, me neither).
Peter describes it as "the discovery section" - a place for casual fans to find songs they otherwise might not have been exposed to.
"I remember hearing once from someone who got into Radiohead because one of their songs sold sufficiently well to appear on a Now album, and they found it on disc two," says Peter (Radiohead have in fact featured on seven Now albums, most recently with the funereal Pyramid Song on Now 49).
For the 100th anthology, however, disc two is being handed over to classic hits from previous compilations, including Phil Collins (who opened the very first album in 1983) and Robbie Williams (who's appeared more times than anyone else).
That means the mixing session at Abbey Road is over - but the work is far from over.
Jenny scurries off to her office, where she has to write a biography for every artist on the compilation. Her text gets sent to a designer, who works through the night to finish the artwork.
"Then we listen to the CDs all the way through three times looking for any explicit lyrics or audio that doesn't sound right," Jenny says.
"Hopefully by tomorrow night, we'll be completely happy with it, and we can send it to manufacture and start the process on Wednesday morning."
Two weeks later, this Friday, Now 100 will hit the shelves and, if recent editions are anything to go by, sell more than a quarter of a million copies in its first week.
Those figures have remained consistent over the last couple of years, even though streaming allows anyone to curate their own compilation.
The Now brand survives as a "trusted guide" for people who don't want to get their hands dirty sorting out the Garbage from the garbage.
So can the series reach 200? 300? 1,000?
"It probably will but I don't think I'll be working here any more," laughs Pete.
"It seems to be able to adapt to various changes in technology and listening habits," agrees Steve.
"It's owned by two record companies, so as long as it's actually driving extra attention to their artists, the business model isn't so critical.
"In an environment where it's difficult to cut through, just being able to publish a Now 200 tracklisting would get people talking and paying attention to the music.
"So there's every chance it will trundle on as some sort of mega marketing engine."
Graphics and data journalism by Clara Guibourg.
Related Internet Links
The BBC is not responsible for the content of external sites.