Three YouTube vloggers die in waterfall plunge at Canada's Shannon Falls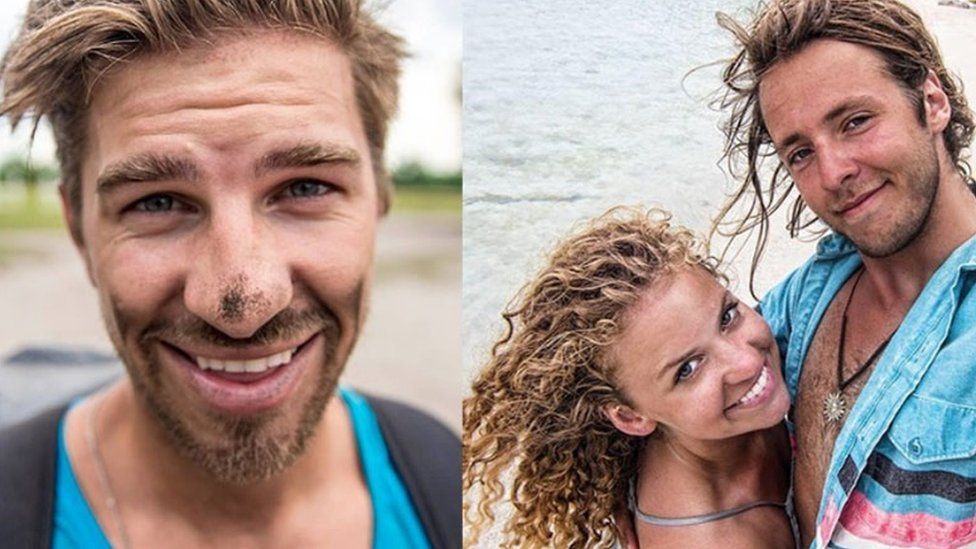 Three members of a YouTube travel blogging collective have died after falling over a waterfall in Canada.
Ryker Gamble, Alexey Lyakh and Megan Scraper were part of High On Life, who post videos of their travel adventures.
The group said: "They were three of the warmest, kindest and most driven and outgoing people you could ever meet."
Police said the trio were swimming at the top of Shannon Falls in British Columbia on Tuesday when they "slipped and fell into a pool 30m (98ft) below".
Other members of the group, who have 1.1 million followers on Instagram and more than 500,000 YouTube subscribers, named the three on their memorial fund page and in a tribute video.
They said: "There are truly no words that can be said to ease the pain and the devastation we are all going through right now."
According to the Vancouver Sun, the accident happened when Scraper slipped and fell, with Gamble and Lyakh also getting swept away as they tried to save her.
High On Life are based in Vancouver and were formed by Gamble, Lyakh and another high school friend, Parker Heuser, after they travelled the world in 2012.
They decided to turn travel and video production into a full-time job and often promoted brands and destinations in the pictures and videos they posted from exotic locations.
Their Facebook page says: "High On Life is the attitude to embrace all of life's opportunities with a positive outlook and energy."
He wrote: "Life isn't about responsibilities, tough decisions and hard work, it's about feeling bliss and living in the moment."
So heart broken and stunned to hear about the passing of Ryker, Alexey from @sundayfundayz along with Alexey's girlfriend, Megan. We watched High On Life for inspiration when we were just starting..so much love, joy and adventure. May they rest in peace <3

— Yes Theory (@YesTheory) July 6, 2018
Last year, Gamble, Lyakh and another group member, Justis Price Brown, were banned from US federal land for five years after pleading guilty to walking on a sensitive hot spring in Yellowstone National Park and other crimes at parks across the western US.
In a statement released on Wednesday, Royal Canadian Mounted Police said they had received a call about three people swimming in one of the pools at the top of Shannon Falls, about 36 miles (58km) north of Vancouver.
"The individuals were with a group of friends when they slipped and fell into a pool 30 metres below," they said.
They added that teams had "worked throughout the day to complete the complex recovery of all three people from Shannon Falls" and that the file had been given to the coroner's office.
The British Columbia Coroners Service said on Friday they were in the early stages of the investigation.
An official confirmed the three were in their 20s, though Gamble's age has been reported as 30.
The Shannon Falls region and its old growth forests are an increasingly popular destination to visit in the province.
The waterfalls themselves are among of the tallest in British Columbia, reaching 1,009ft (335m) at their highest point.
In the wake of the tragedy, officials are warning people to be cautious in the area.
"Areas like Shannon Falls have very polished granite, it's very slippery with the mist and the lichen and etcetera that builds up around there-going in or near those pools has great risk," John Wilcox with Squamish Search and Rescue told radio station News 1130 on Wednesday.
"It's a very unfortunate circumstance hopefully we can all learn from."