Springwatch: Michaela Strachan 'wouldn't be upset' if Chris Packham earned more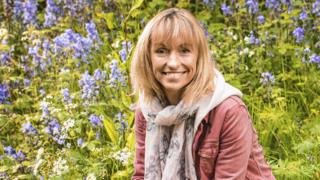 Springwatch presenter Michaela Strachan says she "wouldn't be upset" if co-host Chris Packham earned more than her.
She told the Daily Mirror "you cannot pay" for Packham's knowledge and expertise on the live BBC nature show.
"What Chris brings to Springwatch in terms of knowledge is way more than what I can bring," the presenter added.
While they have a similar amount of air time on the show, Strachan said: "I'm not interested in what he earns from it - it's none of my business."
The BBC press office said they wouldn't be commenting on Strachan's remarks.
'Different strengths'
Strachan, who has been working with Packham for decades, said of the show: "I love doing it, I'm happy with what I get paid.
"If Chris was paid more, and I don't know if he is, I wouldn't be upset because you cannot pay for his knowledge, it's an extraordinary knowledge.
"Chris is extraordinary and the campaigning that he does is extraordinary and I think he's everybody's hero on the team at Springwatch.
"So I'm not interested in what he earns from it."
The pair presented The Really Wild Show together from 1993 to 1995 and have been hosting Springwatch since 2011. They also front its spin-off Autumnwatch, which returns to screens later this year.
Strachan added: "It's a fact that the programme would not be as good if there were two Chris Packhams or two Michaela Strachans and that's why Springwatch works so well as we both have different strengths."
Equal pay for co-stars has been a topic of contention over recent months.
The makers of Netflix show The Crown had to apologise to Claire Foy and Matt Smith when it emerged that she was paid less than him for playing The Queen, opposite his Duke of Edinburgh.
And Eleanor Tomlinson, who plays Demelza in Poldark, said she would be "pretty upset" if she and Aidan Turner were not paid the same on BBC drama Poldark.
But it was then confirmed by the production company of the show that there was a pay disparity, with Mammoth Screen explaining that Turner - who plays Poldark - had "significantly more screen time than any other character".
Follow us on Facebook, on Twitter @BBCNewsEnts, or on Instagram at bbcnewsents. If you have a story suggestion email entertainment.news@bbc.co.uk.