YouTuber Tana Mongeau forced to apologise for "unsafe" conference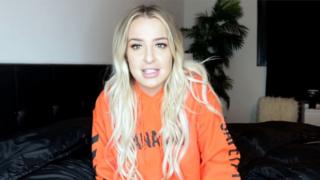 YouTube star Tana Mongeau has apologised for her event TanaCon, which had to be shut down on Saturday.
Mongeau held her event in the same location in California as VidCon after falling out with its organisers.
She advertised tickets and VIP packages, but also said people would be able to queue and get in for free.
"I'm an idiot and I'm sorry" she tweeted, adding that security and safety was her "number one priority".
She had told fans that "20,000 people showed up outside, which is unsafe anywhere".
She said the event was a "horrible, bump in the road", adding that she took "full blame". She told fans: "It's still so important for us creators to continue using our voice & platform & giving our fans what they deserve."
Good Times, which organised the event, apologised for the "safety hazard" created by overcrowding.
In a statement, the company said "we are so grateful for each and every one of you who showed support for TanaCon and Tana's dream of inclusivity".
They continued: "Due to an overwhelming and unexpected response of over 15,000 unregistered guests arriving to the venue Friday morning, unfortunately, inclusivity to everyone became a safety hazard for the exact people we wanted to accommodate."
The organisers said they were prepared for 5,000 attendees, but when queues outside reached over three times that, they were forced to cancel.
The conference was expected to feature appearances from fellow YouTubers Shane Dawson and Miranda Sings, as well as singer Bella Thorne.
Mongeau, who has 3.5 million subscribers on YouTube, organised the event because she said VidCon's management were undecided on whether to grant her "featured creator" status, which would have affected the access she had to fans.
Instead, she organised TanaCon on the same weekend as VidCon, in a hotel near the conference.
She promised to bring along 80 other YouTubers, selling up to 5,000 tickets - with tickets either at $1 or $65 for VIP access.
VIP holders were promised faster entry and a goody bag "worth more than quadruple the price of the whole ticket" plus "private meet and greets".
Mongeau also said people could queue up and enter for free, but with such a large amount of people turning up, there were huge queues and fans were reportedly left without food or water for several hours, in high temperatures.
The event was eventually cancelled, but many fans complained because of the money they had spent on the event and travelling to it.
Twitter user Lydia Bartlett said she flew from Canada with her 14-year-old daughter to attend the event, overcoming "fear of flying, depression and anxiety" to make the trip.
Others also criticised Mongeau for advertising free tickets for the event, which they believe lead to overcrowding.
Twitter user Cara said: "I usually don't comment on things like this, but lack of water, poor line organisation and blaming fans for showing up to an event you said was free when you have millions of fans... Yes that's Tana's fault."
Organisers and Mongeau promised full refunds to all who bought tickets and confirmed another event would take place next January in Chicago, which fans could choose to go to instead.
Mongeau also promised to provide travel compensation for people who had travelled to see her, tweeting that "refunds will be issued even if I write the cheque out of my own pocket".
"Merch will be sent to ticket buyers, if anyone travelled far feel free to email to discuss compensation from me personally," she added.
Follow us on Facebook, on Twitter @BBCNewsEnts, or on Instagram at bbcnewsents. If you have a story suggestion email entertainment.news@bbc.co.uk.