MTV Movie Awards: Five big moments from the show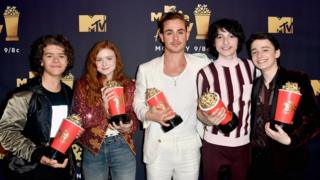 Messages about tolerance, trolls and gun violence punctuated this year's MTV Movie & TV Awards, where sci-fi drama Stranger Things won the main prizes.
The Netflix series won five categories, including best show; while Black Panther took four awards, including best film and best film performance.
Tiffany Haddish hosted the event, spoofing both Black Panther and Cardi B's breakout hit Bodak Yellow.
She also won the award for best comedic performance for Girls Trip.
The MTV awards is renowned for its controversial moments, comedic film spoofs and star-studded guest lists and Sunday night's event was no different.
Here are the five biggest moments from the evening.
1. Tiffany Haddish, the 'outfit repeater', struck again
The host of the awards wore a series of outfits, including a replica of Meghan Markle's royal wedding dress and Audrey Hepburn's outfit from Breakfast at Tiffany's, but one of her choices seemed all too familiar.
Back in July last year, she wore a white Alexander McQueen gown to the premiere of her film Girls Trip, which then reappeared when she hosted Saturday Night Live in November.
During a comedy monologue on SNL, she joked about being an "outfit repeater", so lo and behold it not only made an appearance at this year's Oscars, but also at Sunday's awards.
"Welcome back, and welcome back to my Alexander McQueen dress one more time," Haddish joked after coming back from an ad break.
2. Millie Bobby Brown had a message for bullies
"If you don't have anything nice to say, just don't say it," she said.
"There should be no space in this world for bullying, and I'm not going to tolerate it."
This was Millie Bobby Brown's message to bullies as she spoke via video link to accept the award for Best Performance in a TV Show, for her character Eleven in Stranger Things.
It was perhaps a response to the trolling she received on Twitter, which could have been the reason she recently deleted her account on the social media platform.
3. Roseanne Barr was the villain of the night
The cancelling of comedian Roseanne Barr's show by ABC after she made racist remarks on Twitter was mentioned by not one, but two stars at the awards.
While presenting the award for best hero, Olivia Munn said she had a real life hero of her own to thank: "That guy who fired Roseanne".
Black Panther actor Michael B. Jordan also made a comment during his acceptance speech for best villain, saying: "I'm shocked that I won this award for best villain.
"I thought for sure Roseanne had that in the bag."
4. Chadwick Boseman shared the spotlight with a special guest
While his co-star was the best villain, Chadwick Boseman accepted the award for best hero and best performance in a film for playing T'Challa in Black Panther.
When he collected the award for the former, Boseman invited James Shaw Jr to the stage to thank him for protecting other restaurant-goers from a gunman who opened fire in a waffle house in Tennessee.
He gave Shaw his popcorn trophy and said: "This is gonna live at your house. God bless you, man."
5. The message in Love, Simon triumphed
Love, Simon was a surprise hit in cinemas and was credited with being the first mainstream teenage film to feature a gay lead character and was lauded for helping young people come out.
Winning Best Kiss at the awards, stars Nick Robinson and Keiynan Lonsdale took to the stage to accept their statuette.
Lonsdale said, "I just want to say to every kid, you can live your dreams and wear dresses.
"You can live your dreams and kiss the one that you love, no matter what gender they are. You can live your dreams and you can believe in magic. You can live your dreams and you can be yourself."
Follow us on Facebook, on Twitter @BBCNewsEnts, or on Instagram at bbcnewsents. If you have a story suggestion email entertainment.news@bbc.co.uk.