Geraldine McCaughrean ends 30-year Carnegie Medal wait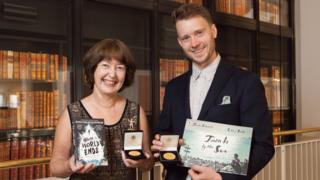 Geraldine McCaughrean has won the CILIP Carnegie Medal for the second time, 30 years after winning for Pack of Lies.
The British author's latest winner, Where the World Ends, follows men and boys stranded on a sea stack after their rescue boat fails to arrive.
The judging panel, comprised of librarians, described the novel as "hugely deserving" of the award.
Reflecting on the win, McCaughrean said the "satisfying" recognition proved "the old girl can still do it".
"When I won the Carnegie 30 years ago, it felt like a licence to go on writing - to call myself an author," she added.
"I am almost ashamed of how much I wanted to win again- I just wanted to prove to myself that it wasn't a fluke!".
The ceremony, hosted at the British Library in London, also saw Canadian illustrator Sydney Smith honoured with the Kate Greenaway Medal for his contribution to Town Is by the Sea.
Authored by Joanne Schwartz, the picture book depicts the daily routine of a young boy growing up in a coal mining town in the 1950s, contrasting a child's life of play with the adult world of work.
Smith said the win was a "dream come true," adding there is "no better feeling than to be recognised for something that was created with sincerity and joy".
Vocabulary warning
McCaughrean used her acceptance speech to petition against the "dumbing down" of children's literature, particularly at primary school level.
Stressing the importance of children's right to language expression and information, she said "we master words by meeting them, not by avoiding them. The only way to make books - and knowledge - accessible is to give children the necessary words".
"In my opinion, young readers should be bombarded with words like gamma rays, steeped in words like pot plants stood in water, pelted with them like confetti, fed on them like alphabetti spaghetti, given Hamlet's last resort: "Words. Words. Words.'"
Speaking further to the BBC, McCaughrean argued that keeping books "deliberately simple" threatened to leave schoolchildren "handicapped".
"Having a large vocabulary is a weapon against the world, without it children will lose not only an understanding of literature but also their ability think, reason and delight in words."
The author blamed "fear" on the part of publishers for the shift, as they "chase the lower end of the market" amid falling readership figures.
"Accessibility is important, but instead of ensuring writing remains for a smaller market of readerly children, they have simplified to ensure mass market appeal."
McCaughrean said adults have a responsibility to "catch children early and feed them as many words as possible," particularly in an age of social media which "encourages" brevity.
"Language shouldn't be hard work, it should be something you can delight in," she said.
Amnesty commendations
As winners, both McCaughrean and Smith will receive £500 worth of books to donate to a library of their choice, a specifically commissioned golden medal and a £5,000 cash prize from the Colin Mears Award.
The medals are awarded annually to books for young people by CILIP: the Chartered Institute of Library and Information Professionals.
A separate panel of judges - including Rizzle Kicks' Jordan Stephens - distributed the Amnesty CILIP Honour commendations, granted to entries that encourage children to stand up for their beliefs and shape the world around them.
The Carnegie Medal honour went to Angie Thomas for her debut novel The Hate U Give, inspired by the Black Lives Matter movement.
Levi Penfold secured the Kate Greenway Medal equivalent for his black and white illustrations in The Song from Somewhere Else by AF Harrold.
Follow us on Facebook, on Twitter @BBCNewsEnts, or on Instagram at bbcnewsents. If you have a story suggestion email entertainment.news@bbc.co.uk.