John Travolta mob film Gotti gets whacked by critics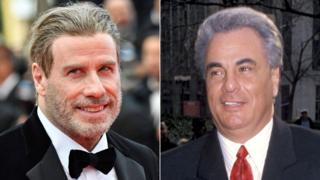 John Travolta's troubled biopic of New York crime boss John Gotti has finally reached cinemas, and the critics have only one thing to say: fuhgeddaboudit.
One reviewer called it the "worst mob movie of all time", while another said it was "a dismal mess".
The reviews are so damning that Gotti has achieved the rare distinction of getting a 0% rating on Rotten Tomatoes.
Two previous Travolta films - Staying Alive and Look Who's Talking Now - are among those to have the same score.
Stacy Keach and Travolta's wife, Kelly Preston, also have roles in Gotti, which has yet to have a UK release date.
Numerous other actors, among them Al Pacino, Joe Pesci and Lindsay Lohan, were also attached to the film during its seven-year gestation.
Directed by former Entourage star Kevin Connolly, the film charts John Gotti's rise from mob enforcer to head of the Gambino crime family.
Known as both "The Dapper Don" and "The Teflon Don", Gotti was eventually convicted of murder and extortion and died in prison in 2002.
Speaking at this year's Cannes Film Festival, Travolta admitted making the film had been "a challenge" despite his attachment to the project.
"You put my name with the Gotti name and it reeks of a story that should be told," he told reporters. "But Hollywood can be odd.
"There was a lot of stress in getting Gotti made," he continued. "But I knew if we did it well, we could pull it off."
The Hollywood Reporter begs to differ, describing the film as "poorly written, devoid of tension, ridiculous in spots and just plain dull in others."
According to Rolling Stone, the film sees its star "trying earnestly to act his way through a ton of lousy make-up and an even heavier slab of bad screenwriting."
Yet Entertainment Weekly is kinder to the Pulp Fiction actor, saying he "somehow manages to summon a ferocious and committed performance while everything else around him falls to pieces."
Other films to receive a 0% rating from Rotten Tomatoes include Jaws: The Revenge, Return to the Blue Lagoon and Adam Sandler's The Ridiculous 6.
The Emoji Movie also received a 0% rating from the reviews aggregator site when it came out last year, though that has since risen to 8%.
Rotten Tomatoes uses critics' reviews to give films a score on its "Tomatometer". Films rated 60% or higher are considered "fresh", while those with a score below 60% are deemed "rotten".
The site also gives films an "audience score" based on the percentage of users who have rated them 3.5 stars or higher.
Gotti currently has a 79% audience score, with a number of contributors giving it five stars.
The two scores often reveal significant disparities, with some movies scoring far higher with audiences than they do with critics - and vice versa.
| Film title | Tomatometer score | Audience score | Percentage difference |
| --- | --- | --- | --- |
| The Boondock Saints | 20% | 91% | 71% |
| Step Up | 19% | 83% | 64% |
| Without a Paddle | 14% | 68% | 54% |
| Spy Kids | 93% | 46% | 47% |
| Star Wars: The Last Jedi | 91% | 46% | 45% |
| Hail, Caesar! | 85% | 44% | 41% |
Follow us on Facebook, on Twitter @BBCNewsEnts, or on Instagram at bbcnewsents. If you have a story suggestion email entertainment.news@bbc.co.uk.