How colour cost Lenny Kravitz a major role in Big Little Lies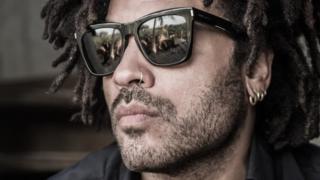 Rock star Lenny Kravitz says he lost a role on the TV show Big Little Lies because producers felt uneasy about casting a black actor as a villain.
The star was "considered to play one of the husbands" in the drama, which revolves around three emotionally troubled women in suburban California.
Big Little Lies was one of the most critically-lauded dramas of 2017, with an all-star cast including Reese Witherspoon, Nicole Kidman and Laura Dern.
Had he won the role, Kravitz would have been "the only black man on the show," he told the BBC.
"And the word that came back to me was that, if I was the only black man on the show, they didn't want me doing what it was that I would be doing.
"So that ended up not happening," Kravitz added. "The director [Jean-Marc Vallée] was like, 'I so want you for this but we'll work together another time.'"
Kravitz declined to specify which role he was up for ("I can't really say") - but it seems likely he was referring to Perry Wright, who is seen subjecting his wife Celeste to vicious beatings and psychological torture throughout the HBO series.
The part eventually went to Alexander Skarsgård, who won both an Emmy and a Golden Globe for his performance.
The BBC contacted HBO for a response to Kravitz's story, but was told that "producers are deep into production on the second season for Big Little Lies and are unavailable for comment".
A second series of Big Little Lies is already in production with Meryl Streep expected to join the cast.
Adapted from the Liane Moriarty novel of the same name, it touched a nerve with viewers in dealing with divorce, domestic violence, the troubles of raising children, school bullying, and ageing.
Happy ending
Kravitz, who previously starred in films like Precious and The Hunger Games, was philosophical about being passed over - especially as his daughter, Zoë Kravitz, was later cast as bohemian yoga teacher Bonnie Carlson.
"I'm much more happy that she got the role," he said. "It worked out wonderfully."
The singer also denied rumours he'd be joining the show for its second season, playing Bonnie's father.
"As fun as that sounds - that's not going to happen," he said.
"But I love all the ladies in the show. I actually just saw them in LA, we had a birthday party for Reese Witherspoon and it was wonderful being with all the ladies and my daughter."
Kravitz is about to hit the UK for a series of dates on his world tour, previewing songs from his 11th album, Raise Vibration.
Among them is the new single Low and the sumptuous, eight-minute protest song It's Enough.
The latter recalls Marvin Gaye's What's Going On as it surveys gun crime, environmental disaster and the abuse of political power; and asks why humanity isn't doing a better job.
"I just thought somehow / That things would get better," sings the star over a muted funk groove.
"Well, I really did. I really did," he tells the BBC.
"I am one who believes that peace and unity can be achieved. Since my first album in 1989, when I came out with Let Love Rule, I've always stood for that.
"But over the last 30 years that I've lived, I've seen it get worse and worse and worse.
"It's amazing that we just haven't learned how to work together."
Kravitz recorded the majority of Raise Vibration by himself in his Bahamas home studio, assisted only by his long-serving guitarist Craig Ross.
His current tour marks the first time he's played an album in concert before releasing it - which he accepts is a risk.
"Of course it is," he says, "but it's OK to challenge the audience a little bit as well; and not just do the 'typical thing that you know works', you know?
"Otherwise you don't grow."
Besides, Kravitz says, he's better suited to playing Europe in the summer.
"Well, you know, I live in the Bahamas, so I like warm weather," he laughs.
"I've done European tours and Russian tours in the dead of winter and it's brutal."
Lenny Kravitz plays in Manchester, Birmingham and London this week, and appears on the line-up for Radio 2 in Hyde Park in September.
Follow us on Facebook, on Twitter @BBCNewsEnts, or on Instagram at bbcnewsents. If you have a story suggestion email entertainment.news@bbc.co.uk.