Matthew Wright says emotional goodbye to The Wright Stuff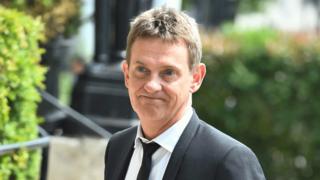 TV star Matthew Wright said an emotional goodbye to his team and the audience as he hosted The Wright Stuff for the last time.
The presenter announced last month that he would be leaving the Channel 5 current affairs show after 18 years.
His voice wavering, he said: "I'd like to thank you at home. Eighteen years we have spent together. That is a long time for stuff to happen."
He said that he was looking forward to spending more time with his wife.
He told viewers: "I got divorced. Coming in to do the show that day, the day of a break-up, that is an experience."
He added: "And then so too is doing a show when you have fallen head-over-heels in love. I have to say it will be great to see more of Amelia. Some compensation I guess for seeing less of you."
Regular panellist Lowri Turner said: "I've been quite tearful, 17 years I've done this show with you."
The show focused on topics such as Grenfell, the upcoming World Cup and Brexit.
After the Brexit discussion, Wright joked: "It's my last show and I don't want to depress you (the viewers) any more."
One of the themes asked "if you're a fool to not have a life plan."
"As I stare towards a future with no plan on what to do next I want to know if that's a problem," Wright said.
"It would be madness to carry on working - I have security - I want to do some living, and hopefully some work at some point or I'll be starving."
But he does have one thing up his sleeve - an appearance on Question Time on Thursday night.
Members of the public phoning in to the show said they were sorry to see him go, with one regular caller, Jason, saying: "I will miss you, my friend."
A montage of clips from the show over the years was shown, featuring famous guests including former prime minister, Tony Blair, and George Michael, who once dialled in.
Janet Ellis, one of the regular panellists, also appeared in the video, describing Wright as a friend and "the finest devil's advocate".
And other celebrities tweeted their good wishes.
Wright thanked "all the wonderful people" he had worked with and said: "The Wright Stuff would be nothing without its guests".
He also thanked those who had sent "thousands of messages, your stories have been incredibly moving," and his first boss, Dawn Airey, who told him to "be naughty".
"What a trip it has been," he added.
Jeremy Vine will become the presenter of Channel 5's new daily current affairs programme after the departure of Wright.
The new look Channel 5 show will air from September with the show getting a new name - although we don't know what yet - for the first time in its 18-year history.
Vine will juggle his new role alongside his weekday BBC Radio 2 show.
Follow us on Facebook, on Twitter @BBCNewsEnts, or on Instagram at bbcnewsents. If you have a story suggestion email entertainment.news@bbc.co.uk.