Does it matter if tours don't sell out?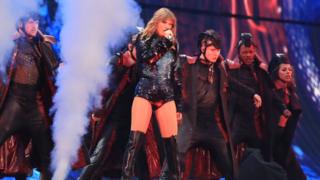 They're among the biggest stars in the world, but Taylor Swift and Beyonce have struggled to sell out some of their UK and Irish stadium shows this summer.
Tickets have remained available for every date of Swift's UK tour, and fans in Dublin, where she plays this weekend, have reported that tickets are being given away for free.
According to Scottish fans, tickets for Beyonce and Jay-Z's joint OTR II show were being handed out for free in Glasgow last weekend.
The concerts have been far from empty, however, and many more people have seen the stars than if they'd played in arenas.
Other singers like Ed Sheeran, who plays four shows at Wembley Stadium this week, have had fewer problems shifting tickets.
So what's going on with shows that have sold less well? Here are some explanations for why ticket sales may have been lacklustre.
1) The empty seats are deliberate
Strange as it may seem, failing to fill those stadiums could be a good thing.
Taylor Swift's tour has been used as a test case in turfing out the touts - with priority given to "verified" fans who pre-registered with Ticketmaster. Those who watched videos or bought merchandise could jump the queue and get discounted tickets in a pre-sale.
The scheme wasn't without critics but, according to Ticketmaster, only 3% of tickets made their way to secondary websites like StubHub and Seatwave. For a regular tour, that figure can be as high as 50%.
In the past, touts have bought more tickets than they can sell, leading to gaps in the audience. This time, the empty seats are Taylor's problem. But she's ensured fans are paying a fair price which, research shows, means they're more likely to buy a T-shirt at her merch stall.
It's a complicated calculation - but according to box office analysts Pollstar, the US leg of the Reputation Tour made more in its first two months than Taylor's previous tour did in total.
2) Eye-watering ticket prices
Putting on a stadium show is expensive and ticket prices reflect that.
Taylor Swift is cavorting around Europe with a gigantic, double-sided stage, a pair of inflatable cobras, a jewel-encrusted microphone and hordes of dancers. Beyonce and Jay-Z have floating platforms, stadium-wide video screens and multiple costume changes (OK, Jay-Z's wardrobe of hoodies and beanie hats probably didn't bust the budget...)
Accordingly, fans are being asked to stump up between £60 and £200 for tickets, with VIP packages reaching a staggering £735.
Such prices aren't abnormal. The Rolling Stones charged £399.95 for a premium standing ticket to their No Filter tour in London - but their audience is older and better off, and there's an added incentive in seeing the band for what might be the last time. Even so, they offered discounts and Groupon deals to ensure they shifted every last seat.
According to Pollstar, average ticket prices have tripled over the last decade, while wage growth has slowed down.
Although concert-going has so far been resilient to the spending squeeze, perhaps the tide is turning?
You might also be interested in:
3) Bad timing
"Old Taylor" may be dead, but it seems UK fans preferred her songs.
The star's new album Reputation may have sold two million copies in the US but over here it's only been certified gold - representing sales of 100,000. That's a precipitous drop from the 1.2 million people who bought its predecessor - making the decision to use it as a platform for her first-ever stadium tour look like hubris.
Beyonce and Jay-Z have a different problem. While their recent albums have been well-received, they've already taken them on the road. Dropping a joint EP (Bonnie and Clyde '18 anyone?) might have given ticket sales a shot in the arm.
4) We're spoiled for choice
An average music fan spends between £40 and £50 on gigs each year, according to a recent survey. Attending a stadium show blows that budget in one go.
So with Beyonce, Jay-Z, Ed, Taylor, The Rolling Stones and Foo Fighters all playing in the same four-week period, fans will inevitably choose one artist at the expense of another.
What's more, tours from Katy Perry, Justin Timberlake, Little Mix, Noel Gallagher and Shakira are also competing for fans' attention. And that's before you factor in festivals - where £150 will get you access to dozens of bands over several days, rather than one headliner playing on a cavernous sports field.
5) Who are Taylor Swift and Beyonce anyway?
Taylor Swift and Beyonce are two of pop's most private stars, rarely granting interviews and rationing TV appearances like they were Densuke Watermelons.
That's great when it comes to building up a sense of mystique - but not so handy when you want people at your show.
A stint on Graham Norton's sofa or a friendly chat with a local radio station can help shift hundreds, if not thousands of tickets. But the two titans of US pop remained resolutely tight-lipped when their tours went on sale.
Swift belatedly popped up on BBC One, giving her shows a hefty plug while playing BBC Music's Biggest Weekend. It probably put bums on seats but, coming two weeks before opening night, it was a little too late.
6) Touts have given live music an image problem
It happens all the time. You log on to Ticketmaster at 9am to buy tickets for your favourite artist the second they go on sale. After three minutes "in a queue" you're told the show has already sold out - but, hey, there are hundreds of tickets available on another website if you want them, and they're only three times face value.
It's a hugely frustrating experience - and one that's only become worse as touts use sophisticated methods to "harvest" tickets as soon as they go on sale (there's also evidence that some venues and promoters have given tickets directly to secondary sites, bypassing the public).
The knock-on effect is that some fans have given up hope. Last year, 68% of concertgoers said they would attend fewer gigs because they'd paid high prices on the secondary market.
Hopefully the efforts being made by Ed Sheeran, Taylor Swift and Arctic Monkeys can restore confidence.
Follow us on Facebook, on Twitter @BBCNewsEnts, or on Instagram at bbcnewsents. If you have a story suggestion email entertainment.news@bbc.co.uk.