Classical music 'should learn from hip hop'
By Paul Glynn
BBC Music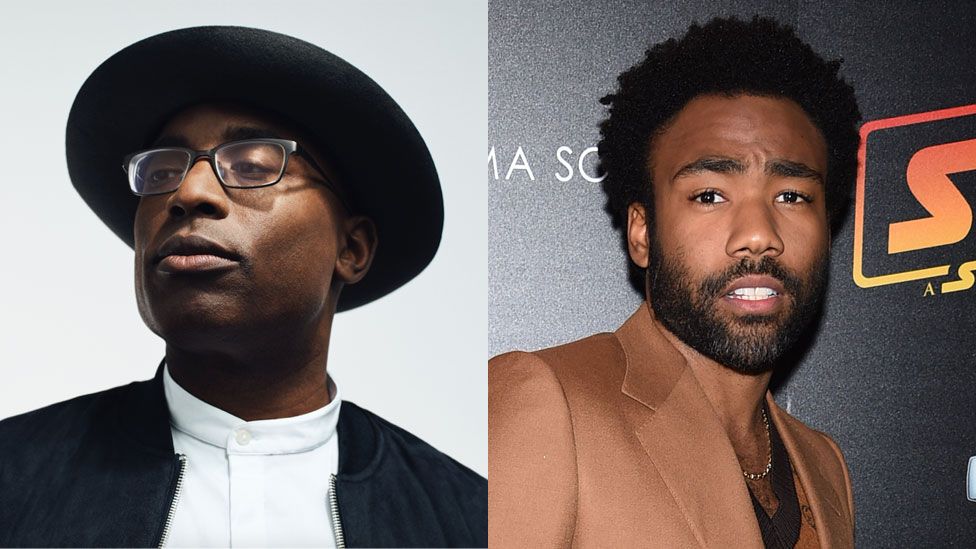 Classical music suffers from a "sense of entitlement" and needs to learn lessons from other, more "provocative" genres, says composer Alexis Ffrench.
Ffrench (above left), who will perform at Wednesday night's Classic Brits, says orchestras and musicians need to take more chances if the genre is to survive.
He cites Childish Gambino (above right) aka Donald Glover and Snoop Dogg as artists "doing daring things" that the classical world could emulate.
"I think we could perhaps borrow more from other art forms," he argues.
"Often we can be complacent - and there's a sense of entitlement about the art form, that it sits in the hierarchy above all other styles of music.
"I listen to a lot of R&B and hip hop and then check out the videos. I see innovation and people pushing the envelope and doing daring things in the name of art, in a way that provokes thought.
"I wonder whether as classical musicians if we can do more on that front."
Now the pianist, an alumnus of the Royal Academy Of Music, has already made his own attempts to reach fans outside the traditional classical audience.
He is signed to Little Mix's management company, and actively promotes his music on pop-focused streaming services - generating millions of streams and more than 1m active Spotify listeners every month.
However, he rejects the idea that the Classic Brits should copy the main Brits ceremony with a politically-charged, pyrotechnically-assisted "Stormzy moment".
"I don't think that's the way", he notes.
The hip hop musical, Hamilton, swept the board at the Olivier Awards in April, demonstrating the impact the rap game is having on other genres of music already.
Now Ffrench, who releases his debut album in September, agrees that other innovations like the DJ/orchestra crossover Hacienda Classical have helped popularise orchestral music but argues there are "even more interesting ways" of bringing the classics up to date.
"We can look and borrow and learn from pop artists and hip hop artists and that way we can become even cooler and sexier.
"If we look at ourselves in the mirror and consider what we are doing to push classical music forward."
The Classic Brits, which celebrate music from the world of classical, film, television, theatre and games return on Wednesday after a five year absence.
Dame Vera Lynn, Hans Zimmer and Tokio Myers are each up for three awards, while actress-turned-singer Sheridan Smith, Michael Ball and Alfie Boe and Alexander Armstrong all go in on two.
Katherine Jenkins (above) will sing songs from the chart-conquering Greatest Showman soundtrack, while the ceremony will also see performances from Andrea Bocelli and Sir Bryn Terfel - aka "the ultimate duet" - as well as a celebration of the career of Lord Andrew Lloyd Webber in the year of his 70th birthday.
Ffrench says he is "hugely excited" to be part of the show, where he will perform his single Bluebird alongside the Royal Philharmonic Orchestra (above) and South African soprano Pretty Yende, as well as his own daughter/ballet dancer Savannah.
"It will go through twists and turned and include elements of dance and video," he said. "It will be quite a feast for the eyes and the ears."
The Classic Brits will be broadcast on ITV this Sunday, 17 June from 22:30 BST.
Related Internet Links
The BBC is not responsible for the content of external sites.