Nadiya Hussain on the sugar tax, takeaways and Bake Off adverts
By Steven McIntosh
Entertainment reporter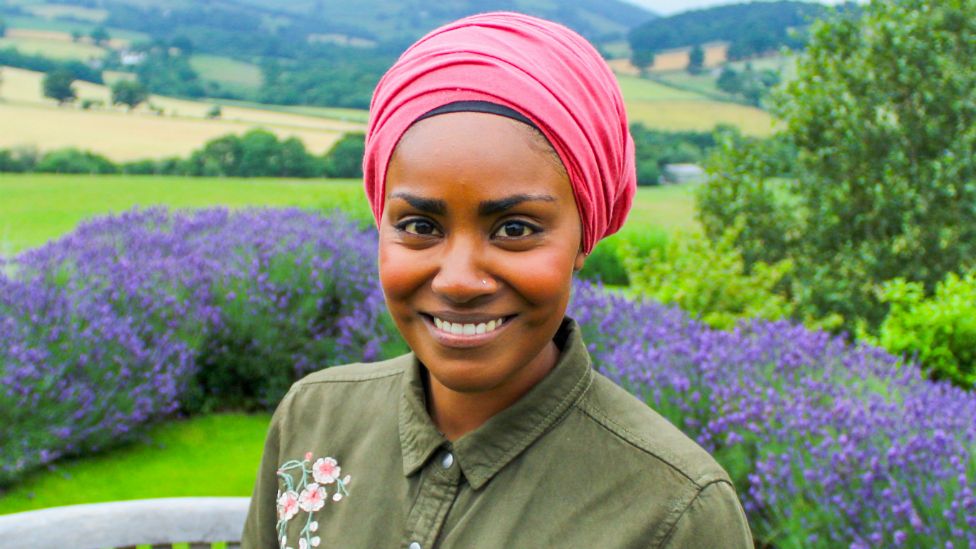 Nadiya Hussain has said she "doesn't know who the sugar tax is helping", adding that healthy eating is about taking "personal responsibility".
Nadiya told BBC News: "If [consumers] want a sugary drink, they're still going to buy it, which means they'll have less money, so I don't know who that's helping.
"If you're worried about your health then you just won't buy it."
The presenter, who won The Great British Bake Off in 2015, likened the extra expense to the rising cost of smoking.
"The prices of cigarettes have gone up since I can remember, because my dad smokes, and it hasn't stopped him from smoking. So how's it going to stop people from drinking sugary drinks?" she said.
"I think sometimes some things are over-thought, and I think when people tell you 'you're obese' and 'this needs fixing' or 'we're taking this away from you' or 'we're making you pay more money for this', I don't know how that fixes the problem."
She added: "The truth is, it stems from the family. You cook and you eat fresh, healthy food, you exercise more.
"I think it's personal responsibility. I can only speak for my own family, and we eat cake. And we eat cheese, we eat chocolate.
"But we also all go cycling and exercise and that's my responsibility as a mother to teach my children to make the right choices."
Earlier this year, Jamie Oliver commented: "This is a tax for good - it is designed to give to the most disadvantaged communities.
"This money was ring-fenced and something like a quarter of a billion pounds is going into schools for breakfast clubs and new sports, and that feels pretty good."
But despite pushing for it, he conceded: "I think the tax whip should be used very sparingly."
Hussain was speaking ahead of the launch of her new BBC Two cookery series Nadiya's Family Favourites.
It's set to air next week, three years after she won Bake Off.
Nadiya won the second-last series to air on the BBC before it moved to Channel 4. She says she remains a fan of the show (when she isn't skipping the ads).
"I watched it last year, but I recorded it, because there's only so much Dr Oetker I can get thrown in my face," she laughs - referring the to frequent idents from the show's sponsor.
"So I didn't watch it, I recorded it. I don't have time for the adverts! So I kind of recorded it and watched it in bits, and this year I'll do the same.
"It's exactly the same show, and it's refreshing actually to see Sandi [Toksvig] and Noel [Fielding] on there because they're two very different characters.
"I never expected them to be the presenters, and I think that's what's great about the show.
"As humans, we're not very good at change. And I think as soon as everyone saw it, they thought, 'oh, it's not that bad', and change is good, there's nothing wrong with change."
Since Bake Off, there's been no shortage of cookery and baking shows on TV.
The Big Family Cooking Showdown and Britain's Best Home Cook were among the programmes to be commissioned after its success and now sit alongside such schedule stalwarts as Masterchef and Sunday Brunch.
So is there room for a new cookery series given how many the TV food trend has already produced?
"Absolutely," is the predictable reply. "Each of these shows is completely different, and I think this is completely different, and I'm all on my own, and I think that there is space for it.
"I love that it's called a trend, but we all eat, right?! I've got this amazing opportunity to cook, and show people what I cook for my family."
The 33-year-old co-presented in the first series of Showdown, but didn't sign up for the second.
Instead, Angelica Bell and Tommy Banks will take the reins when it returns.
"Doing Showdown was an incredible thing, I loved doing it," says Nadiya.
"I got to meet Giorgio [Locatelli], Zoe [Ball] and Rosemary [Schrager]. It was a great opportunity, but I really desperately wanted to do this show as well, and there's only one of me, and I couldn't split myself both ways, so I had to give myself to the series."
Family Favourites involves Nadiya sharing her own recipes and travelling the country to find the UK's favourite dishes.
"What's lovely is there are no limitations. It's just, 'This is what we eat, and this is how we live'," she explains.
"I did my cooking in the kitchen, and then there are bits where I'm travelling out meeting lots of different people.
"You realise that the things we thought were dying aren't actually dying, like making marmalade, bread making, pasta making... the things that people quietly enjoy doing are all still there."
When talking about the time constraints viewers face when it comes to home cooking, she acknowledges: "We have very little time, we're so busy.
"I struggle with time, and when you've got a family, I could very easily step back and say, 'Hey we could just buy that in' or 'We could just get a takeaway'.
"And it's so easy to do that, and I'm not saying I don't, of course I do! There's absolutely no ban on takeaways.
"[But] I hope that when people watch [Family Favourites], they can see that they can cook, and eat, and have a family, and still have lots of time to do other things."
Nadiya's Family Favourites begins on Monday 16 July on BBC Two.