Is Ocean's 8 a waste of talent?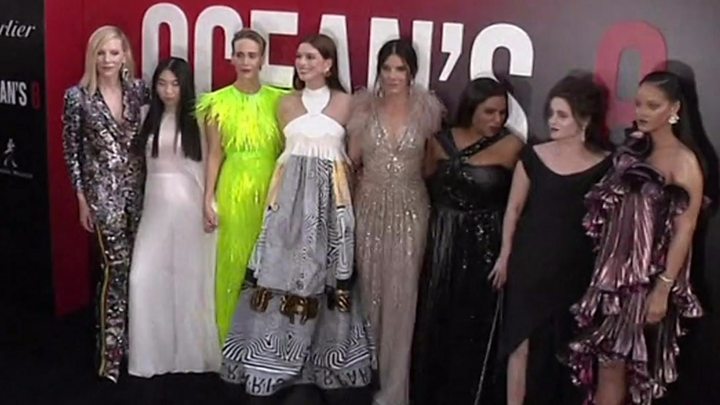 Critics have given broadly positive reviews to Ocean's 8 - but some say it could have been so much better given the quality of the actors involved.
Sandra Bullock, Cate Blanchett, Rihanna and Anne Hathaway are among the all-star cast in the heist movie, which is a reboot of the Ocean's 11 franchise.
There are nods to previous films - Bullock and Blanchett effectively take on the roles of George Clooney and Brad Pitt as the two masterminds, while rapper and actress Awkwafina is an updated version of Matt Damon's gifted pickpocket.
But other things are different.
The target this time is a diamond necklace worth hundreds of millions of dollars, which the team plan to steal at the Met Gala.
Given this setting, there are more cameos than we normally expect from an Ocean's movie - with Serena Williams, Anna Wintour, Tommy Hilfiger and Kim Kardashian all making appearances.
But while several reviews praised the film, some critics agreed it was a wasted opportunity.
"There's a glaring incompetency here in [director Gary] Ross bringing such talents together and not knowing what the hell to do with them," wrote The Guardian's Benjamin Lee in his two-star review.
"The lifeless direction, the unrefined script, the underwhelming cameos, the distinct lack of fizz - there's a slapdash nature to the assembly of Ocean's 8 that makes it feel like the result of a rushed, often careless process.
"It's made watchable thanks to the cast but star power alone cannot mask creative inadequacy. Stealing a diamond necklace is bad but wasting an opportunity like this is unforgivable."
Vulture's Emily Yoshida said: "A flabby final chapter involving James Corden as the detective assigned to the robbery feels like a wild miscalculation.
"After vastly underusing Rihanna, of all people, you're going to bring James Corden in to finish the job? And you're going to give him the one-liners that have been missing from the rest of the film? Who wants to see that?
"I left Ocean's 8 more convinced than ever that no amount of fierce, fantastic female ensembles can overcome the mediocrity of a dull male director."
In his three-star review, Empire's Ian Freer said: "There is something refreshing about seeing a group of women thrive on their wits, guile, smarts, cunning, proficiency and chutzpah rather than sex.
"It's just a shame they weren't tested even further. They could have handled it."
Some critics were more positive, although most had some reservations.
Variety's Owen Gleiberman said: "The first thing to say about Ocean's 8 is that it takes the bad karma that clung - unfairly - to the Ghostbusters remake and leaves it out in the trash.
"For here's a gender-flipped sequel that not only works just fine, but renders the whole 'novelty' of the concept a borderline irrelevance."
Sarah Paulson and Cate Blanchett "don't get a chance to create indelible characters" because "they don't get enough good lines," he said.
"Anne Hathaway, however, is commanding at every moment; even her red-carpet myopia has awareness."
'So light it might just float away'
Variety wasn't the only outlet to single out Hathaway for praise.
"While Bullock and Blanchett get the meat of the script to work with, surprisingly it's Hathaway who slinks off with the entire movie - in part because she gets to play a glamorous, soulless simulacrum of herself," according to Vox's Alex Abad-Santos.
But, the review added: "The most suspenseful and unpredictable part of the film is seeing what glorious costume your favourite actress will turn up in in next...
"It makes the heist, and by extension the movie, feel so light it might just float away, draped in a stylish gown."
'Female clones' of Clooney and Pitt
The Hollywood Reporter said it was "self-satisfied" and "only occasionally as much fun as it thinks it is".
Critic David Rooney wrote: "Rather than reimagining them as newly minted characters, Ross locks himself into a limiting corner by treating Debbie and Lou strictly as female clones of Clooney's Danny and Brad Pitt's Rusty Ryan in the earlier films."
The Radio Times' Emma Simmonds, who awarded it three stars, said the cast were "divine" but said: "Perhaps the film coasts too heavily on the sheer novelty of watching women band together to steal stuff, failing to establish its own unique flavour."
Mashable's Angie Han said: "It doesn't want to tell you how powerful it can be when women band together in a man's world - it just wants to show you how fun it'd be to round up a girl gang and steal some jewels.
"In its own way, that's kind of empowering, too."
Follow us on Facebook, on Twitter @BBCNewsEnts, or on Instagram at bbcnewsents. If you have a story suggestion email entertainment.news@bbc.co.uk.