Peston's show moves to Wednesday nights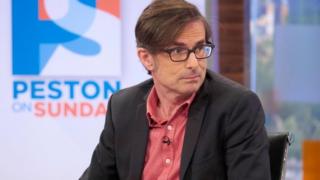 Robert Peston's Sunday morning political show on ITV, Peston on Sunday, is to move to Wednesday nights from September. It will be on air after the main evening bulletin, at around 22:35, and be renamed 'Peston'.
When Peston, ITV's political editor, was poached from the BBC in 2015, a key temptation was the offer of his own show.
Blessed with a loaded news agenda in its early run, including Brexit and the election of President Trump, the show attracted top political guests but initially struggled to gain a significant audience.
ITV made the decision to replay the show on Sunday evenings, following the main news bulletin, and found the show garnered two to three times the audience in its later slot.
The Sunday morning TV schedule is packed with political shows already.
On BBC One, The Andrew Marr Show is on air from 9am, while Ridge on Sunday airs on Sky News at 10am. Also on BBC One is The Sunday Politics, at 11am.
Allegra Stratton was the secondary presenter of Peston on Sunday, but stepped down. Another secondary presenter will be alongside Peston in September.
By moving to Wednesday nights, the new show will be able to take advantage of Prime Minister's Questions on midday of the same day.
There is also no other dedicated political show on Wednesday evenings at the moment. The new programme will be a direct competitor to Newsnight on BBC Two.
Some aspects of the programme will have to change - not least the set, which currently sports croissants and orange juice. One option under consideration is extending the show by 15 minutes.
ITV executives figured that, given the show was performing better in the late night slot, it should move to an evening position permanently, while retaining the live element.
And it will be easier to persuade politicians to contribute on Wednesday nights than on Sunday nights.
The move is part of an interesting new late-night battle in British television.
In a recent speech to the industry, Ian Katz, the new director of programmes at Channel 4 and former editor of Newsnight, said that he wanted to make the 23:00 slot the "free-est and most creatively exciting space in British broadcasting".
Peston - a former print journalist who became a national figure with his eccentric delivery and a string of scoops around the financial crisis - will aim to fulfil Katz's vision on a different channel.
If you're interested in issues such as these, please follow me on Twitter or Facebook; and also please subscribe to The Media Show podcast from Radio 4. I'm grateful for all constructive feedback. Thanks.