Lockerbie bombing TV drama 'in development'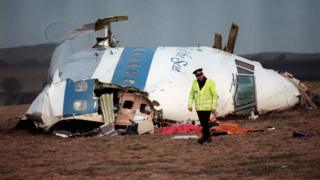 A drama series about the 1988 bombing of Pan Am flight 103 over Lockerbie in Scotland is in development at Channel 4, according to the Hollywood Reporter.
Oscar-winning director Kevin Macdonald is in charge of the project, which was originally conceived as a film.
"We've decided to turn it into TV, as is the way of the moment," Macdonald is quoted as telling the industry journal.
Channel 4 would not confirm the project - to be written by Scottish playwright David Harrower - had been commissioned.
The Pan Am flight from London to New York exploded 31,000 feet over Lockerbie, 38 minutes after take-off from London on 21 December 1988.
The 259 people on board the Boeing 747 were killed, along with 11 people on the ground.
Abdelbaset al-Megrahi was jailed for 27 years in 2001 after being found guilty of Britain's worst act of terrorism.
The Libyan intelligence officer died of prostate cancer in 2012 after being released on compassionate grounds in 2009.
According to the Hollywood Reporter, Macdonald's series will dramatise the bombing and the various conspiracy theories surrounding it.
Last year he described the Lockerbie bombing as "one of those huge events that sort of casts a shadow over Scottish life".
"It seems like it is Britain's JFK in some ways - a looming unanswered conspiracy," he told The Scotsman newspaper.
The One Day in September director unveiled his latest film, a documentary about Whitney Houston, at the Cannes Film Festival last month.
Follow us on Facebook, on Twitter @BBCNewsEnts, or on Instagram at bbcnewsents. If you have a story suggestion email entertainment.news@bbc.co.uk.