Sado Opera: The queer Russian party band with no borders
By Kev Geoghegan
BBC Music News Live reporter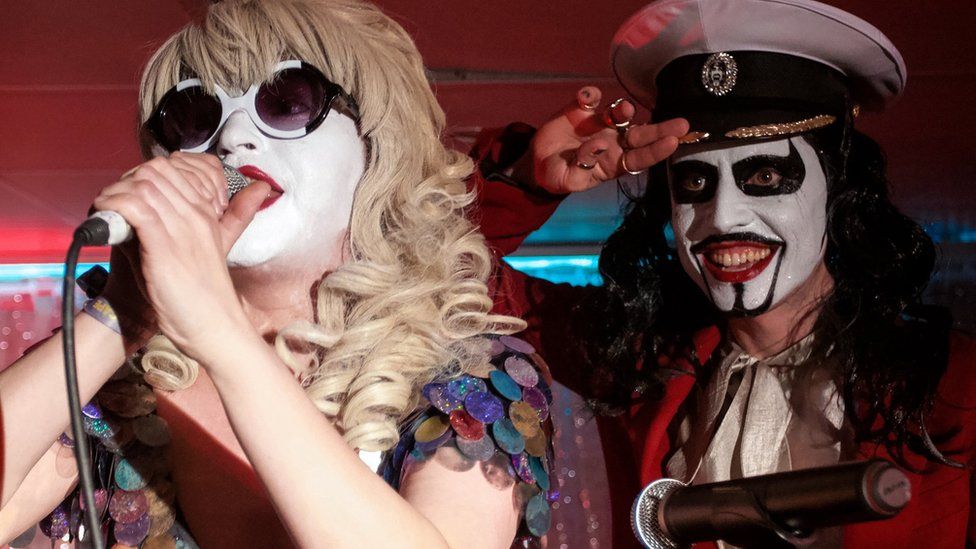 "Hello, I'm Colonel," comes the heavily accented voice from a diminutive, slender man extending a well-manicured hand with long bejewelled fingers.
With a face caked in white and with red painted lips, long black (fake) hair, a military cap and floral pyjamas, he doesn't look much like a regimental officer.
Is that a genuine military title? "Well, you can call me... Boris..." he says with an exaggerated sigh.
This is the incredibly flamboyant singer of the incredibly flamboyant electro-funk pop group Sado Opera, the self-described queer performance band based now in Berlin, but with roots in St Petersburg, Russia.
The band is made up of Colonel, the mysterious perma-sunglassed Katya, drummer Icky and bassist Licky.
We meet at the Queens Hotel in Brighton where they are making their UK debut at the Great Escape festival, which showcases the best new music from around the world.
"Its our first time ever in the UK and it's pretty exciting," says Katya after a round of post-show beers is brought to the table. "To be honest, it's a relief because for us as Russians, we still have to fight a bit to get permission to visit."
Colonel continues: "Just to get the visa was a really long process and we couldn't be sure until the end. We had already bought tickets and just a few days before we got here, we received our passports with a visa. I was panicking."
Katya adds: "We had to prove that we are who we are and we do what we do, that we are really doing music. We had to go through it all when we applied for an artist visa for Germany, so we knew a little bit about the paperwork, but still it was stressful."
When it comes to international travel, the real sticking point for the band is that they do not believe in the concept of borders.
"It frustrates us, we believe in a world where everybody can live together and go wherever they want, we are blessed and happy that we are based in Berlin so mostly in Europe, we can go anywhere to meet lovers, brothers and sisters easily, but the UK was more difficult."
The band formed in St Petersburg, brought together by a love of Prince and classic funk music like George Clinton's Parliament. With their Kiss-style painted faces and outrageous stage shows, they came to the attention of club promoters, although they were often censored for their campaigning stance against homophobia and misogyny.
"It was already tough, we had to face censorship even from the club promoters, self-censorship is also very common in Russia," says Colonel. "They didn't want to put our posters up. Some of them were political it's true, but they were about love.
"What we did in the shows and parties in St Petersburg was to offer what was missing. It was a queer party, not a mainstream straight theme and not exactly a gay club because there are gay clubs in St Petersburg and Moscow.
"You can go to a gay club but you can't talk about it. What we did was give a space to the queer community in St Petersburg to hang out together and unite people who need the space."
While homosexuality is not illegal in Russia, it a criminal offence to publicise acts of homosexuality, bisexuality or transgenderism.
According to Svetlana Zakharova from the Russian LGBT Network: "Many LGBT people remain invisible in society for fear of violence. Big cities are somewhat safer for LGBT people, small cities are often not safe at all. There, people are attacked for even looking like they might be LGBT."
Colonel continues: "Russia is like a country of islands, islands of freedom but only little islands in an ocean of fear and hate."
Katya adds: "One of the reasons why we started the band was to unite similar free-minded liberal people, to remind them they are not alone. Of course, it was difficult sometimes but there are still people in Russia who believe in love and they support us."
Since moving to the German capital, Sado Opera have become resident band of Wilde Renate - one of Berlin's most notorious nightclubs. Their wild reputation earned them a slot on US chat show host Conan O'Brien's TV special on Berlin.
"At first we visited Berlin to drink and party, but when we came back to St Petersburg, we wanted to bring the spirit as well but a couple of times the police were not so happy," says the Colonel.
Katya adds: "A couple of times Boris was stopped in front of the club to one of our shows." He agrees: "Yes, they didn't like my make-up."
Despite being geographically removed from the scene in their hometown, the band say they try to keep close links with young people and struggling LGBT artists there.
"There are a lot of brave people and communities that are staying in Russia, such as the Russian LGBT Network," says Katya.
"We try to share what we are privileged to have. We do events inviting queer artists from Moscow and St Petersburg to give them space to perform in Berlin and several times a year we host parties."
Colonel adds: "We know how it feels to be a young artist and come to a city like Berlin. Of course you need contacts, so when we have brothers and sisters over we are happy to help them because it's natural. People helped us and we want to help people."
The band regularly tour Europe, but do they envisage a day when they can go back to their home country without fear of reprisal?
"On stage? Yes, if they have security," says Katya. "Several clubs are brave enough to keep going in such circumstances and are open-minded and invite queers artists.
"But the crowd is still more restricted. One song we have is called We Are Strays and we sing about cats and dogs," she smiles.
"The chorus goes Miaaaw and Bow Wow and we always encourage people to sing along with us. But when we were playing in Moscow and St Petersburg, a lot of people were scared to do it.
"They thought maybe it was a secret gay signal of some kind!"