Ed Sheeran fans fume over invalid tickets as stadium tour begins
By Ian Youngs
Entertainment & arts reporter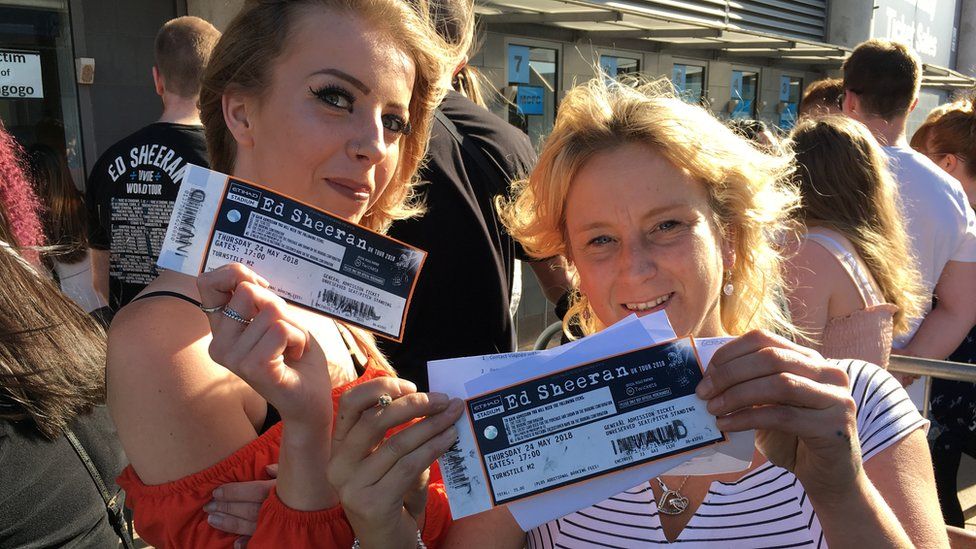 Hundreds of fans turned up to the first stadium date of Ed Sheeran's UK tour on Thursday to discover their tickets were invalid and they had to buy new ones.
Many affected fans in Manchester were not aware and were told to buy new face-value tickets in order to get in, before seeking a refund from Viagogo.
"I was fuming," said Samantha Dutton from Stoke-on-Trent.
"I paid £400 for two tickets, now I've got to pay £150 to go and see him, and then I'll get my money back within five days, apparently.
"If you haven't got a spare £150 to pay for your tickets again, then you can't get in - and it's my girl's 21st birthday."
Sheeran's promoters have cancelled more than 10,000 tickets that were resold on Viagogo - often at vastly inflated prices - for 18 dates in the star's sold-out tour.
Millie Nicholson, 18, from Skipton, North Yorkshire, supported Sheeran's attempts to tackle touting, but said this was "definitely not" the best way to go about it.
"To come all the way here to be pulled aside and be told your ticket's not valid, it's not good," she said.
"I paid £180 for mine and it's not on. And to be here to pay for another one - you're supposed to be here to have a good time… But I do think it's the right thing to do, to crack down."
Yasmin Campbell, from Harrogate, found out on Facebook the day before that the tickets had been cancelled and agreed that it was "definitely the right thing to do".
She said: "At least we're going to get to see the concert and it's not a total sham, but it's just horrible. It's taken all the excitement out of the build-up of the event and instead it's filled us with anxiety, and I will never buy from Viagogo again.
"A lot of people aren't fortunate enough to be able to pay again.
"My brother and his partner have stayed at home today and they're just hoping to get the refund through the bank because they couldn't afford to put the payment down again and they weren't interested in going through all of this farce to be able to do that."
Stuart Galbraith, chief executive of the tour's promoters Kilimanjaro Live, said they were trying to make sure people paid no more than "the price on the ticket that Ed wanted them to pay".
He said: "Although it's inconvenient for customers, we are helping them achieve refunds on transactions where they've just been ripped off.
"We have people we're helping out today who have paid up to £4,000, which is just outrageous.
"Everyone we've dealt with today, and we've dealt with hundreds, we've given them advice about how to receive refunds against their fraudulently traded tickets and we've sold them face-value tickets. So we've achieved what Ed wanted us to."
He advised fans with tickets bought from Viagogo for other dates to arrange refunds and buy new face value tickets in advance. He said those affected should follow instructions on FanFairAlliance.org.
He said: "Our whole process has been to try to deal with as much of this as possible in advance. We don't want to inconvenience people queuing and to be honest we don't want to deal with this ourselves on the day.
"If people have got tickets they know they've bought on the secondary market and they've paid over the odds, go to FanFairAlliance.org."
Fans who only discover that their tickets are invalid on the day and can't immediately afford to buy new face value tickets will be given the chance to come back and buy tickets for a different date, he said.
Asked for a response to this story, Viagogo directed the BBC to the FAQ section of its website, where it protests against concert promoters who deny entry to fans using resold tickets.
"These types of entry restrictions are highly unfair and in our view, unenforceable and illegal," it says.
Related Internet Links
The BBC is not responsible for the content of external sites.