The Girl on the Train: Critics call stage premiere 'a train wreck'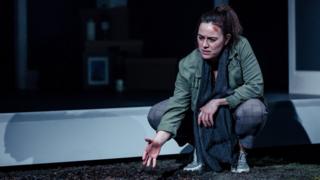 The first stage adaptation of best-selling novel The Girl on the Train is "as exciting as rush hour during a rail strike" and "as appealing as a British Rail sandwich", according to critics.
The Telegraph's scathing one-star review said the "criminally bad" show, which stars Jill Halfpenny, "might put people off theatre for good".
The Guardian gave it three stars, but still judged it to be "humdrum".
Paula Hawkins' book has been adapted by the West Yorkshire Playhouse in Leeds.
Halfpenny plays Rachel, the troubled woman who tries to work out what has happened to the missing Megan.
The Guardian's Michael Billington wrote that Halfpenny "captures well Rachel's dogged determination to get to the root of the truth".
But he said: "An eerily compelling novel, with its multiple narration and Hitchcockian voyeurism, has been turned into a workmanlike thriller and you focus more on what is missing than on any minor gains."
The Times only awarded it a single star and described the play as "a train wreck" that is "teeth-grindingly slow" and "crawls resolutely, maddeningly, down the wrong track".
The paper's critic Sam Marlowe said the main problem was the "sanitisation" of Rachel.
"The adaptors Rachel Wagstaff and Duncan Abel have assiduously erased every element that gives Hawkins's otherwise rather workmanlike prose its queasy, prickly compulsion," she wrote.
"They've done away with the multiple viewpoints and blurred identities in favour of endless static, shouty face-offs and painful dialogue, strewn with walloping lumps of exposition and weak jokes."
'It just doesn't work'
Speaking on BBC Radio 4's Front Row, BBC Radio Leeds and the Yorkshire Post's Nick Ahad said Halfpenny was "really impressive", but the show suffered from losing the narrative voices of Megan and Anna.
"The design and the lighting are two of the stronger things about this adaptation, I'm afraid," he said.
"As an adaptation, it does pain me to say it, but it just doesn't work, and that's mainly because it strips away so much of the story, the things that made the book so successful.
"You're left with the spine of the story of a woman trying to solve the mystery, but the book is about so much more than that."
However, his Yorkshire Post colleague Chris Bond awarded it four stars, declaring that "the smart adaptation is a hugely impressive piece of work".
Follow us on Facebook, on Twitter @BBCNewsEnts, or on Instagram at bbcnewsents. If you have a story suggestion email entertainment.news@bbc.co.uk.