Years & Years star Olly Alexander: 'The landscape has changed for queer artists'
By Mark Savage
BBC Music reporter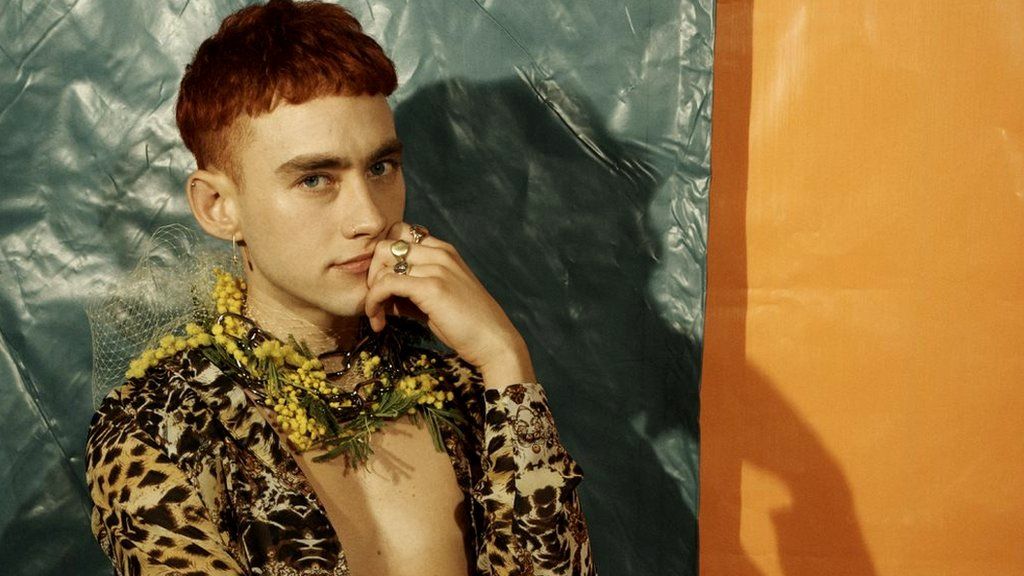 Growing up in Blackpool, Olly Alexander lived next door to a church. As a young gay man, that presented him with a dilemma.
"I was always aware that, in the bible, homosexuality was viewed as sinful and that's always stayed with me," says the singer.
"But I really love religious iconography and religious language because it's so powerful and so evocative... so now I love to play around with that and subvert it."
He certainly achieves that goal on Years & Years' recent single, Sanctify, which characterises being gay as a sacred act. ("Maybe it's heavenly," sings Alexander in the bridge.)
"I love a bit of drama," laughs the singer, "and it doesn't get more dramatic than sanctifying your sins when you pray."
The 27-year-old was inspired to write the song after a brief relationship with a straight man.
"He told me was straight and we became friends, and at a certain point the relationship tipped over into something more intimate - and it felt like we were becoming lovers," explains the singer.
"And suddenly, there was just an explosion of pain and conflict."
The lyrics acknowledge the central tension of the relationship - with Alexander playing both the devil who tempts his lover to "sinfulness" and the angel who "walks through the fire" to help him explore his sexuality.
"I've been out as a gay guy for nearly 10 years, and I know how that journey of coming to terms with your own identity can be really painful," he says.
"I wanted to write something that spoke to that experience."
The single - Years & Years' first new material since 2016 - forms part of a larger, mainstream cultural movement addressing sexuality and gender fluidity; via films like Call Me By Your Name and Love, Simon, and the lyrics of gay and queer artists such as Frank Ocean, Christine & The Queens, Muna and Troye Sivan.
"The landscape has changed dramatically for queer artists," says Alexander.
"In the past, we've all been familiar with pop stars coming out in the middle of their careers, or after they've become huge and that feels like a heavy narrative to queer people.
"Now it seems to be really changing that artists can be out from the start of their career; and it's not some sort of sensationalised headline.
"Of course, there are people who still really struggle with being out, and I know some artists think it might damage their career - but I don't think the tabloids making a splash about sexuality would still happen.
"I think - I think - we can call that progress."
Alexander made headlines himself recently, after revealing he was advised to keep his sexuality hidden at the start of Years & Years' career.
Was he surprised at how widely the comments were reported?
"I understand why it's a story," he says. "I think lots of people are shocked when they hear about homophobia, because they think, 'Oh, it's 2018, surely everything's fine now?' But queer people know that it's not.
"There's so much stigma still around being who you are, and there are still so many barriers to overcome.
"So it's an exciting time - but we've got a long way to go, and I think we need to stay vigilant".
Alexander has emerged as one of music's leading voices on sexuality and mental health since Years & Years won the BBC's Sound Of 2015.
"A lifeline to troubled young people," is how the Observer described him in 2016; while Gay Times wrote he was "one of the most influential gay pop stars of this generation," adding with a flourish: "All hail the King!"
The singer has spoken candidly about being bullied at school, and how he was burdened with anxiety and depression because "society taught me being gay was not normal".
Even now, he says "romantic relationships [are] quite hard because there's a lot of emotional trauma and emotional baggage that is kind of present".
"I'm kind of a self-sabotager," he says. "And there's so many reasons for that - but I should save those for my therapist."
Years & Years' second album, Palo Santo - launched this morning with a short film featuring Dame Judi Dench - is an intoxicating brew of streamlined, kinetic electro-pop that's haunted by bad relationships.
From the boyfriends Alexander dumped or was dumped by, to his estranged father and the "enemies" he battles on a song called Karma, it sounds like the star's been put through the wringer over the last couple of years.
"Oh, does it?" he says, surprised.
"I always present a confident, optimistic front in my daily life, and I try not to let negativity come through. But in songs, that's how I process those emotions and complex feelings. So I don't know that I've been through the wringer, as much as this is just how I process my experiences."
Still, there are quite a lot of break-ups on the record.
"Actually, you're right. It's quite a petty album," he concedes. "When I listened to it all the way through, I was like, 'Wow, I was so angry!'
"But it's good to show that stuff, you know? I think it's human."
Not everyone agrees. Someone close to the band recently told Alexander his lyrics were "not accessible enough".
He won't say who - but they're wrong. Alexander's unvarnished account of his demons, desires and doubts is what makes fans clasp Years & Years to their hearts.
The best pop music, after all, is written by outsiders for outsiders.
"I think so," he agrees. "Pop can be a Trojan Horse. You can dress it up as a dancehall banger but actually it can have a deep meaning inside of its shiny coating."
That's exemplified on Hallelujah, a frisky disco track about the joy of dancing with strangers that also looks at the loneliness of random hook-ups.
"I used to go clubbing a lot, and a lot of that time it was because I wanted to meet somebody," explains Alexander.
"I just wanted to find a connection and it didn't matter who it was, sometimes. There was a real, almost dark energy that was propelling me to keep going out. But there was also a redemptive quality to doing that.
"I think a lot about how clubs are almost like queer churches. You go and congregate and you dance. That's always been a sacred experience for me, although it's been both positive and negative. I wanted to write a song that flitted between those two things."
Does he still go out clubbing, or has fame made it impossible?
"Not as much as I used to, for sure. There have been a couple of times where people just want to take pictures of you.
"And the last place I want to have my picture taken," he says, a grin spreading across his face, "is when I'm embarrassing myself in a sweaty drunk mess in a club."
As for relationships, Alexander says "all options are on the table" - but one in particular stands out.
"What I think would suit me was if I was in a thruple and the other two guys lived in a house nearby," he laughs.
"I could visit them every now and then and they'd cook me dinner, and then I could just go home and watch TV by myself."
Related Internet Links
The BBC is not responsible for the content of external sites.