Rose McGowan: 'Weinstein tried to contact me'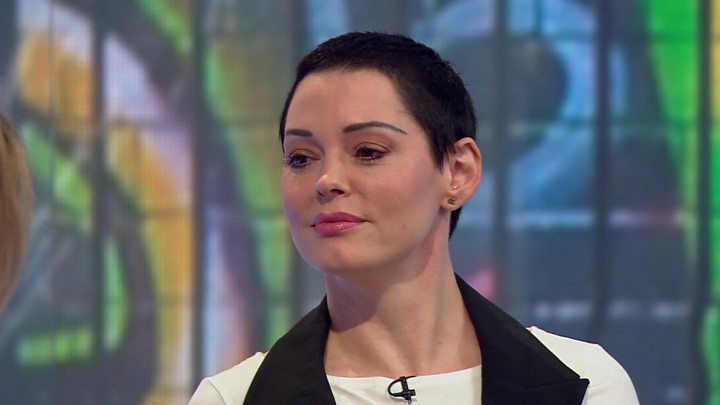 Actress Rose McGowan has told the BBC Harvey Weinstein has tried to contact her since she went public with her allegations that he raped her.
She said she had received "texts, things like that", adding: "I've got no idea how he got my number."
Ms McGowan also said the alleged assault by Mr Weinstein had been "worse than I wrote about".
She is one of several women to accuse Mr Weinstein of rape. He denies all allegations of non-consensual sex.
When asked whether she had been approached directly by the Hollywood producer, she told the BBC's Victoria Derbyshire programme: "Texts, things like that - I've got no idea how he got my number, but he also had former [Israeli intelligence agency] Mossad agents involved in my life so getting my personal phone number wasn't that hard."
When asked how recently there had been contact, she replied: "A month ago - somebody that worked with him, represented him, I don't know, on his behalf - I shook, it was like a bullet once again.
"It was basically just kind of this person is reaching out. And I don't even understand what the point was. I can't understand to what end. The cat's out of the bag."
Asked what the purpose of the message had been, she said it had been suggesting that Mr Weinstein had wanted to get in touch or to talk to her.
She said: "It could have been some random person, but that would be a long shot."
Ms McGowan also said the response had been "nothing short of cataclysmic" since she had become one of the most prominent figures in the #MeToo movement after sharing her allegations.
"In some ways I feel it's an honour to almost be a receptacle for so many people's pain and voices, people who want to identify and reach out and say, 'Me too,'" she said.
"I had hoped that by showing people that if you can cut off the head of power, that you can achieve an awful lot."
'Thing to be eaten'
Ms McGowan claims she was raped by Mr Weinstein in a hotel room during a business meeting at the 1997 Sundance Film Festival.
She told Victoria Derbyshire: "The reality of what happened in that hotel room is even worse than I wrote about [in her book]. I just thought, 'This is enough to really get my point across.'
"There's a strange thing that happens with becoming a survivor, that you feel like you are almost trapped in this weird relationship with this person that you can't get away from.
"It shocks me that I was touched by this person, and so many, I was just a thing to be eaten."
She added the alleged incident "did a lot of damage, it still does" as his name and face was everywhere.
"There's something really strange about having this abstract envy over a victim who doesn't need to see her perpetrator again," she said.
Mr Weinstein's representatives have been contacted for a response to Ms McGowan's claims he has tried to contact her.
In relation to her rape allegations, they said: "Mr Weinstein has vigorously denied Ms McGowan's claims and an investigation of those claims and of Ms McGowan suggests in our judgment, that she has taken a consensual act of intimacy between her and Mr Weinstein and falsely attempted to turn it into an act of sexual assault."
On claims that Ms McGowan had been spied on by an intelligence agency made up of former Mossad spies called Black Cube, the company said it applied high moral standards to its work and operated in full compliance with all applicable laws and regulations.
Watch the BBC's Victoria Derbyshire programme on weekdays between 09:00 and 11:00 on BBC Two and the BBC News channel.