Sierra Boggess pulls out of BBC West Side Story Prom over 'whitewashing'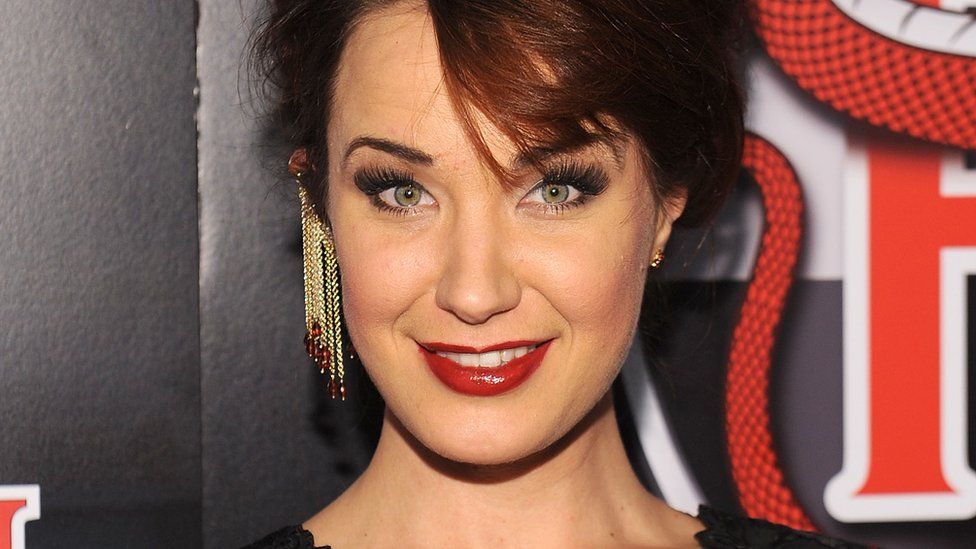 Broadway star Sierra Boggess has withdrawn from a concert performance of West Side Story at the BBC Proms after complaints about "whitewashing".
Boggess, from Denver, Colorado, was due to have sung the role of Maria, who is Puerto Rican, at the show in August.
But, she wrote on Facebook: "After much reflection, I've realised that if I were to do this concert, it would once again deny Latinas the opportunity to sing this score, as well as deny the IMPORTANCE of seeing themselves represented onstage."
That would be a "huge mistake", she said.
"Since the announcement of this concert, I have had many conversations about why this is a crucial time, now more than ever, to not perpetuate the miscasting of this show.
"I apologise for not coming to this realisation sooner and as an artist, I must ask myself how I can best serve the world, and in this case my choice is clearer than ever: to step aside and allow an opportunity to correct a wrong that has been done for years with this show in particular.
"I have therefore withdrawn myself from this concert and I look forward to continuing to be a voice for change in our community and our world!"
Boggess earned an Olivier Award nomination for appearing in Love Never Dies in the West End in 2011 and has starred on Broadway in The Little Mermaid and School of Rock.
Boggess was due to play Maria in a concert version of West Side Story with the John Wilson Orchestra at the Royal Albert Hall in London to mark the centenary of composer Leonard Bernstein's birth.
But Boggess faced a backlash after her casting was announced. One Twitter user wrote: "You are a Caucasian woman and this character is Puerto Rican. It's not like you're hurting for job opportunities. Stop taking roles from actors of colour."
Another said: "I love Sierra Boggess but Maria is seriously one of the only leading roles for Latina women in musical theatre so can we please cast one of the many talented Latina women out there who would KILL to play this role?"
A BBC statement said: "We respect Sierra's decision to withdraw from West Side Story at the BBC Proms this year and will announce her replacement in due course."
The character of Maria was made famous by Natalie Wood, an American actress of Russian descent, in the 1961 film version - although Maria's singing voice was provided by Marni Nixon.
Ayesha Casely-Hayford, an actor and chair of trustees of the charity Act for Change, said the situation was "very telling of the times we're living in".
She told BBC Radio 4's Today programme: "We have an amazing ability now with social media to hear audience reaction immediately and it shows that we want more diversity on our stages, and not only that we want authenticity."
Casting directors should take "a lot of the responsibility" for bringing about change and equality, she added.
"West Side Story is set in a certain cultural background, and we're saying that when someone's personal characteristics are relevant, then use that."
Solving a problem like Maria
The first Maria was Italian-American actress Carol Lawrence on Broadway in 1957
In the 1961 film, Maria was played by Natalie Wood, an American actress of Russian descent. The only Puerto Rican in the cast, Rita Moreno, played her friend Anita
Two actresses of Puerto Rican descent - Julia Migenes and Josie de Guzman - played Maria on Broadway in 1964 and 1980 respectively. The other major US revival, in 2009, starred Josefina Scaglione, from Argentina
In 1984, Dame Kiri Te Kanawa sang Maria on record opposite Jose Carreras' Tony. "The only Spaniard in the cast is the one who must have the most American accent," Carreras quipped
Another New Zealander, Hayley Westenra, sang on a recording for the show's 50th anniversary in 2007
In the West End, actresses to have played the role include Sofia Escobar, from Portugal, in 2009, and Spain's Elena Sancho Pereg, in 2013
Earlier this year, it was reported that Steven Spielberg had put out a casting call, looking for a Latina actress to play the role in a film remake
Whitewashing controversies on stage and screen
Lin-Manuel Miranda, whose parents are Puerto Rican, decided to write his first show, In the Heights, because Bernardo in West Side Story was virtually the only role available to Latino musical theatre performers. He went on to follow that with Hamilton - the biggest hit of the decade.
But in 2017, an Australian production of In the Heights was cancelled after criticism of the predominately white cast.
Whitewashing has been a big issue elsewhere, both on stage and on the big screen.
On Broadway, actor Mandy Patinkin withdrew from the Tony-winning musical Natasha, Pierre & the Great Comet of 1812 last year after being cast to replace Okieriete Onaodowan, who is black.
In Hollywood, British actor Ed Skrein turned down the role of Major Ben Daimio in the new Hellboy film in 2017 because the character is of mixed Asian heritage.
The topic had come to the fore after the choices of white stars like Jake Gyllenhaal in 2010's Prince of Persia; Johnny Depp as Tonto in The Lone Ranger in 2013; Emma Stone in Aloha in 2015; Tilda Swinton in 2016's Doctor Strange; and Scarlett Johansson in last year's Ghost in the Shell.
There was also an outcry when Tom Hardy was rumoured to be playing Jafar in Guy Ritchie's new Aladdin. But that role eventually went to Dutch-Tunisian actor Marwan Kenzari.
Related Internet Links
The BBC is not responsible for the content of external sites.