Will Gompertz reviews Tina: The Musical at London's Aldwych Theatre ★★★★☆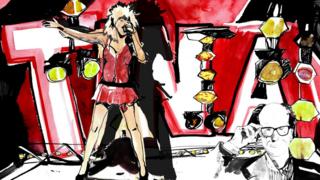 Back in 1994, when Tina Turner was moving into her new home in Switzerland, a couple of advertising copywriters in London were having a terrible time trying to come up with a strapline for a wood varnish product.
Their creative juices were flowing all right, but the client wasn't buying any of their fancy-pants puns or arty references. He wanted something more direct, less hyperbolic.
Saying it was "Simply the Best" accompanied by Tina Turner belting out her 1989 hit obviously wasn't going to do the trick.
So instead they settled on: "Ronseal Woodstain - it does exactly what it says on the tin."
It was hardly Shakespearian but it worked.
Which you could also say about The Tina Turner Musical, a West End jukebox show that does exactly what it says…
Except.
And this is a major exception.
Except for the titular performance given by Adrienne Warren.
The American actress is not unlike the chap in the Ronseal ads, in that she is not a household name. Yet.
She will be though.
And that's because very few performers have the ability to transform the ordinary into extraordinary in the way she does with this show.
Warren is a 24-carat, all singing, all dancing, bona fide star.
She starts slow and a little tentative; reflecting the early steps Anna-Mae Bullock was taking on her journey to becoming Tina Turner. At 17, Anna-Mae meets Ike Turner (Kobna Holdbrook-Smith) who schmoozes her mother (Zelma Bullock) and then abuses her gifted daughter. For 16 years.
The early Ike and Tina scenes see him forcibly shaping his musical protegee. Cymbals fly and a menacing finger is wagged in what feels like a direct lift from J.K. Simmons's merciless jazz teacher in Damien Chazelle's Oscar-winning movie Whiplash.
The show stutters at this point but then bursts into sonic life when we first hear Warren give full vent to her voice.
It is as if she's drawing up the sound from deep within the earth and releasing it in a controlled eruption with a Janis Joplin-meets-Tina-Turner growl.
She is, Ike tells us, "spitting fire".
The hits - 23 in all - are rolled out in a reasonably subtle manner (not always the case with this type of fare), woven, as they are, into the chronology of her life story, which is told through Katori Hall's rather disappointingly two-dimensional script.
I say disappointing, because Hall is generally a very good writer and you'd have thought Tina Turner's tumultuous life story would have provided a feast of opportunities into which she could sink her playwriting teeth.
What we have is a serviceable script elegantly staged by the experienced and astute Phyllida Lloyd (Mamma Mia!), who uses an uncluttered, layered, geometric set to good effect.
She has had to overcome one of the trickier aspects of staging a musical production, which is to figure out a workable plan for getting actors and objects on and off stage in a seamless manner. It is a technical problem that is exacerbated in this production by the frequency and speed of the costume changes Warren is required to make.
There are a couple of occasions where Lloyd appears to have been so flummoxed by the logistics of it all that she's given up, leaving the unfortunate Warren to strip to her underwear and perform an awkward costume change in front of the audience.
There are other moments though, when you sit back and enjoy the intelligence and wit of her direction.
Most memorably in a scene in which Phil Spector (Tom Godwin) takes over from Ike as Tina's producer and has her sing River Deep Mountain High with such intensity and ferocity that there is absolutely nothing left of the song when she's finally done.
If this show had premiered on Broadway and not the West End, the audience would have risen as one and given her a standing ovation at this point. But this is low-key London not noisy New York, so we sat still.
Until, that is, Warren donned her big 1980s Tina wig and started to belt out The Best.
Nobody could resist that.
Up we all went with a gentle side-to-side sway and the occasional self-conscious shoulder inflection.
I turned round and saw the lady herself three rows back beaming from ear-to-ear.
She'd enjoyed the show.
Everyone seemed to be enjoying the show.
OK, it's not Hamilton, but then, nothing is Hamilton.
But it is a decent alternative for fans of the musical genre who can't get tickets to Lin-Manuel Miranda's blockbuster and are in need of a fix.
You never know, The Tina Turner Musical might just run as long as those Ronseal ads.