The Lido author Libby Page on the power of uplifting fiction
By Lauren Turner
Entertainment reporter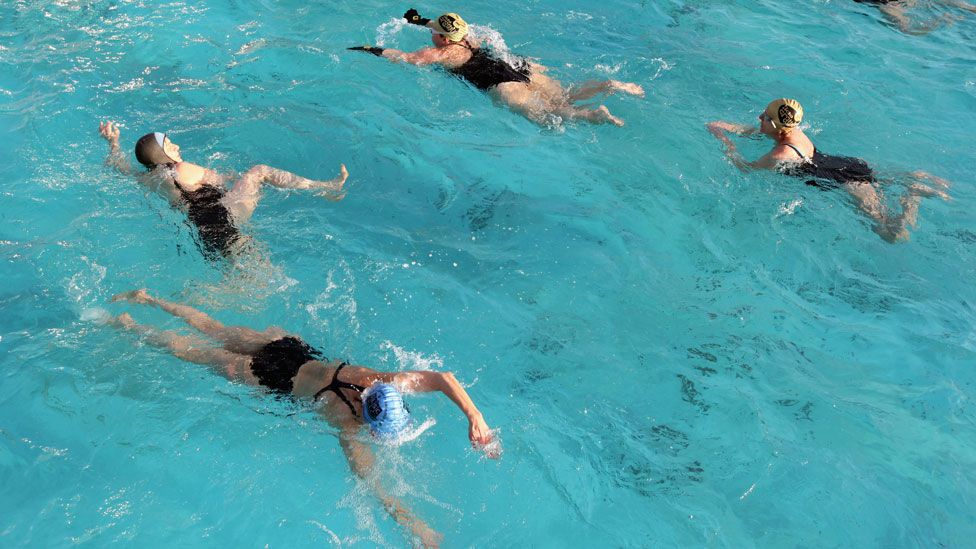 It may feel like the world isn't the happiest of places at the moment. But first-time author Libby Page is hoping that shining a light on the power of community and friendship in The Lido will be the uplifting read people need.
Positive reviews of The Lido - about how residents rally together to save their local pool from closure and developers threatening to use the land for luxury flats - started coming in before it was published on Thursday.
While Libby, 25, is delighted, she is also surprised - not least because she almost gave up on the novel after a year of pitching it to agents with no success.
"I think people are hooking onto the fact that it's an uplifting story," she says. "It's nice to read a feel-good story when, particularly in difficult times, there are lots of troubling things in the news. I think people are looking for just something that uplifts them."
'It's hard to be an optimist'
Page says she's an optimist and that she always tries to see the good in the world.
Yet even she admits "it's hard to be an optimist sometimes. But where I see those really positive stories is on the small, local level - in everyday acts of kindness, communities and in normal people.
"So that's what I wanted to write about. There are good things happening and there are good people, and I wanted to tell their stories. It's saying that people's normal lives can be beautiful stories."
The Lido is set in Brixton, where Page lived when she first moved to London from a small town in Dorset.
Yet while many places represented in the book are real, she did use a little artistic licence - including the threat of closure to the (very real) lido, which is not only alive and well but also hosted the book's launch party this week.
Despite this, Page felt the community spirit in Brixton was under threat.
"There were shops closing, chains coming in, big swish apartments being built," she says. "I started to think about what we lose when we lose community spaces. What kind of city will we be left with? That was the start of the idea."
There's much that's uplifting about a story that reflects on the joy of the outdoors and how friendships can be forged in the unlikeliest of places. Yet The Lido also deals with loneliness - something Kate, 26, and Rosemary, 86, have in common besides a love of swimming.
Kate, a junior reporter at a local paper in Brixton, is new to London and struggling to find her feet. She suffers from panic attacks and feels trapped by her insecurity, eating ready meals in her tiny shared flat and never stepping outside her comfort zone.
She meets the widowed Rosemary when she's sent to interview her about the campaign to keep Brockwell Lido open.
(A script is currently being worked on but the film has yet to be cast. When it is, though, Dame Judi Dench would be perfect for the role.)
"Kate has a lot of insecurities and is very lonely at the beginning of the book," says Page. "People relate to that as something we all experience, in different ways and at different times of our lives. But we don't necessarily talk about it.
"For Rosemary, she's dealing with her own loneliness - but she's lived in Brixton for her whole life and has built up these connections. Kate is newer to the area.
"People sometimes underestimate how long it takes to build those connections and feel a part of somewhere. That was definitely something I wanted to write about."
Loneliness in young people is something that's coming to the fore. A study released earlier this month suggested 16 to 24-year-olds were more likely to feel lonely than older people.
"Especially in your early '20s, there's this pressure that you have to be having the best time," agrees Page.
"You see things on Facebook and Instagram and feel that your friends are having this amazing time - but the reality is that there's a lot they're not posting. For a lot of people it's not always easy.
"That stress and anxiety around just finding your place - I hope people can relate to that. It's something a lot of people I know have been through.
"My hope is that if someone reads it who's had that experience, or if they think someone may be going through it, that it encourages them to talk with their friends or family and say 'I've felt that way as well.' That would be amazing, if it leads to those conversations."
As for Rosemary's character, Page adds: "It's refreshing to see an older woman who's at the heart of the community and is very active. Often you see older women portrayed as more passive. But she's very feisty and a real campaigner."
Libby's tips for writing a page-turner
The most important thing is perseverance. If I'd given up and not sent my book to more agents, I'd still be working in marketing. It can take a long time and be demoralising, but I think you have to not let that put you off. You have to be dedicated to doing the actual writing, and it can take a really long time. I'm lucky that it only took me a year to write the book, but it can be years. You have to stick at it, even if you don't feel like it.
One thing I've had to adjust to is the amount of time you spend on your own. I don't think I appreciated that. I'm very fortunate to be writing full-time but it's a very isolating activity. You have to sit down and write it on your own. I've had to say no to social things so I'd have the time to do it. You also have to prepare for this, making sure you get out and see people when you're not writing.
Pursuing things you're interested in is so important. This book has really sprung out of a hobby of mine, which is swimming. You never know where your interests may take you, and you're probably more likely to be passionate enough to write a book about something if you're really interested in it. If you've got a hobby or an interest, then go for it. I try to go to random classes and talks too, because you never know what will spark an idea.
I find exercise really helpful - to go for a walk or a run, to be out in the wild. It might sound cheesy but there's something about physically moving that gets your brain moving as well. It can be tempting to feel like you have to stay chained to your desk, but it's important to let yourself go and do something else to let your brain do its work.
Having short-term goals is key. It sounds really nerdy, but I made myself a star chart - whenever I wrote 1,000 words, I'd give myself a star. It works! People are motivated by encouragement. Seeing all those stars build up helped me realise "I'm further on today than I was yesterday." Other people might like to reward themselves with a cup of tea or piece of chocolate. But acknowledging small milestones is so important.
The friendship that's formed between the pair is pivotal to the book. "We have more in common with other humans than we think we do," says Page, a lover of swimming herself.
"Loneliness brings Kate and Rosemary together because they're both lonely in their own way. They make the connection through that, but also through their love of the lido.
"With the outdoor swimming I've done, I've seen people of all ages getting into the water. It's somewhere I've seen and looked up to older women, who are there in their floral swimming costumes jumping into freezing cold water. I just found that so inspiring."
Page adds: "These women do exist and the lido is such a great meeting place for people of all generations and backgrounds. If you're just there in your swimming costume, you're more exposed in a way and maybe you're more likely to start those conversations."
She says early readers of The Lido have told her it's made her think of their own local community, and adds: "What I really love is that people say it's inspired them to go swimming, when they've not been in years. To think you've inspired someone to take an action is just amazing."
The Lido is published by Orion Books.