Dua Lipa speaks out about sexism in the music industry
By Mark Savage
BBC Music reporter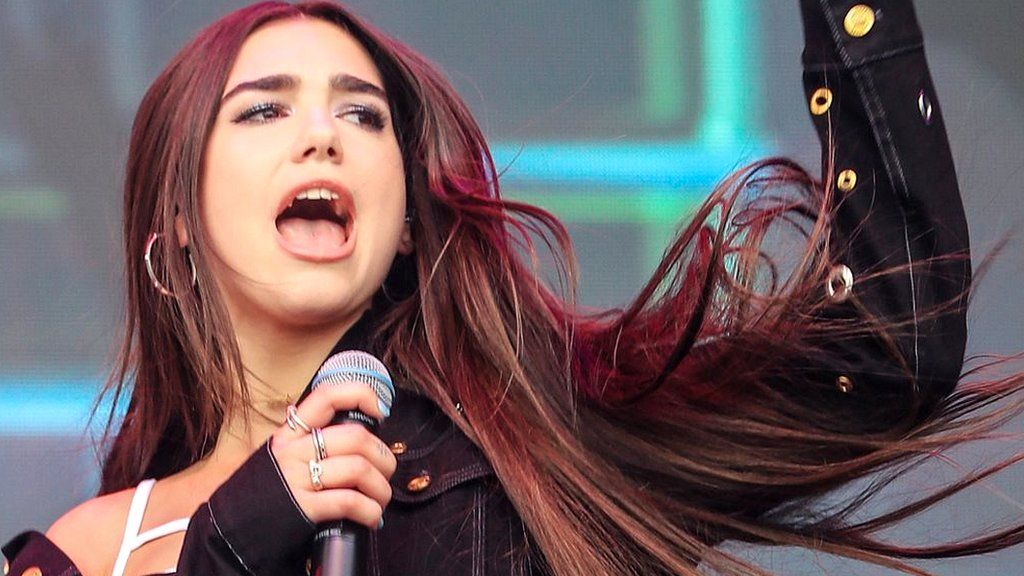 Pop star Dua Lipa has spoken out about sexism in the music industry, saying women struggle to get recognition.
"For a female artist, it takes a lot more to be taken seriously if you're not sat down at a piano or with a guitar," she told GQ.
"For a male artist, people instantly assume they write their own music, but for women, they assume it's all manufactured."
The 22-year-old co-wrote the majority of her Brit award-winning debut album.
Speaking to the BBC in 2016, she said she had worked on more than 130 songs for the record and "learned a lot from the co-writers that were coming in to help me - the bones of how to write a proper song".
A major breakthrough came on the early single Last Dance, she continued.
"It was the song where we figured out what my sound was going to be. The beat, the darkness, the lyrics, the pop chorus.
"It's the one I would take to new producers and say: 'Right, this my sound.'"
Dua's difficulty in gaining recognition is not uncommon.
In 2015, Bjork noted that musician Drew Daniel - aka Matmos - had been credited with producing her Vespertine album, despite the fact she'd written "80% of the beats" on her own.
"Drew is a close friend of mine, and in every single interview he did he corrected it," she told Pitchfork. "And they don't even listen to him. It really is strange."
"You will notice of the big successful female artists, there is always a 'man behind the woman' piece. If it's Beyonce, it's Jay Z. If it's Adele, it's Paul Epworth.
"Me? It was Mark Ronson and the same with Amy Winehouse. You never get that with men."
Dua went on to tell GQ how important the #MeToo movement had been for women in the entertainment industry.
"Even from school, growing up with kiss chase or whatever, it's been ingrained in our heads that boys will be boys and its harmless fun and no big deal and to brush things off," she said.
"Like catcalling. To some it might not seem a lot, but it affects your mood, people get embarrassed about the way they dress.
"For lots of females, be it actresses, singers, models, no matter what it is, it's not being able to have the right to dress and wear how and what you want and be taken seriously."
The star added she was currently working on her second album.
"It's very much dance crying," she said. "It is a pop album that you're going to be able to dance to, but a lot of the songs are sad."
Related Internet Links
The BBC is not responsible for the content of external sites.