Cynthia Nixon laughs at 'unqualified lesbian' dig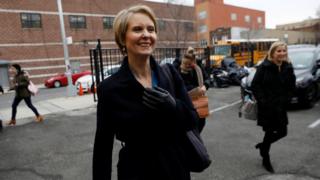 Cynthia Nixon has laughed off remarks about being an "unqualified lesbian" by former New York City council speaker Christine Quinn.
Sex and the City star Nixon, who is running for New York's governor, addressed the remarks by welcoming "unqualified lesbians and qualified ones too" at a launch party at the city's Stonewall Inn.
Quinn, who is openly gay, supports current New York governor Andrew Cuomo.
Nixon plans to challenge him.
She is hoping to gain the Democratic party nomination.
Quinn spoke the day after Nixon launched her campaign on Monday - but later clarified that she was not attacking Nixon for her sexuality.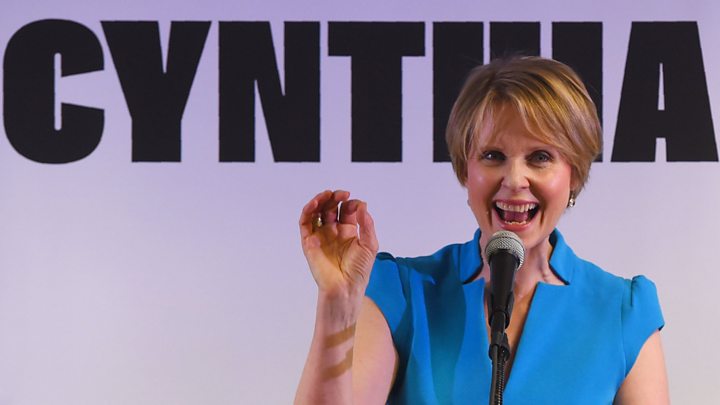 Nixon said at the launch: "When I announced yesterday that I'm running for governor, one of Cuomo's top surrogates dismissed me as an unqualified lesbian.
"I just want to say tonight that she was technically right, that I don't have my certificate from the department of lesbian affairs - but in my defence there is a lot of paperwork involved.
"Seriously though, folks, I'm running for governor because I love this state. I was born here, I was raised here, I'm raising my kids here, it's the place where I made my career, it's the place where I met and married the love of my life - my wife Christine. I've never lived anywhere else, I would never want to live anywhere else."
Quinn reportedly said in her original remarks that even though she was a "qualified lesbian" when she ran for mayor in 2013, Nixon did not support her.
She later told the New York Daily News: "My point was to draw a similarity between the two of us and to draw a clear contrast as it relates to her being completely unqualified to be the governor of the state of New York."
Follow us on Facebook, on Twitter @BBCNewsEnts, or on Instagram at bbcnewsents. If you have a story suggestion email entertainment.news@bbc.co.uk.