Alexandra Burke: UK has 'massive problem' with confident women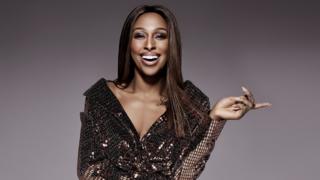 Alexandra Burke has battled more than her fair share of criticism in the last year - something she says is partly down to the way confidence is perceived in the UK.
There's every reason for Alexandra to feel on top of the world.
The 2008 X Factor winner is fresh off the Strictly Come Dancing tour, has new music coming out, recently landed a role in the West End-revival of Chess and is going on her own solo tour later this year.
But, as the 29-year-old gears up to release her third album The Truth Is, she is open about the turbulent time she's had in recent months.
"It's so easy to get into a habit in this industry of, when someone asks how you are, you say, 'Oh yeah! Everything's great! So nice to see you!' in a really high-pitched voice!" she tells BBC News.
"And I fell into that autopilot trap of saying everything's wonderful. And sometimes it's not. And so I'm at a point in my life where I can just be like actually, if I'm not okay, I'm going to say.
"Life has its challenges, but it feels like people can't talk about it, because it's like you're scared of facing your own reality, and that was me."
Life certainly threw several big challenges at Alexandra towards the end of last year.
She took part in Strictly Come Dancing, a show on which celebrities queue up to appear and is normally described as a joyful experience by former contestants.
Despite regularly receiving top scores from the judges, Alexandra often found herself in the bottom two as a result of the public vote and the subject of criticism on social media.
But why? Several theories were forthcoming.
The Guardian suggested "Burke's surprising difficulties [were] linked to deeply rooted racial anxieties" - but acknowledged that was unlikely to be the sole issue, as Ore Oduba won the series the previous year.
The Sun's Dan Wootton, meanwhile, claimed Alexandra was "far too cocky".
In an article for The Guyliner which staunchly defended her and rapidly went viral, Justin Myers seemed to hit the nail on the head.
"According to some, Alexandra is gushing, over complimentary, talkative, excitable, dramatic, theatrical, over the top, grating, mildly annoying, calculating, overly humble and modest," he said.
Many agreed that it can sometimes feel in the UK like celebrities, and women in particular, have to behave a certain way in order to be successful.
Our biggest pop stars, such as Ed Sheeran and Adele, often making self-deprecating jokes or even play down their own success.
But women who come across as a little more confident in their own ability are often said not to be "likeable" enough.
Writing about Jessie J, who has faced similar accusations, Popjustice said: "In the UK we have a problem with what we call 'showing off', even when it comes to pop stars, musicians and people whose actual job is to show off a bit.
"Sing but don't over-sing. Collect an award but don't look too pleased with yourself. That sort of thing."
"I find it bizarre, because women shouldn't feel that if they come across as too confident it can be mistaken for arrogance. That's a massive problem we have over here," Alexandra says.
"I got lost in a little bubble on Strictly. That minute-and-a-half where I had no cares in the world. I love to dance so it was a joy and something that I would look forward to if I made it through to the next week.
"It was just a special moment for me to not do anything but dance and be carefree.
"And that, yes, has been mistaken for confidence, and there has to be an ounce of confidence for you to go on the stage and do something out of your comfort zone. But I was trying to prove something to myself.
"I wanted to learn Latin and ballroom because I've never done it before... if you get a challenge, why not try your best to execute it?
"It's a shame that some people mistook that determination and that will to want to do well, which everyone should have in life by the way, for arrogance or anything other than what it was.
"And I've always been quite sad about how that came across with some people and what they would say on Twitter. But at the same time, people around me that know me well enough know what I'm like and how much effort I put into everything."
One thing that she was praised for during her time on Strictly was how she persevered with her show in the wake of her mother's death.
Melissa Bell, a former lead singer with Soul II Soul, died in August, just as Strictly was due to begin.
Having gone through a period of what must have been horrific grief, I ask whether she has any advice for anyone else suffering a close family bereavement.
"You know what, I'm probably not the right person to answer that now, because I'm throwing myself into work," she says candidly.
"Some people have said that's not the right thing to do, but that's just my coping mechanism, to just to be busy and not think about anything. So actually, I don't know how healthy it is or not healthy it is.
"So really, I would just advise people to be around people they love. If you want to cry, you can cry in front of them, or if you want to share great memories, be around people who totally support you whatever mood you're in, and that's the people I have around me."
For now, Alexandra is focusing on her new album, which she's been working on for five years. Among the tracks is a duet with Ronan Keating.
"It's been a long time, and a lot has changed in my life," she says. "Some songs that I wrote in 2013 actually didn't make the cut, because it's not how I'm feeling right now in 2018."
Speaking about her future collaboration plans, she says: "I really want to do something with a female, because I haven't yet. I really want to do something with Jessie J, Emeli Sande, Bebe Rexha."
And her other career plans go well beyond music. "I would love to one day write an autobiography, but for me it's about timing and confidence," she says.
"Writing an autobiography is deep, you have to let every cat out of the bag. I'd love to do one, especially now it's 10 years on from the X Factor, so I feel like soon would be a nice time."
Alexandra is clearly proud of her time on The X Factor, which has now come full circle thanks to a recent chance encounter.
"I have amazing memories with Ruth Lorenzo, JLS, Eoghan Quigg... who I caught up with the other day! He's a radio presenter in Belfast so he interviewed me. He looks so different now, he was so young back then.
"But yes, it would be nice to reflect on the great times that I shared with all of those amazing people at that time."
The Truth Is by Alexandra Burke is out now.
Follow us on Facebook, on Twitter @BBCNewsEnts, or on Instagram at bbcnewsents. If you have a story suggestion email entertainment.news@bbc.co.uk.