Sir Ken Dodd and the end of a comedy era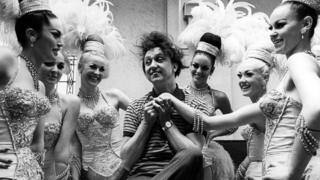 In the 1960s and '70s, a Ken Dodd Summer season in Blackpool would often begin at Whitsuntide and end at Christmas.
He would play twice a day Monday to Friday, three times on Saturday and he would be filling a 3,000-seat theatre every time, a place bigger than the London Palladium.
Then, on a Sunday, he would play another venue in another town.
Often it would be Blackpool's northern rival Scarborough. That's more than a million paying customers in total.
Forty years on, his most regular Scarborough haunt, the Futurist, is being knocked down. The other two summer season theatres, the Floral Hall and the Opera House, have both long since gone.
However, if you want to understand Ken Dodd, it helps if you remember something of this era at the tail end of variety and music hall.
Modern comedy has split in to two. At the bottom are the small clubs of traditional stand-up. The crowd is usually young and well lubricated. At the top are the select band of TV stars who can play the really big tours.
In Ken Dodd's heyday, his audience were families on a week's holiday by the seaside. Fish and chips, tea, bread and butter - and big portions - were the normal pre-show preparation.
He, in turn, would deliver big portions of comedy. Scarborough's taxi drivers dreaded his visits, knowing they would be waiting on the foreshore into the early hours of the morning.
Occasionally, in old recordings, you get a glimpse of the audience and see how many of them were older women and relatively young children. He needed to find a way of making them all laugh. The solution was the torrent of gags.
One after another they poured down at you. If three missed their mark, then the fourth would get you. All around you would be the sound of sustained laughter, which seemed to make everything that bit funnier.
There was a reason why, when every one of his contemporaries had long since retired, he was still filling theatres - this was comedy that was broad, silly and brilliantly judged. He could be slightly saucy but knew exactly how to deliver it to his family audience.
Standing in the wings would be his fiancee Anne, checking off the jokes to ensure that people were getting something relatively fresh.
Then, even once the show was over, he would still be found backstage holding court, signing autographs and telling yet more jokes. As I said, big portions. This was industrial-sized comedy for a world before Benidorm and the long decline of the industrial north.
In the '60s, the playwright John Osborne took actors from the Royal Court to see him to show how comedy was done. Prime Minister Harold Wilson was also once seen in the audience.
And in a fascinating interview with Ken Dodd on the BBC's Late Night Line-Up, he was asked about the other big thing in the comedy at the time, the satire boom.
He was scathing. It was, he said, the difference between wit and humour. Wit, he felt, was barbed, with something unpleasant. Humour was about bringing people together.
Ken Dodd was always on the side of humour.
Follow us on Facebook, on Twitter @BBCNewsEnts, or on Instagram at bbcnewsents. If you have a story suggestion email entertainment.news@bbc.co.uk.