Ken Dodd was 'life-enhancing and brilliant' - tributes paid to the comedian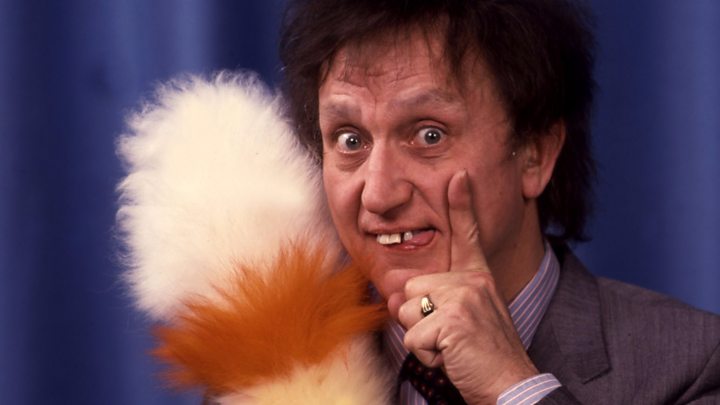 "Farewell to my fellow Liverpudlian, the tattyfilarious Ken Dodd," tweeted Sir Paul McCartney.
His was one of many tributes that have been paid to the legendary comedian, who has died at the age of 90.
Lady Anne, Dodd's partner of 40 years - who he married on Friday - said the world had lost "a most life-enhancing, brilliant, creative comedian".
She said he "lived to perfect his art and entertain" his fans, and "just wanted to make people happy".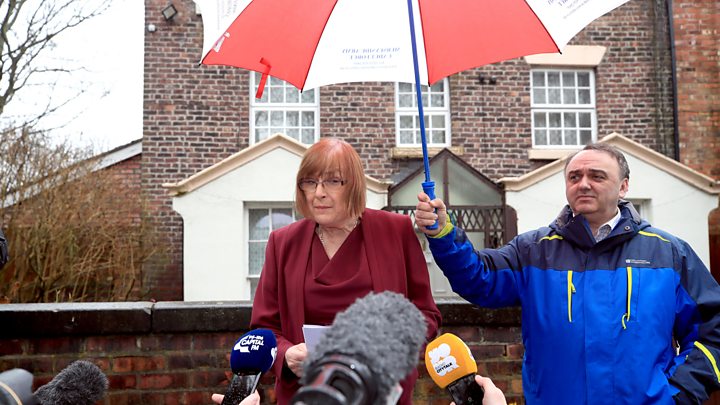 Famous fans and friends also lined up to share their thoughts and anecdotes.
David Walliams said that "comedy flowed through him like water".
Actress and presenter Claire Sweeney, who was a support act for Dodd in theatres when she was a teenage singer, told the BBC: "He was such an inspiration. Ken started my career off when I was just 14."
She added: "The most precious thing you can give someone is advice and time. And he spans generations."
The TV personality said Sir Ken recently offered to give advice and help to her three-year-old son.
"He told me: 'If he's got funny bones, send him to me - I'll tell him everything he needs to know.'
"At his 90th birthday party in November, his brain was so sharp - it was such a lovely tribute to him. What a send-off in a way!
"He didn't need TV to get exposure, he used to fill out stages. He's never been seen as uncool or out of fashion."
Sweeney added that his wife Anne was a huge support to him.
"When I was 14, we were performing at the Villa Marina in the Isle of Man - Anne would take notes of the jokes he'd made at the side of the stage. Behind every successful man is a strong woman.
"She was always there, she's a wonderful lady."
'Sir Ken was the funniest and the best'
BBC radio sports presenter Garry Richardson was a huge fan of Sir Ken and got to know him while making a documentary, which was broadcast last November.
I first saw Sir Ken Dodd perform in Blackpool in 1967 when I was 10 years old. I didn't understand all his jokes, but that's where my fascination began.
Quite simply, Ken Dodd loved to make people laugh, and - in my opinion - he did it better than anyone else.
I was privileged to make a documentary about his life and it was broadcast just a few days before his 90th birthday.
'Real rapport'
He told me some wonderful stories about his life in show business. It was his Dad, Arthur, who introduced him to comedy.
Ken worked as a door to door salesman selling buckets, pans, polish, soap powder etc and he told me that's where his " real rapport with audiences first began."
He said: "I would knock on the door and say "Good morning, madam", and the rest is history.
By day he was a salesman and by night he was working as a part time comedian, performing at social clubs and working men's clubs.
"It was a great place to learn the trade," he pointed out in our chat.
Ken made his BBC radio debut on 23 December 1954, and described it to me as "frightening".
No recordings of that show exist, but I managed to get a copy of his script from the BBC archives. I asked Ken whether he could remember any of the jokes.
"No, of course not," he said. "It was 64 years ago!" I said: "Well, I'm going to read a joke and see if you can do the punch line."
I read the joke and as quick as a flash Ken came back with the punch line.
"You remembered," I said. " Yes," he replied "I did the gag last week in Torquay." As he pointed out, it was funny 60 years ago and its still funny now.
The week before the I met him for the recording, I went to see him at one of his shows.
'More jokes'
The duration of each performance is legendary. On this particular night, he came on stage at seven o'clock and finished shortly after midnight. He was brilliant, and got a standing ovation from 1,700 people.
I went backstage to meet him to confirm our arrangements for the interview. I was very conscious that he still had to travel over 200 miles home, but incredibly he was keen to tell me more jokes.
It was just me and him in the dressing room. Minutes earlier, he had received a standing ovation. Now, he had an audience of one. I asked him in our interview why he had told me more jokes and he simply said: "I love to make people laugh, and you were my audience."
I asked Sir Ken Dodd at the end of our interview how he would like to be remembered, and he simply said: "If you want my epitaph - 'He tried and did his best.'"
Having watched him perform for over 50 years, I can say I thought he was the best.
Fellow Liverpudlian comic Tom O'Connor told the BBC: "A great loss to entertainment. I feel sorry for any up-and-coming comedian who'll never have a chance of seeing his brilliance at work."
John Bishop, another Liverpool comedian, wrote on Instagram: "True comedy legend. RIP Sir Ken Dodd."
BBC Breakfast presenter Dan Walker was also a big fan, commenting: "Growing up I used to love it when Ken Dodd came on the telly. He was always mad and chaotic but he guaranteed a laugh.
"There were so many strings to his bow. Comedian, ventriloquist and - amazingly - in the 1960s his single Tears was the third highest-selling song in the UK. It was only outsold by two tunes from The Beatles!
"A cameraman friend tells a story about doing an interview with Ken many years ago. At the end, Mr Dodd put something in his top pocket and tapped it saying 'Thanks for that, have a drink on me'. It was a tea bag!"
Great British Bake Off presenter Sandi Toksvig said of Sir Ken: "Best dinner companion I ever sat next to."
Comedian Russ Abbot described Sir Ken as "an icon, a one-off and a true professor of comedy.
"One of the greatest. How tickled I am to have known him."
Poet and comedian Pam Ayres tweeted: "Thank you, Ken Dodd. One of my happiest memories is of taking my mum to see him in the New Theatre, Oxford, and seeing her laugh as I had never seen her laugh in my life."
DJ Tony Blackburn wrote: "So sorry to hear that Sir Ken Dodd has died... I went to see his shows and met him several times and found him to be a very lovely man. Thanks for all the laughs Ken, you made me, and a lot of people laugh for many years. RIP."
Presenter Carol Voderman said: "I won first prize in the Prestatyn Carnival fancy dress competition wearing my home made Diddy Man costume. I was lucky enough in later life to meet him many times and to split my sides laughing for hours on end listening to him.
"His energy and his joy for life and people was inspiring. Happiness, Happiness. the greatest gift that I possess…. wise words, Sir Kenneth…. May your tickling stick be ever tattifalarious and may the Jam Butties be plentiful in heaven."
Annie Wallace, who plays Sally in Hollyoaks, called Sir Ken a "true son of beautiful Liverpool".
She tweeted: "So sad to hear of Ken Dodd's death. A fine entertainer and true son of beautiful Liverpool, never to be forgotten. Tattifilarious!"
A book of condolence has been opened at Liverpool Town Hall for people to pay their respects to the entertainer.
Lord Mayor, Councillor Malcolm Kennedy, said: "Liverpool has lost one of its greatest sons.
"Ken was a phenomenal entertainer and I was proud to have called him my friend. He was a wonderful ambassador for the city, a tireless fundraiser for charities, and quite simply one of the nation's greatest comics. He will be sadly missed."
The flags at the Town Hall - along with some of the city's other buildings - are set to fly at half-mast as a mark of respect.
Radio 2 is re-broadcasting a 2013 tribute documentary to Sir Ken presented by Liza Tarbuck on Wednesday evening at 11pm, replacing The Old Grey Whistle Test 40.
Follow us on Facebook, on Twitter @BBCNewsEnts, or on Instagram at bbcnewsents. If you have a story suggestion email entertainment.news@bbc.co.uk.