Parkinson questions his treatment of women in the past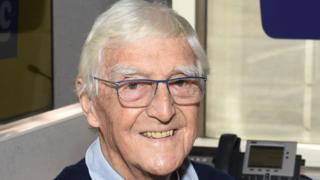 Chat show host Sir Michael Parkinson has admitted he now questions some of his behaviour towards women years ago.
Speaking to GQ magazine, Sir Michael said: "Men are in a quandary. If I was doing what I did then, I would have to watch myself. I could get arrested.
"But there isn't a man of a certain age who doesn't look back and wonder 'was my behaviour entirely appropriate?'"
The 82-year-old described himself as having been "an outrageous flirt".
'Woefully un-PC'
"I used to try to kiss Shirley MacLaine whenever I could."
He added: "There was a bar on Fleet Street [where] women were treated disgracefully, like second-class citizens. It was woefully un-PC."
Sir Michael, who has never been accused of any wrongdoing, was asked how he would feel interviewing Harvey Weinstein.
"You would have to stop yourself from punching him first," he said.
He also said he regretted not tackling a man over an incident involving his wife.
'Hindsight'
"I regret not doing something to an editor - who shall remain nameless, for now - who exposed himself to my wife, at my house, no less," he told GQ.
When asked by the interviewer if he had thrown him out, Sir Michael replied: "No. I should have, shouldn't I? It's a wonderful thing hindsight, isn't it?"
Sir Michael's television career spanned 50 years and saw him interview high-profile guests such as Orson Welles and Sir Elton John. He announced his retirement in 2007.
Follow us on Facebook, on Twitter @BBCNewsEnts, or on Instagram at bbcnewsents. If you have a story suggestion email entertainment.news@bbc.co.uk.