Nick Drake enters folk hall of fame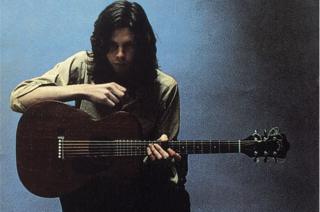 During his short life, Nick Drake recorded some of the most influential music ever to come from the British folk-rock scene.
Largely ignored at the time, his three albums - especially 1972's Pink Moon - have influenced artists like Norah Jones, Beck, REM and Elton John.
To mark what would have been his 70th birthday, Radio 2 has announced he will be inducted to its Folk Hall of Fame.
Drake's sister, actress Gabrielle Drake, will accept the award in April.
"I think Nick would have been quietly amazed, amused but above all, honoured. And, indeed, grateful. As I am on his behalf," she said.
The honour will be bestowed at the Radio 2 Folk Awards, at Belfast's Waterfront Hall.
Born in Myanmar - also known as Burma - on 19 June 1948, Drake came to Britain with his parents and sister, while he was still a small child.
He attended Marlborough College alongside contemporaries including Captain Mark Phillips and Chris de Burgh, where - in contrast to his popular image as a shy, reclusive character - he was a popular teenager, who was good at athletics and played in a number of school groups.
Inspired by Bob Dylan, he took up guitar and started gigging in London while studying English at Cambridge.
One of his performances, at Camden's Roundhouse in 1967, was attended by Ashley Hutchings, bass player with English folk-rock group Fairport Convention, who introduced him to the band's acclaimed producer Joe Boyd.
Boyd, along with engineer John Wood, shaped Drake's first two albums on Island Records - his 1969 debut, Five Leaves Left, and Bryter Layter, released the following year.
The records showcased Drake's gentle, plaintive meditations on love and longing, pairing his ethereal voice and melancholic vision with sweeping strings and jazzy orchestrations.
They were well-received by critics but sold poorly, reputedly sending Drake into a bout of depression which worsened when Boyd left for the US.
Beautiful voice
In late 1971, he recorded what was to become his final album - Pink Moon. A darker collection of songs, they stripped away Boyd's production, leaving Drake's delicate voice alone with his acoustic guitar - except on the title track, where he overdubbed a brief, moving piano part.
Reviews were uncertain about Drake's unadorned arrangements. Melody Maker said the singer seemed "embarrassed and shy"; while Sounds magazine said "the songs are not sufficiently strong to stand up without any embroidery at all".
Rolling Stone was more enthusiastic, with Stephen Holden declaring: "The beauty of Drake's voice is its own justification. May it become familiar to us all."
Nonetheless, the album failed to sell more than a few thousand copies, and Drake retreated to his parents' home in Tanworth.
It was there, in his childhood bedroom, that he died, aged 26, after taking an overdose of prescribed anti-depressants.
Since his death, his reputation has only grown. His albums have been reassessed (Allmusic calls Pink Moon "one of the most naked and bleak statements in all of rock") and regularly feature in "best ever" polls.
Even Brad Pitt is a fan - and presented a Radio 2 documentary about the singer in 2004.
Drake will be admitted to Radio 2's Folk Hall of Fame on Wednesday, 4 April and the Radio 2 Folk Awards.
This year's ceremony will be held in Belfast, and local legend Paul Brady will be among the performers.
Irish musician and producer Dónal Lunny will also receive a lifetime achievement award for his contribution to folk music.
The 70-year-old has been a founding member of some of Ireland's most important folk bands - including Planxty, The Bothy Band, and Mozaik - and has played with artists such as Kate Bush, Mark Knopfler and Clannad.
The evening will also see the Armagh Pipers Club presented with the good tradition award, to recognise their contribution to the preservation, dissemination and progression of traditional music over a number of years.
Follow us on Facebook, on Twitter @BBCNewsEnts, or on Instagram at bbcnewsents. If you have a story suggestion email entertainment.news@bbc.co.uk.