'Change is happening' for female producers
By Paul Glynn
BBC Music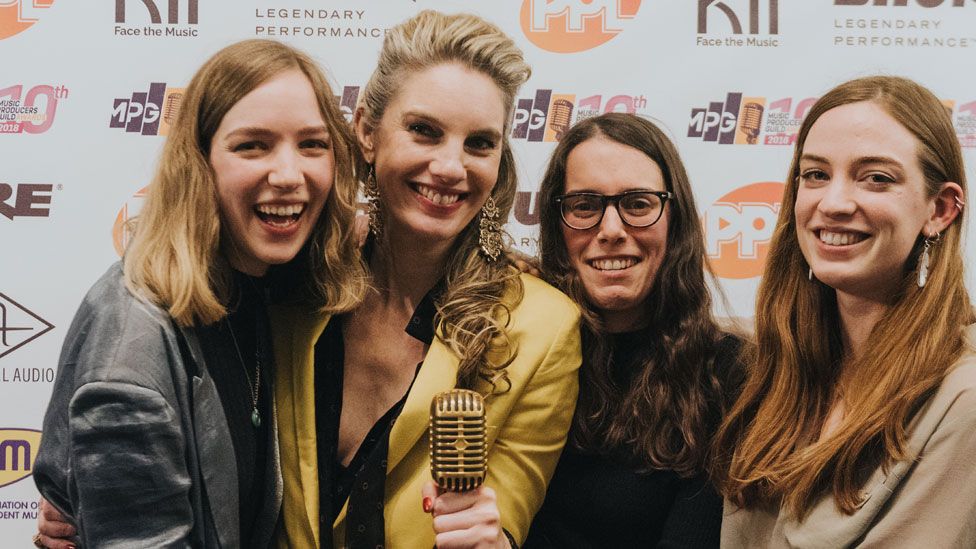 Catherine Marks, newly-crowned UK producer of the year, believes that a new generation of female producers are about to break through.
The Big Moon producer, who was decorated at the recent MPG Awards, said: "Change is happening."
Her prediction comes after several festivals signed up to Keychange's pledge to make music festival line-ups a 50/50 gender split by 2022.
Now the women behind the music look set to receive more equal opportunities.
Catherine, who helped all-girl band The Big Moon to a Mercury Prize nomination for their album Love in the 4th Dimension, said: "I think there's a lot of women who started either around the same time as I did or about five years ago who are getting recognised and a lot more are getting involved.
"It does take five to 10 years to make a name for yourself and I think that will just continue to happen, and suddenly it will become normal and this discussion won't be an issue anymore."
"Change is important and acknowledging change is important," added the Australian, who has also worked with the likes of The Amazons and Manchester Orchestra (not an actual orchestra).
"It shouldn't be an issue, but it is an issue and I get that, but change is happening - it's exciting that it is.
"The Music Producers Guild have been incredibly supportive of women. not just because they're women but because they deserve that recognition."
She added: "Little by little I think that change will be considered the norm and that's kind of what we desire, right?
"I think it's important that we carry on the conversation and for everyone to be considerate."
Last week's MPG Awards were the third major music awards of the year to strongly recognise the achievements of women.
It followed the NME Awards and the Brits, where many wore white roses in solidarity with the #TimesUp and #MeToo movements.
This was in sharp contrast to the Grammys in the US in January, which largely ignored female acts and whose boss, Neil Portnow, suggested that women needed to "step up" next year.
He subsequently apologised for his comments, which were greeted with disdain by such artists as Pink, Lorde and Shirley Manson.
Imogen Heap, who was personally invited by Ariana Grande to perform at the One Love Manchester gig last summer, believes that advancements in technology will help to further break down barriers.
The singer/producer, who was handed the MPG award for inspiration, said: "More and more the playing field is levelled because the technology that anyone needs now to make music now is basically a laptop.
"Whereas in the past, you'd have needed to get your foot in the studio door.
"Certainly I know from working in studios in the past - before you could have a home studio - that I very rarely, if ever, came across a woman.
"I didn't even really notice that until recently as it was so ingrained. I never actually thought about how it might have affected me as a woman, not being around women."
Heap added: "But now there's a movement of women helping women. We are many - we are half - and we've got some good ideas too!
"I think time is going to naturally go that way, because technology is the great leveller."