Oscars 2018: British animation firm nominated for fourth time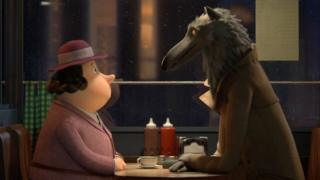 Two Brits are attending the Oscars as nominees for the fourth time this weekend - you'd be forgiven for not recognising them, but if you have children, you'll definitely know their work.
Martin Pope and Michael Rose are the producers behind Roald Dahl's Revolting Rhymes, which has won them an Oscar nomination for best animated short film - the fourth nod for their company, Magic Light Pictures.
They were also behind family favourites The Gruffalo, The Stick Man and Room on the Broom.
The idea for the animation came to them six years ago, when Martin brought in a copy of Revolting Rhymes his mother had first sent him when he was a student - telling him he was reading too much pretentious literature and that Dahl was much better.
The short film, directed by Jakob Schuh and Jan Lachauer, has already won a handful of awards, including a Bafta Children's Award and an Annie Award.
Its voice stars include Dominic West, David Walliams and Rose Leslie and it was made in Berlin at a specially-built studio. Martin and Michael spoke to the BBC as they prepared for the Oscars on Sunday night.
How does it feel to be nominated?
Michael: "It's the highest honour - the films we make are such long journeys. You're being judged by your peers, so just being nominated is great.
"It's such a blast. The celebration is the nomination for us. It's a lovely end to the journey of that film."
What's it going to be like on the red carpet?
Martin: "The red carpet is one of the most amusing things I've ever seen. It's like a massive zoo. In a wonderful way!"
Michael: "There's such a huge build-up to the Oscars which ramps up and up and now it's at fever pitch. On the day itself it's off the chart. But when the ceremony's over, it's like the whole thing deflates, and they start sweeping up. By the next morning it's all gone - it's as if it was a dream."
Martin: "As you're queuing to get a taxi, you find yourself queuing with these stars. Everyone has to stand in the queue together, when earlier on you were separated."
What made you decide to do a film of Revolting Rhymes?
Martin: "I gave Michael my copy of the book in 2012 and we started talking about it. We were looking for something - we had done films with rhyming in it, and it struck me as amusing and fun and surprising.
"My mother had given me the book, She had poo-poohed the fact I was reading all this pretentious stuff at uni and said this is the one she was teaching at primary school, and sent me her copy to read.
"When she passed away, I inherited it - and that was the copy we took to Quentin Blake when he saw our first test animation, and he signed it, with 'hurrah'."
What makes it such a brilliant book?
Michael: "The great thing about Dahl's book is that it's a collection of fairy tales retold in his inimitable voice with his witty, mischievous take on them. It's less telling Little Red Riding Hood and the Three Little Pigs than conveying Dahl's voice through the piece.
"We constructed the idea of the wolf as the unreliable narrator who has his own story to tell - that was the way for us to bring Dahl's voice to the fore, as it's all about his storytelling."
Why is it still relevant today?
Martin: "One of the exciting things about what Dahl does is that it's tremendously modern and feels current still.
"Having the film put together two young heroines who triumph unexpectedly, in the way the original fairy stories do not allow, is something we really enjoyed. The fact there's a banker pig as well is kind of amusing. It feels very modern and that's fun. He wrote a long time ago, but is speaking to children now."
What made it such a success?
Martin: "Dahl's sense of mischief appeals to the child in all of us. He writes for children - he writes brilliantly for them and they understand them very well. His imagination and understanding of them is what makes it work."
Michael: "That moment for us, where making films for when the whole family watches together, is the thing that drives us. Kids are so often in their rooms with their devices - the prize is that moment where the whole family still wants to get together at Christmas."
Martin: "He's taken these stories every child and adult knows, or thinks they know, and he twists and changes it. It's about the child, the hero and heroine, coming out on top. The antagonists tend to be adults, and they tend to end up badly. It's about being child-centred."
Is it a good time for animation in the UK?
Michael: "I think British animation has been on the up for many years. There's incredible talent in this country - and it all comes back to story and character in the end."
Follow us on Facebook, on Twitter @BBCNewsEnts, or on Instagram at bbcnewsents. If you have a story suggestion email entertainment.news@bbc.co.uk.