Oscars 2018: What's up for best foreign language film?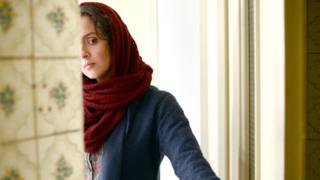 This year 92 nations submitted a film for consideration as Best Foreign Language Film at the Academy Awards - the highest number to date. Reducing these to the final shortlist is a complex process for the Academy of Motion Picture Arts and Sciences (Ampas).
The voting system has been evolving with the aim of finding winners with greater appeal to cinema-goers. Recent winners such as The Salesman (from Iran), The Great Beauty (Italy) and Amour (Austria) seem to suggest the system is working.
The chairman of the Ampas foreign-language committee, Mark Johnson, has hinted the Academy may eventually need to reconsider the long-standing rule that films are seen in a cinema. But this year, as before, Los Angeles-based members of the Academy volunteered to see a selection of submissions on the big screen. Their six choices were augmented by three titles which Ampas saved from the discard pile.
In January there were screenings of the longlist of nine in LA, San Francisco, New York and London. The change this year was that international members were also invited to see the nine online and cast their votes.
That produced the five nominees. This year the films are:
---
A FANTASTIC WOMAN
Country: Chile
Language: Spanish
Chile's track record in this category: The country's second nomination
Director: Sebastian Lelio
Story: Orlando (Francisco Reyes) is a middle-aged businessman in the Chilean capital Santiago who's in a relationship with the much younger Marina (Daniela Vega). After an evening out together, Orlando suffers an aneurysm and is taken to hospital. His relatives, including his former wife, cannot cope with the fact that Marina is a transgender woman: only Orlando's brother accepts her for who she is. The police and hospital authorities are mistrustful and seem to suspect Marina of involvement in Orlando's death.
Chances of winning: The film is timely, on a topic current around the world. Inevitably most audiences will know in advance that Marina is transgender which will rob the film of some surprise. Vega doesn't give us much insight into the central character, even as we admire her resilience.
The story loses some of its power in the second half.
---
THE INSULT
Country: Lebanon
Language: Arabic
Lebanon's track record: First nomination
Director: Ziad Doueiri
Story: The plot turns on a small dispute which becomes a national controversy. Tony (Adel Karam), a Lebanese Christian, is furious when workmen try to fix a drainpipe outside his Beirut flat without his permission. He has an abusive row with the foreman Yasser (Kamel El Basha), a Muslim Palestinian refugee. The dispute quickly takes on a momentum of its own, fuelled by a mixture of stubbornness and prejudice. The matter comes to court and the media spot a good story in the making.
Chances of winning: Doueiri efficiently teases out a minor incident to create a convincing portrait of a society which most outsiders will know little about. A basic understanding in advance of how Palestinians fit into Lebanese society would be useful. But once the set-up is clear the storyline provides few surprises as it develops into a courtroom drama. The strongest elements are the central performances of Karam and El Basha as the two men at loggerheads.
---
LOVELESS
Country: Russia
Language: Russian
Russia's track record (including the USSR era): Fourteen nominations with four wins
Director: Andrey Zvyagintsev
Story: Alyosha (Matvey Novikov) is 12 and lives in a comfortable flat with his parents. But his mother and father are in the process of splitting up and the atmosphere at home is stormy. Whatever love the parents had for one another has gone and they are moving on to new relationships. After he overhears a violent row. Alyosha disappears from home and does not return. A group specialising in missing persons becomes involved but their extensive search for the boy seems to offer little hope.
Chances of winning: Three years ago Zvyagintsev was nominated in the same category for Leviathan - this latest film confirms his status as one of Europe's leading film-makers. He provides a tense and gripping picture of family members leading emotionally empty lives. The story is both specific to Russia and universally valid too. It's the most impressive of the films.
---
ON BODY AND SOUL
Country: Hungary
Language: Hungarian
Hungary's Track Record: Ten nominations including two wins
Director: Ildiko Enyedi
Story: Maria (Alexandra Borbely) arrives at an abattoir in Hungary as a young new quality inspector. She habitually keeps an emotional distance from the world around her. Endre (Geza Morcsanyi), the manager, is attracted to her but at first the relationship makes little progress. A case of theft means a psychologist is brought in to interview the firm's employees: she is astonished to discover that Maria and Endre appear to share the same lyrical dreams. Gradually two people, lonely in different ways, start to find happiness in being together.
Chances of winning: The story initially has a small-scale charm and audiences will want Maria and Endre to get together. But reactions will depend on how people regard the story device of the shared dreams (of deer in a slightly fairy-tale forest). The film took top prize at last year's Berlin Film Festival. It's the only one of the five films with a female director.
---
THE SQUARE
Country: Sweden
Language: Swedish, with scenes in English
Sweden's Track Record: Fourteen nominations, including three wins (all for Ingmar Bergman)
Director: Ruben Ostlund
Story: Christian (played by Claes Bang) is the rather smug director of an important art museum in Stockholm. They announce a new exhibit called The Square which he's sure will prove that society's instincts are essentially generous and inclusive. His own instincts are tested when he falls victim to a robbery and decides to hunt down whoever was responsible. At the same time Christian starts a relationship with an attractive American journalist (Elisabeth Moss). Bit by bit his comfortable life spins out of control.
Chances of winning: The contemporary art world is an obvious target for satire and initially there's fun in the W1A-like nonsensical marketing speak. But as it darkens, the story focuses on broader hypocrisies within society. There's an engaging central performance from the Danish leading man while the casting of Elisabeth Moss (and in a smaller role Dominic West) will help attract non-Swedish audiences. There are rather a lot of scenes in English. Ostlund's film took the Palme d'Or at the 2017 Cannes Festival and it's a strong rival to Loveless.
---
Follow us on Facebook, on Twitter @BBCNewsEnts, or on Instagram at bbcnewsents. If you have a story suggestion email entertainment.news@bbc.co.uk.