Muse: 'The guitar is no longer a lead instrument'
By Mark Savage
BBC Music reporter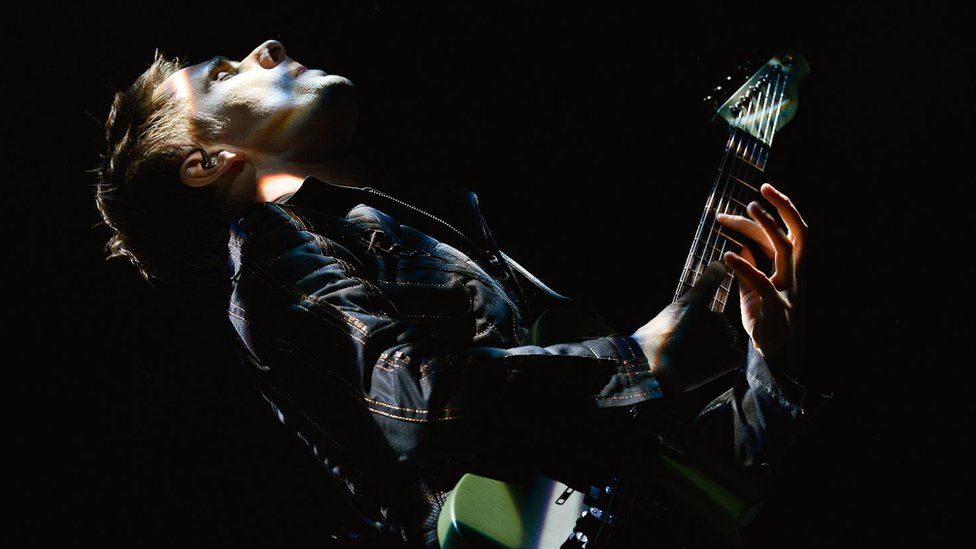 The days of rock gods posing heroically with a Fender Stratocaster are over, says Muse frontman Matt Bellamy.
"The guitar has become a textural instrument rather than a lead instrument," he told the BBC. "And I think that's probably a good thing.
"What's exciting about this period of music is you can mix classical with hip-hop and rock in the same song.
"As a rock band you're slightly one foot in the past, playing instruments like guitar, bass and drums."
Muse have always embraced other styles of music, blending progressive rock, electronica, R&B and operatic flourishes into their stadium-sized anthems.
On their latest single, Thought Contagion, the band have even used the skittish drum patterns of Trap.
"That's the first time we've used something like that - big 808 [drum machine] drops and stuff," said Bellamy.
"We've always kept an eye on what's gong on, and we've taken influence from things we think are cool in contemporary music. It's always been a theme."
In recent years, pop and hip-hop have replaced rock as the dominant genre in the UK and US.
The disparity is most pronounced in the singles chart - where not one rock song appeared amongst the top 40 best-selling singles of 2017.
In the albums market, which skews towards older people, seven of the top 40 biggest sellers could be classified as rock music - including Liam Gallagher's As You Were and The Beatles' 50 year old Sgt Pepper's album.
But the biggest bands to emerge in the alternative and rock scene over the last few years, including Imagine Dragons and Twenty-One Pilots, have largely abandoned the electric guitar, harnessing instead the sonic textures and propulsive beats of hip-hop.
"It's almost like genre was an aesthetic that people attached themselves to, not just in music but also in the way they dressed and the kind of friends they hung around with," said Bellamy.
"I feel like that age has come to an end and what's interesting about music now is not just the style-blending but the era-blending.
"So you'll have an artist like Lana Del Rey doing a song that sounds and feels like it's set in the 1950s, but she's singing about video games.
"It's an interesting time for era-blending and creating something which is timeless, and not particularly attached to any time. It becomes something ethereal and different."
But while the creative opportunities of modern music are invigorating Muse, the political situation is inspiring them in different ways.
Thought Contagion was inspired by watching rolling news in America, and seeing how it influenced voters.
"We're living in an age where truth is getting less airtime than falsities; and that's a scary thing," said Bellamy, who currently lives in the US.
"When you live in that bubble, and see that bubble, the scariest thing about it all is you realise people's minds can be influenced by false belief systems or incorrect thinking."
The title of the song came from a Richard Dawkins book that suggested that thoughts can become contagious and spread like a virus, "regardless of their accuracy and truth".
In the chorus, Bellamy sings, "you've been bitten by a true believer / you've been bitten by someone who's hungrier than you".
He said the lyric was a reference to preachers and pundits whose "belief system is in some way under threat".
"They're the ones who scream the loudest and get the most airtime."
The song is the second track to be taken from Muse's forthcoming eighth album. Unlike previous projects, the band are releasing it one song at a time, rather than conceiving an overarching concept.
"If anything, it reminds me of what it was like in the very beginning, when a band first starts," said Bellamy.
"You're thinking, 'We've got to make this track as good as it can be,' whether its an EP or a single or a b-side. You're thinking more about one or two pieces of music, rather than always thinking about 12, 13 songs."
The star said he was hoping to get "a full album together by the end of the year, or even by the autumn time. Then the idea is next year we'll do a full world tour."