How Ed Sheeran stopped worrying about being fat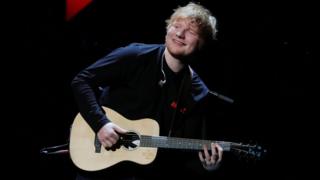 Ed Sheeran says he's stopped worrying about his weight after feeling pressure to slim down early in his career.
At one point, he started a strict diet after comparing his body image unfavourably to "people like Justin Bieber or the One Direction lot".
"I was like, 'they're so photogenic and they've got six packs... and I should look like that,'" he said.
"But should I actually care if I'm fat or not? No-one's bought my records based on me looking a certain way."
The star was speaking on a new podcast by fellow musician George Ezra.
"I had zero insecurities before I became a singer - and I was born with ginger hair," the music star joked.
"I didn't care. I'd have a beer belly, ginger hair, wouldn't wash and wear scraggly clothes.
"But as soon as you become in the public eye and people start picking holes in you, you start thinking things are bad for you. Like, 'Am I fat?'"
Sheeran confessed that when he first met Ezra in 2014, "I was doing no carbohydrates and just drinking vodka and slim tonic".
He has since replaced crash diets with a more manageable routine - "eat what you want and exercise every day".
"It doesn't have to be a lot," he told the BBC last year. "Just a little bit, and keep your metabolism up, and then you can eat what you want."
He also shared the worst advice he'd ever received.
"I was hanging out with a model ages ago, and she used to dip cotton wool balls in diet Pepsi and that would be her meal for the day. That's a bad diet tip."
Sheeran was the first guest on George Ezra's new podcast, with future episodes due to feature Craig David, Rag 'N' Bone Man and London Grammar's Hannah Reid.
In a wide-ranging chat, he spoke about the early days of his career, and the struggle to get noticed.
"My first album came out when Adele's 21 came out… and I'm not better than Adele," he said.
"But everyone at the record label was like, 'James Blunt became massive because he worked harder than everyone else'.
"So I was like, 'Get me his diary and we'll do all of that times two'.
"I was doing all the things that other artists were thinking was uncool. I played on Hollyoaks!
"And funnily enough, when I met Paul McCartney, he said, 'I saw you on Hollyoaks'.
"Weird, innit?"
Follow us on Facebook, on Twitter @BBCNewsEnts, or on Instagram at bbcnewsents. If you have a story suggestion email entertainment.news@bbc.co.uk.