Aled Jones to return to the BBC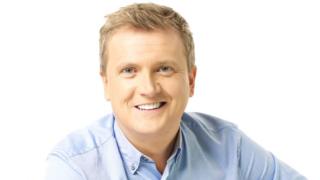 Singer Aled Jones is to resume presenting programmes on the BBC, the corporation has announced.
The Songs of Praise host was suspended by the BBC in October over claims of inappropriate behaviour.
He has since apologised for the "hurt" caused by his actions, and given an assurance they will not be repeated.
The BBC said it accepted Jones's apology and that he would shortly return to presenting Songs of Praise and his show on BBC Radio Wales.
Jones was suspended in October when the BBC began investigating "complaints about his past behaviour".
His last appearance on his weekly Radio Wales programme was 22 October; while he was last seen on Songs of Praise the previous week.
A BBC spokesman said: "As Aled has previously confirmed, over recent weeks the BBC has been considering complaints about his past behaviour. During this period, Aled has not been presenting on the BBC.
"While the behaviour under review was not related to his work with the BBC, Aled recognises it was inappropriate and caused real distress to others. He has apologised for this and assured the BBC that there will be no repeat of this behaviour in future."