Dylan Farrow: 'Allen's been lying so long'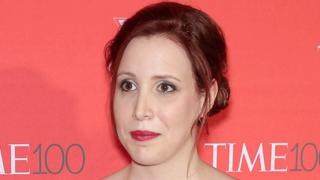 Dylan Farrow says she wishes Woody Allen had been charged over allegations he sexually abused her as a child.
"He's lying and he's been lying for so long," she told CBS's This Morning, in her first TV interview about her adoptive father.
Allen repeated his denial of the claims and issued a new statement on Thursday saying: "I never molested my daughter."
Several actors have recently distanced themselves from Allen, as Hollywood's sexual harassment scandal continues.
Farrow has long alleged that Allen sexually abused her when she was seven, in her mother Mia's country house.
Allen said in his statement: "Even though the Farrow family is cynically using the opportunity afforded by the Time's Up movement to repeat this discredited allegation, that doesn't make it any more true today than it was in the past."
In the CBS interview, Farrow said she was giving the interview because "I want to show my face and tell my story. I want to speak out, literally."
She repeated her allegation that that on 4 August, 1992, "I was taken to a small attic crawl space in my mother's country house in Connecticut by my father".
She said: "He instructed me to lay down on my stomach and play with my brother's toy train that was set up. And he sat behind me in the doorway and as I played with the toy train, I was sexually assaulted."
Allen's denial
Film director Allen was never charged, and Farrow told CBS she wishes charges had been filed following investigations at the time, because she would have "had" to take the stand.
"I do wish that they had, even if I'm just speaking in retrospect. I was already traumatised."
Farrow, now 32, was visibly emotional as she was shown a clip from US show 60 Minutes, dating back to 1992, in which Allen, now 82, vehemently denies the alleged molestation.
---
Woody Allen's response to the CBS This Morning Dylan Farrow interview
When this claim was first made more than 25 years ago, it was thoroughly investigated by both the Child Sexual Abuse Clinic of the Yale-New Haven Hospital and New York State child welfare. They both did so for many months and independently concluded that no molestation had ever taken place.
Instead, they found it likely a vulnerable child had been coached to tell the story by her angry mother during a contentious breakup.
Dylan's older brother Moses has said that he witnessed their mother doing exactly that - relentlessly coaching Dylan, trying to drum into her that her father was a dangerous sexual predator. It seems to have worked - and, sadly, I'm sure Dylan truly believes what she says.
But even though the Farrow family is cynically using the opportunity afforded by the Time's Up movement to repeat this discredited allegation, that doesn't make it any more true today than it was in the past. I never molested my daughter - as all investigations concluded a quarter of a century ago.
---
Farrow told interviewer Gayle King her mother had taken her to the doctor following the alleged incident.
When the doctor first asked her to point to where she had been touched, she pointed to her shoulder.
She said she felt "embarrassed" but then did tell the doctor about the alleged abuse.
Farrow also denied Allen's suggestion that her mother had "coached" her into to believing her father had molested her.
"Every step of the way, my mother has only encouraged me to tell the truth. She has never coached me," she said.
Farrow also alleged that Allen "would follow me around. He was always touching me, cuddling me and if I ever said I want to go off by myself, he wouldn't let me".
The actors who have distanced themselves from Allen include Timothee Chalamet, who announced this week he will give his salary for appearing in Allen's next film, A Rainy Day in New York, to charity.
His co-star, Rebecca Hall, also donated her fee to charity and said she "regretted" her decision to appear in the film.
Other stars include Natalie Portman, Greta Gerwig, Ellen Page and Mira Sorvino.
However, Alec Baldwin, who worked with Allen on Alice, Blue Jasmine and To Rome With Love, said the "renunciation of him and his work" was "unfair and sad".
In Thursday's CBS interview, Farrow spoke about actors who have starred in her father's films and continue to stand by him.
"I'm not angry with them.
"I hope that... especially since so many of them have been vocal advocates of this Me Too and Time's Up movement, that they can acknowledge their complicity and maybe hold themselves accountable to how they have perpetuated this culture of silence in their industry.
When asked how she thought they were complicit, Farrow replied: "Because I have been saying this - I have been repeating my accusations unaltered for over 20 years and I have been systematically shut down, ignored or discredited or not believed.
"If they can't acknowledge the accusations of one survivor's, how are they going to stand for all of us?"
---
Follow us on Facebook, on Twitter @BBCNewsEnts, or on Instagram at bbcnewsents. If you have a story suggestion email entertainment.news@bbc.co.uk.