Lili Fini Zanuck: Director says 2017 'wasn't a turning point' for Hollywood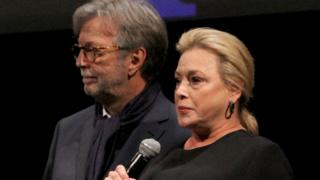 Last year wasn't a turning point for women in Hollywood, according to the producer behind the multi-Oscar winning film Driving Miss Daisy.
Lili Fini Zanuck, who was only the second woman to ever win a best picture Oscar when she took the award for Driving Miss Daisy in 1990, also produced Cocoon and directed 1991's Rush.
The 63-year-old has now made a documentary about Eric Clapton, called Eric Clapton: Life in 12 Bars.
"No, we haven't turned a corner," she says when asked whether the tumultuous events of 2017 meant the climate was changing for women in the entertainment industry.
"We might have more women working, but every year there's an in-depth study produced about how many women editors, directors, cinematographers and writers there are, and the numbers are still poor.
"I think we'll have changes, but some of them will be cosmetic. There are two big job openings in Hollywood that I think will go to women, but then women working at an executive level hasn't been the problem."
Zanuck also warns of "tokenism" rather than real change following the allegations of sexual assault and harassment made against prominent Hollywood figures in 2017, including producer Harvey Weinstein.
"I think you'll have a lot of 'token' stuff happening, and people will make some adjustments in their behaviour. I think you'll definitely see a decrease in overt bad behaviour," she says.
"People are going to have a big fear factor this year and some of that will be down to the fact that so far there's been no due legal process involved.
"I'm not talking about Harvey Weinstein, that's a whole other story. I'm talking about allegations being made and then your career can be over.
"I think there will be a lot of scared people in Hollywood. But is this really going to help women in the workplace? I don't necessarily think so."
For part of her career, Lili Fini Zanuck made films with her husband Richard D Zanuck, a producer on the original Jaws movie, who died in 2012. While he co-produced Driving Miss Daisy, she was the force behind it.
The story of an elderly woman and her African American chauffeur, played by Morgan Freeman, started as an independent film and went on to win four Oscars, including for Miss Daisy herself, Jessica Tandy. It was nominated for another five.
When Zanuck went up in 1990 to receive the best picture award, only one other woman had gone before her - Julia Phillips in 1974 for The Sting, starring Robert Redford.
As of January 2018, only one woman has won a best director Oscar - Kathryn Bigelow for The Hurt Locker in 2010. For another female to win, Zanuck advises women to "forget the personal - make your Apocalypse Now".
"Years ago, when people would complain about this to me, I would say, 'Maybe the stories women want to make tend to be very personal,'" she explains.
"I would say, 'When a woman makes an Apocalypse Now, it will happen.' The thing with The Hurt Locker was it really was Kathryn's Apocalypse Now. The best recent example is Patty Jenkins and Wonder Woman - it's taking a genre up to a whole new level.
"So it's not that a woman can't be recognised for directing, it's got to be a film that's broad enough to appeal to the entire Academy and they can agree that this film speaks to everyone.
"But to be a director, you have to have talent. Forget what they say, there is no luck involved in this industry - absolutely none at all involved in directing."
Zanuck says she didn't necessarily think she'd come back to directing, but her decades-long friendship with Clapton (he did the score for her movie Rush) meant that he approached her to make Life in 12 Bars.
"He was asked to do the film and he said he would only participate if I directed it," she says. She wasn't surprised, she adds, that the 18-time Grammy winner hadn't been willing to put his name to a film about his career before now.
"I think this got made because Eric was in the right mood," she explains. "He's an incredibly private man and despite his immense success, he's never cared if he got any publicity at all, he just loves his music.
"I am very grateful he's even willing to speak about this as he could just have easily not have done.
"I think it might be something to do with his age, as he turned 70 a couple of years ago. He said to me, 'I didn't want it to be done after I was dead and for it to be wrong.' Maybe he thought his time had come to lay it all out on the table."
Zanuck says the "luxury" of directing only came after Driving Miss Daisy, adding that she used the Oscar "to grab my chance, but one doesn't necessarily lead into the other".
She continues: "Until then, I was used to not been taken seriously for the first 10 minutes of any meeting. I was a third wife, 20 years younger than my husband, and blonde.
"Instead, I built my entire career initially on taking the jobs that other producers didn't want to do. You have to be tenacious and have an overriding belief in your own good judgement.
"As I stood up there for my Oscar acceptance speech, I saw a sea of people who had said 'no' to me. But every time I was rejected, there was never any doubt in my mind that I was right."
Eric Clapton: Life in 12 Bars is released in the UK on 12 January. A Q&A with Clapton and Zanuck will be broadcast live to cinemas around the UK with a preview screening of the film on 10 January.
Follow us on Facebook, on Twitter @BBCNewsEnts, or on Instagram at bbcnewsents. If you have a story suggestion email entertainment.news@bbc.co.uk.