Danny Boyle and Banksy's 'Alternativity' to be on BBC Two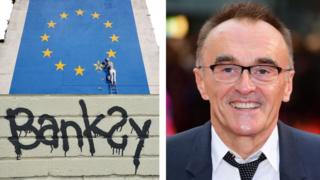 Director Danny Boyle has teamed up with Banksy to stage an alternative nativity play at the artist's Bethlehem hotel.
The Alternativity was staged in the car park of the artist's Walled Off Hotel in the occupied West Bank. The process was filmed for a BBC Two documentary.
A video on the hotel's Facebook page shows Palestinian children singing Jingle Bells as fake snow falls.
BBC Two controller Patrick Holland said the programme would show "a challenging and provocative" version of the story.
The BBC said the Oscar-winning film-maker accepted Banksy's challenge to stage the performance, despite not having met him.
The anonymous street artist opened The Walled Off Hotel in March, boasting the "worst view in the world" - next to the controversial barrier Israel has built in and around the West Bank.
The documentary about the performance will be screened on BBC Two on Sunday and is said to follow Boyle overcoming the "many restrictions" to find a cast, crew and local children, and put together the show in six weeks.
The performance took place on 3 December and was co-directed by Bethlehem-based Riham Isaac. Another video shows local children singing in Arabic while rehearsing.
Banksy created a promotional image for the documentary showing a drone watching over the nativity scene.
He also put up two new artworks ahead of the event. One said "Peace on Earth" next to a twinkling star, which doubled as an asterisk. Below was the same asterisk and the words "Terms and conditions apply".
The other artwork was painted on the wall and showed two cherubic angels trying to prise two panels apart with a crowbar.
Patrick Holland said: "It is brilliant for BBC Two to be working with Danny Boyle, Banksy and the creative team who together are making this alternative nativity.
"It promises to be a challenging and provocative exploration of a story that speaks to young and old alike."
Boyle won an Oscar for Slumdog Millionaire and also masterminded the London 2012 Olympic opening ceremony.
The performance follows a satirical street party Banksy threw in November to apologise for the 1917 Balfour Declaration, which expressed the British government's support for a Jewish national home in Palestine and paved the way for Israel's creation.
The party was reportedly gatecrashed by Palestinian protesters who said they didn't like the use of British flags or the way Palestinian children were being used.
Follow us on Facebook, on Twitter @BBCNewsEnts, or on Instagram at bbcnewsents. If you have a story suggestion email entertainment.news@bbc.co.uk.