James Arthur: 'I've been a tortured soul'
By Mark Savage
BBC Music reporter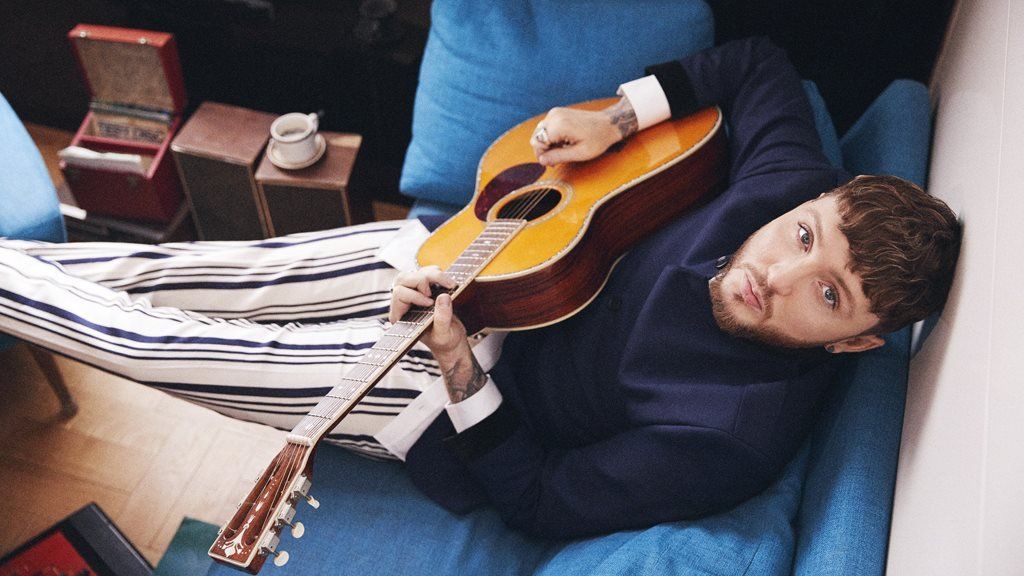 Up to now, James Arthur has built his career on ballads.
From his X Factor single, a cover of Shontelle's Impossible, to the global smash hit Say You Won't Let Go, the singer has proved he can tug on your heartstrings like a puppy on a postman's trousers.
Those slow-tempo weepies are the perfect fit for his cracked and tortured voice. But the star would like it to be known he's got a few more tricks up his sleeve.
"I'm starting to feel like people know what to expect from me," he says.
"If you come and see my shows, I'm all over the stage. We do grunge, we do gospel, we do R&B - but the songs that make it on the radio are the acoustic, heartfelt ballads.
"I'm starting to feel the urge to branch out and do some stuff that nobody would expect."
Although he took a brief detour into dance music on Rudimental's summer smash Sun Comes Up, the star's new single, Naked, cleaves pretty closely to his tried-and-tested template.
An impassioned appeal to a reluctant lover, Arthur's vocals are raw and vulnerable as he pleas: "I'm trying to make it clear / That getting half of you just ain't enough."
The 29-year-old penned the song with Swedish pop kingpin Max Martin, who "floated in and out" of the studio, presumably in between making hit records for Taylor Swift and Lana Del Rey.
In the way of modern music, though, the song was originally intended for pop star Zara Larsson before Arthur came aboard.
"They had a chorus that I think they were pitching to her at one point," says the singer.
"But then they played it to me and they thought, 'How nice would it be if it was a male singer doing a vulnerable thing like that?'"
"So we re-wrote it and made it suit me. I put the gospel middle eight in there. I was quite happy with that."
The song is primed to go into the Top 10 this week, adding another chapter to Arthur's remarkable tale of recovery and redemption.
Born in Redcar, Teesside, in 1988, he had a troubled childhood after his mother, a model and marketing professional, split up from his delivery driver father.
"I don't think I was the easiest child to look after," he later wrote in his autobiography. "I don't know if I actually had ADHD [Attention Deficit Hyperactivity Disorder] but let's just say I was very 'spirited'."
When he was nine, his mother remarried and the family moved to Bahrain. Here, the youngster flourished, making new friends and winning his first singing role in a school production of Pirates of Penzance.
But life came crashing around his ears when his mother and step-father divorced.
After enjoying a life of luxury in the Middle East, he moved back to Redcar (he calls it a "rags-to-riches and back to rags tale") and ended up in a rough school where singing and performing were frowned upon.
Angry and frustrated, he started to skip classes, and ended up having major rows with his family - sometimes sleeping rough after being kicked out of the house.
Eventually, he took himself out of the picture and went voluntarily into foster care.
"It was a bit scary," he says. "I lived with a lady who'd taken up fostering children and they were always fairly troubled kids.
"There was a lot of tension because you'd be fighting a lot and looking over your shoulder. And I just wanted to be back with my sisters and my family.
"But it probably toughened me up in a good way. I learnt the value of family through that."
It was while he was in foster care that Arthur taught himself guitar and started to pour some of his frustrations into music.
"I've been a tortured soul," he says. "I've been through a lot of heartache so I definitely put that in my music.
"It's where I express it the best. That's the thing I rely on the most."
He joined several bands - Traceless, Moonlight Drive, The Emerald Skye - and even recorded his own EP as The James Arthur Project in 2012. But it was The X Factor that made his name.
Arthur's parents reunited for the first time in 20 years to watch his audition - but, in retrospect, he was probably not suited to the pressure of competing in a reality series.
After the second live show, he suffered an anxiety attack backstage and had to be treated by paramedics.
Although he went on to win the series, success took a toll on his mental health - and he began to lash out in a series of increasingly bizarre and bad-tempered blunders.
He made unflattering remarks about Rita Ora, with whom he'd had a brief fling, during an appearance on Radio 1 Xtra; got involved in a public spat with One Direction; and then attacked his own PR team for daring to promote his music.
"Somebody should have told him to shut up and just put the records out," said Simon Cowell, shortly before he pulled the plug on Arthur's recording contract.
Losing his livelihood gave the singer panic attacks and suicidal thoughts, but he slowly started to turn things around.
He gave up drugs, which he said were exacerbating his anxiety, and managed to kick a gambling habit for good measure. Then he wrote a song... and not just any song.
Say You Won't Let Go, a romantic, love-you-til-the-end-of-time ballad, is exceptional in its simplicity and directness. It not only became the star's signature song - but it single-handedly resurrected his career.
Even Cowell noticed, re-signing the singer to his Syco record label to release the song in the UK.
Proving it wasn't a fluke, Arthur followed up the single with a number one album titled, with piercing self-awareness, Back From The Edge, and a three-month US tour with OneRepublic.
Naked is the first single since the comeback - but rather than the start of a new campaign, he says it's a "standalone thing".
"I think when you have a good feeling about something nowadays, it's cool to just go with it."
The song's video features actress Cressida Bonas who, the tabloid press were quick to point out, is Prince Harry's ex-girlfriend.
"I don't take any notice of that stuff," says Arthur, "I didn't even know he was getting married.
"But I really like Prince Harry. He's a huge ambassador for mental health, and I've spoken to him in-depth about post traumatic stress disorder. I was really impressed by him."
Arthur, who is now an ambassador for the mental health charity Sane, says he's "baffled" by the music industry's ignorance of the topic.
"In sport, they have sports psychologists to get these people ready for the big games and big crowds, and getting scrutinised by the newspapers.
"Whereas in the music business you don't really have a lot people keeping your head right. They seem happy to see people suffering. It's mad."
Having taken steps to tackle his own health issues, the star seems relaxed and amenable throughout our chat - even apologising (unnecessarily) for his "lack of energy".
And he's looking forward to buckling down to work on his next album.
"I've taken up the piano and the songs I'm writing now are bringing out a different side of me," he says.
When New Year rolls round, he plans to go into the studio and "lay down 10 or 15 of the songs I've been working on and see how many of them catch the ears of the label."
"And when I start, I definitely don't want to do any more ballads."
James Arthur's single, Naked, is out now.
Related Internet Links
The BBC is not responsible for the content of external sites.