Why these Girlfriends stand out in British TV
By Steven McIntosh
Entertainment reporter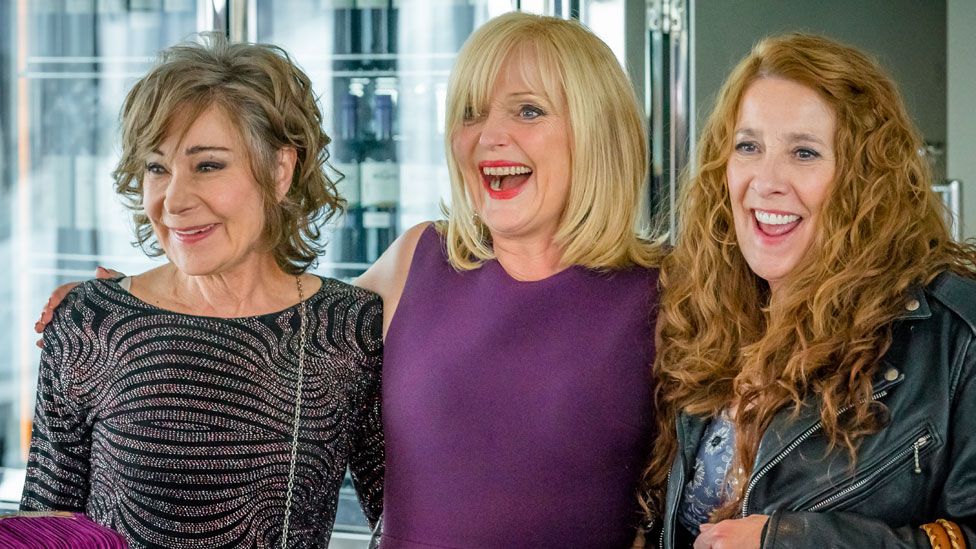 ITV's latest drama focuses on an under-represented group on British TV - older women. Its writer and creator explains why.
"There's no egos here," laughs Kay Mellor, referring to the star-studded cast of her latest drama Girlfriends.
"They're working actors, they've all got respect for each other, and I think that shows. Very quickly they bonded together, and I think we captured that on screen."
It's true, Zoe Wanamaker, Miranda Richardson and Phyllis Logan make a highly-watchable trio in the series, which begins on Wednesday evening.
Mellor says she was keen for the drama to showcase home-grown acting talent as a matter of principle.
"I didn't want somebody coming in with an American accent putting on an English accent," she says.
"For a second I thought about doing that, and then I thought, why would I do that when I've got such great actresses here?"
Logan, perhaps best known to many as Mrs Hughes in Downton Abbey has a slightly different take on her co-stars.
"I'd never heard of them before," she says (joking, thank goodness).
"No, obviously their reputations go before them, so I was a wee bit scared about the idea of hooking up with them and trying to be as good as them, but hopefully it worked."
Mellor's dramas have almost become a genre in themselves, such has been the success of some of her other shows like Fat Friends, Band of Gold and The Syndicate.
Girlfriends tells the story of Linda, whose husband is killed under mysterious circumstances right at the beginning of the first episode.
Stricken by grief, she is supported by her two best friends - lollipop lady Gail, played by Wanamaker, and the hilariously self-centred Sue (Richardson), a features editor for a bridal magazine.
"I wanted these three women to be very different, and that was right throughout the script. It'd be boring to have three women all the same," Mellor says.
Girlfriends may sound like a succinct, appealing title for a TV show - but it wasn't Mellor's original name.
"I did bandy the title around. I thought about Women of a Certain Age, it was called that for a while, but I thought it sounded so serious.
"And then I heard myself saying, 'I'm going out with my girlfriends tonight', and it was a lightbulb moment. I thought, that's what it's about.
"Camaraderie, endurance and your friends that see you through things."
Mellor says she's been lucky to have had so much success in television - as the industry is often criticised for its lack of opportunities for older women both in front of and behind the camera.
"This is not really about me because I feel as if I have a voice. And funnily enough, the older I've got the more I've been welcomed," she says.
"But there was a time when I wasn't, many moons ago, when I had to really battle hard to get my voice through. But there have been certain people along the way who have really trusted me and got my voice.
"But I know that in industry, from the women that I talk to - my girlfriends - that actually they do feel invisible sometimes, and they do feel like they haven't got a voice."
She adds: "Only 18 months or two years ago I was at a conference about women in our industry, and just about every woman in that room had something to say, and most of it was about feeling invisible and saying, 'I only ever get to play grandmas. It's never about my life. I'm somebody's mother, girlfriend, it's never about me'.
"And I remember listening and going, 'I've got to do something about that, I've got to put that right'.
"Sometimes that glass ceiling is really not far from our heads, still today."
Girlfriends begins on ITV at 21:00 GMT on Wednesday, 3 January.
Related Internet Links
The BBC is not responsible for the content of external sites.